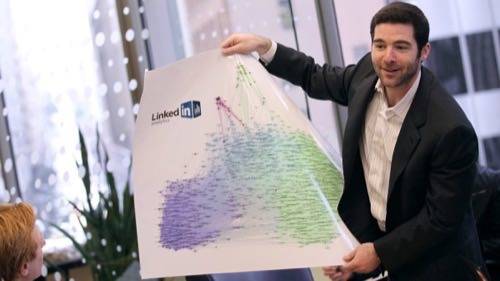 For years, LinkedIn has been trying to break past its reputation as a job-seeking site that's all about posting your online resume.
If today's news – that LinkedIn is allowing users and companies to post images and documents in status updates – doesn't get that message through, we're not sure what will.
(See Also: 5 Ways To Use LinkedIn That Aren't About Finding A Job.)
LinkedIn was slow to get visual. It took more than four years for LinkedIn to allow something we take for granted now on almost every social site: posting a profile photo. But with last year's acquisition of SlideShare and the introduction earlier this month of a visual "portfolio" section to the profile, LinkedIn showed it was becoming a visual learner.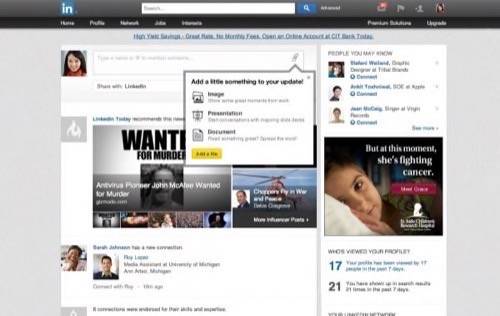 A Risky Picture
The danger LinkedIn faces is that its stream of work-related content will become cluttered with the kind of vapid visual noise that has taken over Facebook's News Feed. Facebook, in the hopes of spurring people to post better pictures of moments in their lives, started giving photos larger display. Instead, people posted picture quotes and memes.
LinkedIn seems to be more or less rolling with this particular consumer behavior: It even shows an example of someone posting an inspirational quote image.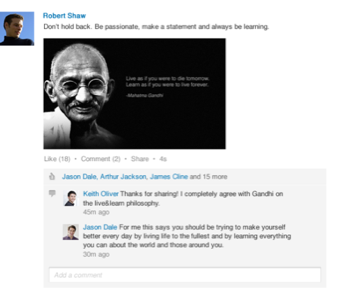 Like it or not, this is a way a lot of people like to communicate online. So perhaps LinkedIn is smart to embrace it. But after LinkedIn and Twitter broke off their partnership last summer, requiring people to post updates directly on LinkedIn rather than porting their tweets into LinkedIn, the quality of LinkedIn's stream of status updates improved markedly, since people primarily posted professional updates without personal updates from Twitter mixed in.
Putting images in LinkedIn's stream could go sideways, so we have to hope its product team is watching what users do closely and adjusting accordingly.
Dropbox And Box In LinkedIn's Sights?
One interesting aspect to LinkedIn's update is that it's also allowing companies to post images and documents to their company pages.
The ostensible reason for this is to appeal to the people who follow a particular company on LinkedIn, who are typically employees, job seekers, customers, or other interested parties. One obvious way a tech company might use this, for example, is to post white papers about a new product it's rolling out.
One has to wonder, though, if this isn't also a move to carve out part of the document-sharing business that Dropbox, Box and YouSendIt have so far dominated. That's the public-facing sharing, where you're not sending a document to a particular person but merely alerting people to a place from which it can be downloaded.
We don't see LinkedIn swerving from its media-focused strategy right now. But LinkedIn's mission isn't to be a media company – it's to help people succeed in their professions. So if at some point it decides sharing and collaboration around documents is part of how it accomplishes that mission, Box and the rest should worry.
For now, it's just an interesting option LinkedIn could pursue down the road, for which it's laying the groundwork now.