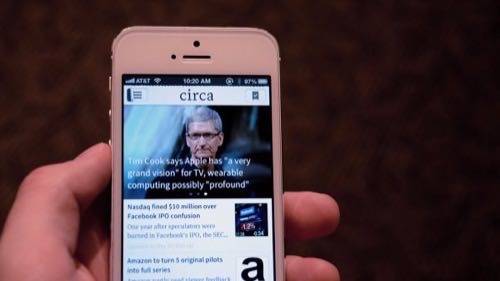 The struggle to figure out how social media and smartphones can best fit into the daily news cycle seems never-ending. Considering the torrent of reporting fiascos surrounding the Boston Marathon bombing – most of which centered, as they often do in the age of social media, on erroneous tweets and the virality of misinformation – it's still anybody's guess how to tackle a world where stories evolve by the minute. Circa, an iOS app that considers itself the first mobile-native publication, wants to find the light.
What's mobile-native news? It's an approach to delivering stories that are best designed for smartphones, mixing mobile design with varying story lengths, from sentence-long snippets to full stories. More importantly, it's an approach that incorporates the very idea of a social media-infused news environment where information is a constant barrage that must be sorted, verified and organized. With Circa, all stories evolve over time through a clever subscribing system that ensures users are never rereading information.

The Circa app has so far subsisted on larger, more traditional news outlets' original reporting to generate its articles, leading many to call the app a news summarizer, rewriter, or aggregator. But that may soon change. On Monday, the company named its first editor in chief: Anthony De Rosa, formerly the social media editor of Thomson Reuters, one of the world's most reliable and far-reaching news wires.
(De Rosa's departure follows the indictment in March of his superior, Reuters' deputy social media editor Matthew Keys, for allegedly assisting Anonymous in hacking the LA Times website. De Rosa's boss at the time, former Reuters.com editor Kenneth Li, claims that he was considering leaving before Keys' indictment.)
De Rosa, who became increasingly more prominent during his six years at Reuters through his Twitter and Tumblr influence, already has plans when he starts mid-June, and it could push the company towards its make-or-break moment as a true-blue publication. "We're too small to do original reporting initially but I intend to make that a goal down the line," De Rosa told ReadWrite via email. "If we want to go far and wide, we need to figure out how to do that in the most efficient way and that often means balancing putting boots on the ground with vetting what's out there from our own newsroom."
Evolving Over Time
Circa was launched last October by Ben Huh, CEO of the Web's sprawling meme database Cheezburger Network, along with Matt Galligan and Arsenio Santos. It also racked up an impressive list of investors, including Tumblr creator David Karp and Path co-founder Dave Morin.
Galligan, who now serves as CEO, is not shy when it comes to establishing Circa's presence. "We're not news reader, or a news aggregator. We are a mobile news publication and we're the first one like it," he said in an interview with ReadWrite. "The way that you read a Circa story is on mobile, and the way we write is mobile-first. Our goal is to be essentially a newspaper on somebody's phone."
So what exactly makes Circa so unique? Principally, it's the app's ability to cater to the way stories now evolve over time through social media and the discovery of new information. A Circa user can subscribe to individual stories, and then receive updates on those stories as time goes on. "We're betting on the idea that we write one story and that it evolves over time. That's the way we have built and structured our company," Galligan says.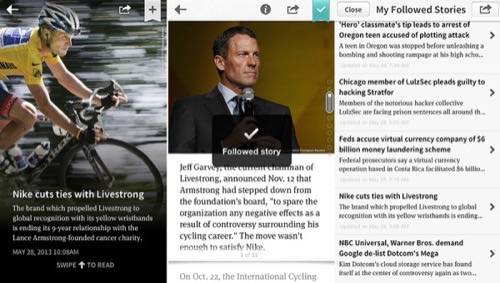 Evolving over time is a very important concept in today's media landscape. As was clearly apparent during the frenzy surrounding the Boston bombings last month, breaking news begins breaking first on Twitter, with uploaded photos and 140-character snippets of what may or may not be verified facts that then ripple nearly everywhere. Circa's approach is to take the tools and tactics used to tackle a story of that magnitude and complexity and apply it to all its stories. Because journalism no longer fits a defined model of measurable length and finality, the idea of an article is now a fluid concept in Circa's eyes.
As stories shrink and grow depending on the amount of information available and both the platform and device a reader is using, Circa wants readers to be able to get the most important facts first, subscribe to what they're interested in and be able to check back for the more later without reading old news. "I'd say that the nature of our stories is very different as opposed to finite pieces of information," Galligan reemphasizes.
The Future Of Mobile-Native News
For burgeoning and untraditional news sources, partnering with mainstream media giants is a prime way to expand a publication's presence and establish legitimacy, for instance when BuzzFeed paired with The New York Times last summer to tackle the Democratic and Republican national conventions (BuzzFeed also just partnered with CNN). In a world where traditional news organizations haven't yet fully grasped a mobile-native approach, Circa could be in a prime spot to take on that mantle.
"There's definitely some benefits from the right kind of partnerships. We'll certainly explore some of those options," De Rosa says, though he stressed that that avenue is more the territory of Galligan, who was tight-lipped on any Circa partnership possibilities and stressed that Circa's focus was on growth and the long-term potential of original reporting.
As for De Rosa's other plans as editor in chief, taking some of his social-media savvy to the editorial team is a priority. "I intend to fuse what I've learned as someone whose primary role was social media into my new position. You'll be seeing Circa out in the wild far more often," he says. "It needs to be the beacon for all news and I plan on making sure you come to us to follow any story. Social plays a huge part in that."
Circa will be launching on Android later this year, and by the time it's a cross-platform news experience, mobile-native publication could very well be what the The New York Times, CNN and every other major news outlet is desperate to capitalize on.