I'm not going to pretend that you have no idea that most people use LinkedIn for networking and job hunting. But if you think that's all the "professional" social network is good for, you're missing the boat.
(See also With Pulse, LinkedIn Is Becoming The Newspaper Of The Future.)
LinkedIn was the 22nd most visited website in the world as of March 2013 (according to LinkedIn) and more online adults use it than Twitter, Tumblr, Instagram or Pinterest (according to the Pew Internet and American Life Project). it turns out there are plenty of ways you can use it even when you're perfectly happy with your current position.
Here are five ways you can get the most from LinkedIn, from slacking to socializing, that have nothing to do with getting a new job:
1. Stalk And Be Stalked
Wondering if somebody's got a secret crush or is just super curious about you? It's hard to tell which of your connections are lurking around your Twitter, Tumblr or Facebook profiles. (In fact, there are plenty of phishing schemes that snag victims by promising to do just that.) Only one of the major social networks offers this feature. You guessed it! It's LinkedIn.
LinkedIn doesn't only tell you how many people are viewing your profil and how frequently they're doing so. If you are connected within three degrees of the viewer, their name will pop up next to the date they viewed your page. If you've splurged on a LinkedIn premium account, you'll be able to see everybody who's checked you out.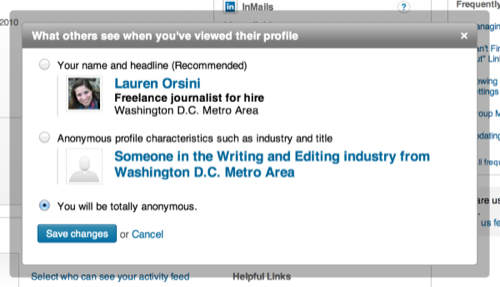 This usually goes both ways, but you can become a master stalker simply by changing your privacy settings. Go to Settings → Privacy Controls → Select what others see when you've viewed their profile. Opt to be totally anonymous. Happy sleuthing!
2. Join Discussion Groups About Your Interests
Is Reddit too immature? Tumblr too much of a teenage hangout? Help your online discussions grow up by moving them to LinkedIn.
Not everyone realizes you can search LinkedIn by interest, and not all of those interests are strictly business. For example, you can join a group to chat about about hiking, history, science fiction or even Tumblr. Don't see your interest? You can start a new group, too.
But be discreet. Since LinkedIn is first and foremost a professional community, you never know if your current or future boss is checking out your group memberships. If you're not an agitator or troll, this is a great thing — participants in discussions on LinkedIn tend to be much kinder and more forgiving than on other parts of the Internet.
3. Download Useful Apps
Just like Facebook and Twitter, LinkedIn is compatible with a number of third-party apps, ranging from LinkedIn acquisition SlideShare to blogging software WordPress. Used in tandem, you can add a lot of functionality — and personality — to your otherwise buttoned-up profile.
Traveling? Be sure to use the TripIt plugin to let your connections know where you're going. Want to chat face to face? Use Hookflash for LinkedIn. Buffer is a great way to snag and share your most interesting links with your friends or group.
Experiment with a few LinkedIn apps and see how your experience changes. Not just a resume any more, is it?
4. Become A Mentor
First, make sure you've indicated your educational background on your LinkedIn profile. Now that you don't look like a stalker, join your alma mater's LinkedIn community, which is probably a private community. Once you're accepted, see if you can't be somebody's fairy godmother.
Oftentimes, students will use this group's discussion to seek guidance or look for internship opportunities from alumni. If you've got a hookup or advice to offer, feel free to respond. Maybe you see a student getting her B.S. in Computer Science wondering if she ought to get her SCRUM certification. If you know the answer, now is the time to pipe up.
There! Don't you feel more like a contributing member of society?
5. Endorse Friends To Say "Thanks"
Finally, how about a new spin on the thank-you note? As Neal Goldman put it, we live in a service economy, and sometimes the best compensation we can offer other people comes through relationship building.
If somebody's done something especially nice for you lately, why not send them an endorsement on LinkedIn? It'll boost their credibility, make them look good and probably make them feel good. It's fast and free, yet it could have a big impact on their career.
Aside from job hunting, what are the ways you use LinkedIn?
See also: