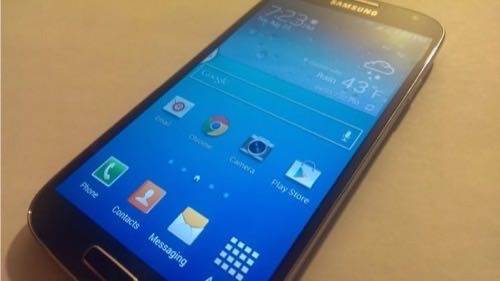 So, you think that the Mobile Revolution is complete and the battle between smartphones and PCs is all but won?
Think again.
Kleiner Perkins Caufield & Byers analyst Mary Meeker's infamous Internet Trends report dropped today at the AllThingsD D11 conference in Los Angeles. Guess what? Mobile traffic still only makes up 15% of all worldwide Internet traffic. That is less than one-sixth of all time spent on the Internet.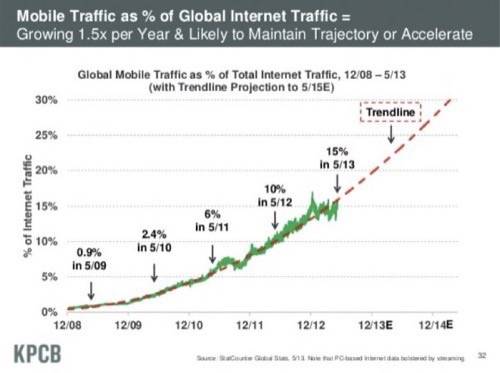 That means there is still plenty of work to be done and a lot of winners and losers to be determined.
We are currently in Year 6 of the Mobile Revolution (if we date the start of mass smartphone acceptance to the release of the original iPhone in July 2007). According to Meeker's report, there are 1.5 billion smartphones users in the world, or about a 21% penetration rate of mobile users. Compared to the nearly 5 billion global cellphone users, smartphones still have a long road to climb. Believe it or not, in the big picture, smartphones are still in the early stages of adoption.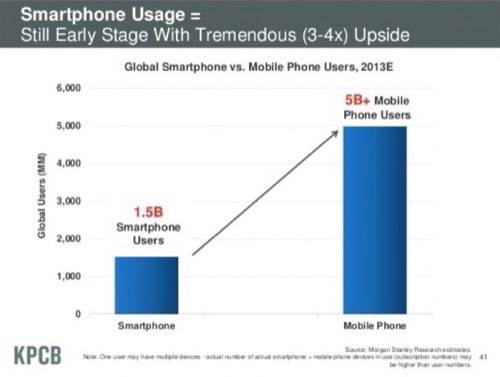 The Early Stages Of Mobile Adoption
If we start to break down the geographic demographics, some familiar trends emerge. For instance, the U.S. has one of the highest smartphone penetration rates in the world: 219 million smartphone users, 58% of the consumer public. China, too, has a huge smartphone subscriber base, far and away the highest volume in the world at 354 subscribers (yet just 29% of total consumer base). Japan has the highest smartphone penetration rate: 76% with 94 million users.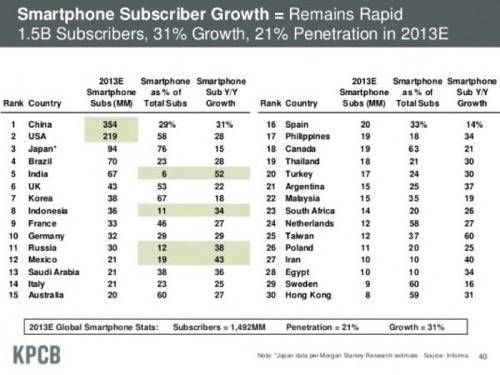 Then the's the middle ground of countries that have begun adopting smartphones but have not quite reached critical mass. France is at 46% of total mobile subscribers and Germany only 29%. Italy is at 23% and Spain 33%. We tend to think of Western Europe as resembling the United States in its technological preferences, but the Mobile Revolution has clearly not spread as far and fast as we might think.
Other parts of the world hold even more potential: With 67 million smartphone users, India is only at a 6% subscription rate. Indonesia is at 11% while Russia and Mexico are only in the teens, at 12% and 19%, respectively.
What's Next For Mobile?
Obviously there is exceptional potential for continued mobile growth. Google is leading the charge, focusing on extending its Android operating system (and through it, Google services) to as many countries as possible. Since its first smartphone in 2008, Android has seen 900 million activations. Google has expanded its Google Play Android app and content store to 134 countries worldwide and is focused on bringing the mobile Internet to Africa and Asia by building out cellular infrastructure in those regions.
Apple has fared very well in China, with the company posting its highest iPhone growth rates in the country for several quarters.
If there is really a remaining battle in the Smartphone Wars, it has less to do with Apple vs. Google vs. Microsoft vs. BlackBerry and more to do with the race to connect the rest of the world to the Internet through mobile. The company that can best figure out how to solve that diverse and complex global problem will be in a great position to succeed for the decade to come.
But here's another thing to remember: All of mobile's growth lines point straight up. As more and more of the world scrambles to connect through mobile devices, there could be a place for nearly everybody to succeed in the mobile marketplace.
Top image: Samsung Galaxy S4