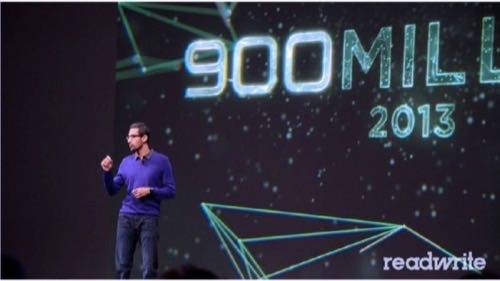 This post is the second in the ReadWrite series Making Android Pay, in which we explore the opportunities and challenges mobile developers face trying to make money from Android apps.
How do you get mobile developers to love you? Give them free tools and pad their wallets.
One of the big themes for Google last week at its I/O developers conference was helping developers make more money creating apps for Android. That included a variety of tools to help them engage with their users and process transactions as well as optimization tips to monetize Android.
Monetization is a big challenge for Android developers. Developers who make Android apps earn a fraction of what they make from Apple's iOS, which paid developers nearly $1 billion alone in January this year and $8 billion total as of February. Android developers can only dream of such riches.
(See also How Google Is Wooing Developers to Make Apps For Android First.)
Yet there is hope. Google's VP of Android product management Hugo Barra told I/O attendees last week that Google had paid more to Android developers in the past 4 months than the previous 12 months before that combined. This increase has been driven by a renewed focus by Google to give developers more tools to make money, culminating in a slurry of announcements to the Google Play Developer Console last week.
"Everything from the analytics integration we have shown to you could imagine other things that Google could put together," said Ellie Powers, product manager for Google Play in an interview with ReadWrite.
Powers continued:
I think that is sort of the next thing. They want to have deeper insights. They want to know exactly what they should work on. And I think [with] the things that we are doing we can continue enhancing them. Developers always want more stuff. They are always really hungry and we are hearing from more and more developers. They are saying they want to invest more because you [Google] give us such great data we are able to use that to understand our users better and invest more in the Android platform.
New Tools In The Google Play Developer Console
Specifically, Google issued six new features to Google Play to help Android developers optimize towards monetization:
App translation service: The ability to translate an app into a different language directly from Google Play Developer Console. This is an agency approach (human, not machine) that Google purposefully chose because it found the human touch of translations provided better results on the local level.
Revenue graphs: A new tab in the Developer Console gives developers a summary of their app global app revenue over time.
Alpha and beta testing and staged rollouts: Perhaps the biggest announcement for Android developers last week, beta and staged rollouts are unique to Android. This should encourage developers to take bigger risks knowing that they will not be rolling out a bug-laden app to 100% of its users.
Optimization tips: Based on analytics from Google Play, optimization tips will point developers towards market segments that could benefit them, like launching in a new country or developing specifically for tablets, which make 1.7-times more revenue per user than do Android smartphones.
Google Analytics: Mobile data on usage, time spent and a variety of cohorts as Google Analytics for Mobile is integrated straight into the Developer Console.
Referral tracking: Where are your installs coming from? Did getting written about by the major tech publications give you a bump? How about that in-app advertising? Referral tracking will tell you.
More Ways To Pay: Simplifying The Billing Infrastructure
Overlooked in the improvements made to the Google Play Developer Console were several infrastructure tweaks to the way Google processes payments for developers. The purchase flow (from app discovery to payment) has been simplified with the new user interface in Google Play, making it easier for users to pay in a variety of ways. Those include expanded gift cards and pre-paid options (which Google announced at I/O 2012 and has been improving on ever since).
Google is working hard to get Android users to overcome their relative reluctance to paid purchases by promoting gift cards and other pre-paid mechanisms – like Google Play promotional credits with mobile device purchases. While Google acknowledged at I/O that "the barriers to success for a paid title is very high," making a purchase with a free credit seems to help encourage users to keep buying even when the credits run out.
(See also Google Is Making Life Easier For Android Developers.)
The company is also boosting options for direct-carrier billing in markets around the world. One reason for the success of Apple's App Store is that the company already has every user's credit card number. Because Google doesn't make or sell Android devices, it may not necessarily have that information. In developing markets, especially, credit cards are either non-existent or not popular. Direct-carrier billing gives Google a popular, easy-to-use payment method almost everywhere. About 50% of Android's daily active users now have access to direct-carrier billing, the company said.
"We went from having 20 countries or so that could pay to what is it? 130 or so," Powers said. "So that is amazing. I think with a lot of developers they are only thinking about people in their own countries but it turns out that there are billions of people in the world… So helping developers reach into new markets really helps there too."
From a developer's perspective, of course, it doesn't really matter what option a user pays with – as long as they pay. Google takes care of the entire payments infrastructure on the backend – the developer doesn't even need to know what option was used. The ongoing problem, of course, is that even with the improvements, Google Play still can't match the ease of use of the App Store, which licenses Amazon's 1-Click payment patent. Even as Android eclipses Apple's iOS in many ways, playing catch-up in this area is likely to be an ongoing effort for Google.
Top image by Nick Statt: Google's Android head Sundar Pichai announces 900 million Android installations at I/O 2013.