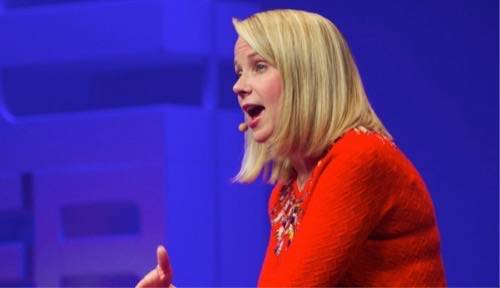 Yahoo is expected to announce the acquisition of blogging site Tumblr for $1.1 billion on Monday, with both companies' boards having agreed to the deal, according to reports in AllThingsD, which first broke the news of sale talks, as well as the New York Times and the Wall Street Journal.
If it goes through as planned, buying Tumblr would be a signature deal for new Yahoo CEO Marissa Mayer in her effort to transform the aging Web-media company into a producer of habit-forming online experiences. Tumblr has some 100 million monthly visitors, and its users publish 90 million posts a day. Those are some mighty habits, and they promise to offer considerable room for Yahoo's advertising sales team.
Selling can't have been an easy decision for Tumblr founder David Karp. When we last saw the youthful CEO in early April, he was on the campus of Facebook on the same day that the social network launched its Android Home software. As we left, we saw him locked in an intense conversation with Facebook CEO Mark Zuckerberg. Zuckerberg, early in Facebook's life, also famously wrestled with a billion-dollar buyout offer from Yahoo. We have to wonder what they talked about.
One thing Karp and Mayer will have to figure out is the relationship the combined companies have with their users. Tumblr's users, a young, cool demographic Yahoo has fairly openly admitted it lacks, identify closely with the service.
Unlike Facebook, Tumblr is a place where they can reveal themselves without revealing themselves. The tolerance for provisional identity (and racy content) is a core part of Tumblr.
Yahoo is a muddle. While it was one of the first sites to let users log in and personalize experiences, it has faded as a source of online identity. The fact that you can use a Facebook or Google account to log in to Yahoo is telling.
The one notable exception is Flickr, the photo-sharing site that has seen a renaissance since Mayer became CEO. Yahoo is expected to announce significant upgrades to the service on Monday as well, and one source who has seen the new version of Flickr described it as "stunning."
Will Tumblr become part of Yahoo like Flickr—a distinct service with its own user culture? Or will it become part of the muddle of indistinct Yahoo services like Sports and Weather, more notable for their utility than their expressive nature?
Yahoo nearly crushed Flickr as it first integrated the photo-sharing site and then neglected it. To be useful to Yahoo, Tumblr will have to somehow fit into the rest of the operation. No amount of promises of hands-off treatment will change that reality. (Here's one way Tumblr could help Yahoo: Junk Yahoo's overcomplicated in-house publishing systems and move all of the media operations onto Tumblr.)
Even the question of how users log in to Tumblr, post-Yahoo, will be key. Will they retain a provisional identity, unlinked to their real name and the rest of their online activity? Or will it get folded into everything else they do on Yahoo? That question is crucial, and as Yahoo learned with Flickr, it's easy to screw up.
The difference is that Yahoo spent a few tens of millions of dollars on Flickr. Screwing up Tumblr would be a far more expensive mistake.