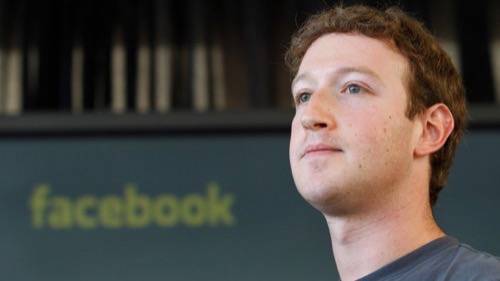 Mark Zuckerberg likes to say that Facebook is now a "mobile first, mobile best" company – and the company's earnings report for the quarter ended March 31, 2013 actually backs him up, in both usage rates and revenue:
Mobile ad revenue for the quarter ending March 31, 2013 was $375 million, accounted for 30% of the company's total ad revenues. That is up from 23% in the last quarter of 2012.
COO Sheryl Sandberg claimed that Facebook ads helped drive "25 million" app downloads. (Essentially, developers pay to promote their app inside a user's Newsfeed. Click on the ad and go straight to Google Play or Apple's App Store.) Zuckerberg added that, "I think it's clear now that we can create a lot of value for [developers] by providing identity. We're starting to see real revenue from mobile app installs." The company said 40% of top-grossing iOS and Android apps were promoted on Facebook.
Facebook boasted 751 million mobile "monthly active users" – a 54% increase over the same quarter last year and 71 million more than it registered in the fourth quarter of 2012.
In fact, the now company claims 189 million mobile-only monthly active users, up from just 83 million a year ago and 157 million in the last quarter of 2012
The first quarter also saw the debut of the Facebook Home launcher. So far, though, Facebook Home has fewer than a million downloads and only a 2 (out of 5) rating. Sales of the HTC First smartphone, which has Home embedded, have been rumored to be minimal. On the earnings call, Zuckerberg described both Home and the company's new Graph Search as "long-term investments."
Facebook did not break out mobile usage by geography or platform (e.g. iPhone vs. Android), nor did it separate user data by age or other demographics. Sanderberg, however, did say that the company's mobile ad business was doing particularly well in Asia.
Do Kids Still Like Facebook?
Overall, Facebook brought in $1.46 billion for the quarter, generally in line with Wall Street expectations – and a 38% increase year-over-year. Revenue from advertising hit $1.25 billion, a 43% increase year-over-year. Advertising accounted for 85% of Facebook's total quarterly revenues, with payments and fees delivering the remainder.
Revenue aside, many of the rumors circulating around Facebook concerned worries that the world's largest social network was beginning to lose members, particularly young users in the U.S. and other developed countries, and that existing users were becoming less engaged. On the conference call, CFO David Ebersman was asked if "kids still like Facebook." He responded by stating that "Facebook is awesome for everyone, regardless of age. And, yes, kids still like Facebook." Ebersman also claimed that, "Younger users are more active and engaged than other users… as for competitors, this is not a zero sum game."
While Facebook did not fully address these questions, overall the Facebook user numbers looked relatively healthy:
665 million "daily active users" on average for March 2013 – a slight increase over Q4 2012's 618 million, and a 26% increase year-over-year
Monthly active users were 1.11 billion as of March 31, 2013 – a 23% increase year-over-year and up slightly from 1.056 billion in the fourth quarter of 2012.
Instagram had 100 million monthly active users during the quarter
See also Facebook earnings summary and earnings slides (pdf).