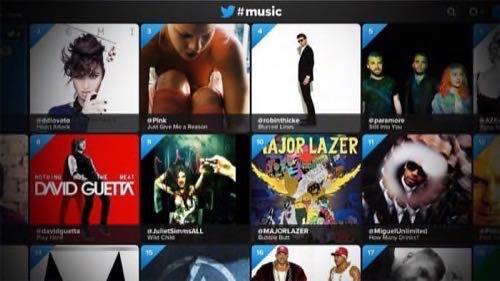 Twitter put months of speculation to rest this morning when it launched its own music-focused service for iOS and the Web. Twitter #Music is a standalone app for discovering, following and listening to artists that draws its intelligence from Twitter's own user activity data. At first glance, it's a win for artists, but the value it adds for fans remains to be seen.
First and foremost, Twitter #Music is undoubtedly good for Twitter. The app takes something that is hugely popular among consumers — music — and intimately ties it to its own service. It also integrates with Spotify and Rdio so tracks can be streamed in their entirety from within Twitter #Music. That feature, the company is betting, will keep listeners glued to the app, where much of what they do is tied to Twitter's core functionality: tweeting songs and following artists.
Putting Artists Front and Center
For artists, the potential advantages here are huge. At every turn, Twitter #Music encourages you to follow bands and musicians, which of course can lead to longterm engagement and even sales. Whether they're already trending or Twitter thinks you might like them (based on your existing follows), this app puts artists and their Twitter handles front-and-center, never missing an opportunity to stick a "follow" button in front of the user.
Twitter #Music also lets users buy tracks directly from iTunes, which is a major plus for artists who still aren't making all that much money from those Spotify and Rdio streams.
If widely adopted, Twitter #Music could become a potent source of exposure for up-and-coming musicians. And while there a million services that promise to enable music discovery, seldom do they directly make money for artists.
We Are Hunted, R.I.P.
Twitter #Music is built on top of the guts of We Are Hunted, a service that ranked the popularity of online music so effectively that some people wondered whether it could replace Billboard. Twitter gobbled it up to build this, and you can tell. Twitter #Music's design is strongly reminiscent of We Are Hunted's, even if Twitter appear to have gutted much of the service's original functionality.
We Are Hunted's flagship feature was its Emerging Music chart, which analyzed a wide range of data signals to determine what music was most popular online. Twitter #Music appears to replace that more complex algorithm with something that more heavily favors Twitter's own data. That's not surprising, but it makes for a less thorough analysis and for music fans, a less useful experience.
In the process of launching this new product, Twitter also appears to have gutted some of We Are Hunted's core recommendation technology in favor of a more Twitter-centric approach. Whereas We Are Hunted used a complex array of data to associate artist to one another, Twitter #Music appears to be relying heavily (if not exclusively) on data about the relationship between artists on the service, such as who follows who. When I look at The Flaming Lips on Twitter's new service, it recommends Taylor Swift. Really?
Do We Need This?
With We Are Hunted effectively neutered and Twitter entering the digital music space with a big splash, the big question remains: How useful is this new app for users?
It depends. Let's consider Twitter #Music's key selling points: You can discover music that's popular on Twitter, get new music recommendations and listen to it all within the app. Those are all useful things, although to varying degrees.
The music-listening part is only really worthwhile to those of us who pay for premium Spotify or Rdio accounts. Otherwise, we're left with a mere iTunes snippet and the option to buy the whole track. And if you do have Rdio or Spotify, you're going to continue to use those services' apps for the majority of your listening. Listening to music isn't the main draw of Twitter #Music, just a very nice touch.
The most compelling aspect of the app is Twitter's data about artists, songs and the social relationships between them. If you can get over the fact that We Are Hunted pulled in much more data and was thus much more interesting, this is useful, especially if you happen to be active on Twitter.
Where Twitter-Based Music Discovery Fails
But just being a voracious tweeter isn't enough. As many users have pointed out, the "Me" and "Suggested" tabs of the app are of limited value if you don't follow a lot of musicians on Twitter. Indeed, using Twitter follows as a barometer for one's music taste is a curious choice. Sometimes musicians have worthwhile Twitter accounts, sometimes not.
Either way, most people probably don't follow all the artists they like. Unlike the Facebook "like", the Twitter "follow" is not an explicit statement saying "I enjoy listening to this band." Instead, it's saying, "I think this band, whose music I happen to enjoy, might have interesting things to say, so I'm listening."
Of course, if you're not following a lot of artists, that's something Twitter #Music is explicitly designed to change. But out of the box, this is a real handicap for some users.
It's also worth mentioning that at launch, Twitter #Music only appears to acknowledge verified artist accounts, at least as far as the "Me" tab is concerned. When I click on my own profile, it shows eight bands that I follow. There are certainly more artists that I follow, but they're less well-known and thus have no official designation from Twitter. As a result, they are presumably not factored into my recommendations.
Personally, I'm not all that interested in what music is generally popular on Twitter. You mean to tell me that lots of people are listening to Psy, P!nk and Maroon 5? No kidding! The "Emerging" tab is a bit more interesting, as this is where a hidden gem or two is bound to surface.
The other tabs are more personalized, and thus likely to be more relevant to users. It's not clear exactly what kind of data is fueling he "Suggested" tab, but it does a reasonably decent job of recommending artists. Many of its suggestions are spot-on. Some are questionable. It's not terrible, but it could be better. I've tested a lot of services that utilize music recommendation engines.
For my money, algorithms like the ones behind Pandora, Last.fm and the Echo Nest do a much better job of making music suggestions than this app does. Twitter #Music is also competing against beloved and impressive music recommendation apps like Shuffler.fm and Hype Machine.
On the whole, Twitter #Music is a decent app. If you like music enough to subscribe to a streaming service and are interested in finding new music, this is a pretty good, social-fueled way to do it. If your tastes are more particular and nuanced, tools with more complex algorithms and granular data points are likely to be more useful to you. Either way, it's worth taking it for a spin.