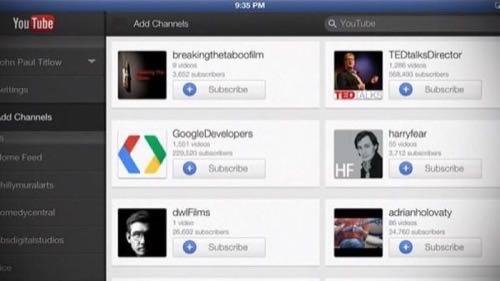 Watching Coachella from your phone just got easier. At long last, iOS users can tap into YouTube's live video streams, thanks to an update pushed out to the app yesterday.
It may seem like a minor thing, but the addition of livestreaming support to YouTube for iOS is a pretty nice touch, especially if you're getting your "TV" content from your tablet or smartphone. This is a win for cord cutters.
As somebody who relies exclusively on Internet streaming boxes and mobile devices to fill their 48″ HDTV screen with moving pictures, I've long wished YouTube's native app would give me access to the live-streamed stuff. In recent years, YouTube has been making live video feeds available for whatever major political and entertainment events they can get the rights to stream. This includes music festivals like Coachella, sporting events and just about every major televised event in the course of each presidential election. You know, exactly the kind of thing for which we tune into live TV.
Internet TV User Experience: It's Getting There…
The problem with relying on the Internet for TV content is that the user experience is unpolished. As exciting as all this new TV tech might seem, there's still something to be said for sitting in front of a television set, pressing a button and leaning back. You can't really do that with Internet TV, but the experience is getting there.
Part of the equation is smart app design such as that found in iPad video apps like Frequency, ShowYou and Vodio. YouTube's own four-month-old iPad app is the best the service has ever looked on Apple's market-leading tablet (it's naturally quite at home on Android as well). Still, while a great mobile app UI is important, it's useless without the means to get it to the TV, which is where technologies like Apple's AirPlay come in. And of course, the most crucial part of all is the content itself. This update stands to make YouTube a much better source of that content. Meanwhile, if Aereo survives the TV industry's litigious onslaught, it will be, if you'll pardon the buzzword, a total game-changer for this type of TV-viewing experience.
YouTube's Role In TV's Future
On the content front, YouTube has been ramping up its original, TV-style content for awhile now, even opening its own TV studio in Los Angeles. Like Hulu and Netflix, YouTube knows that people are going to be turning to the Internet for more and more of their TV-viewing, and they want to stake out as big of a slice of that pie as possible.
But while binging on Arrested Development on Netflix is great and all, certain shows and events are best enjoyed live. Trying to tune into those things via tablets and streaming boxes is a pretty clunky experience. As the interfaces mature and content selection widens, it's going to get better. YouTube is one of players that will be right at the heart of this evolution, which will lead to the future of what we now think of as "TV." Adding live streaming support inches us toward that future just enough that it's worth noting.
This is not a blockbuster, life-altering feature for cord cutters – It's not like HBO just gave us all HBO Go access for free out of the kindness of their hearts – but it's an important step toward making mobile devices more suitable sources of television-style content. Combined with apps like Aereo and Hulu Plus, YouTube makes "TV" something that increasingly comes from the Internet, not from cable providers.