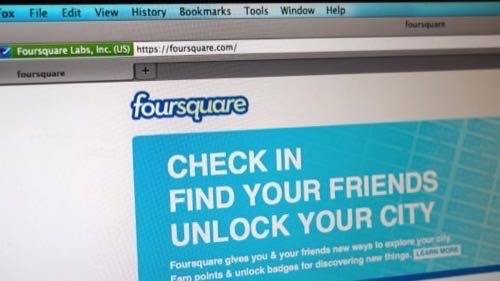 Foursquare has checked in as the mayor of Debt Town today after announcing $41 million in loans from new and current investors. Which really puts the pressure on the company to generate real revenue as it shifts its focus away from simple social check-ins and tries to recoup lost ground in the battle over local search.
No investors plunked down cash for new Foursquare shares. Instead, new investor Silver Lake Waterman led the financing with what other reports are calling a multiyear loan, while existing Foursquare investors — Andreessen Horowitz, O'Reilly AlphaTech Ventures, Spark Capital and Union Square Ventures — offered loans that will convert to equity if Foursquare's valuation rises.
In other words, Foursquare just put itself into the hole in a high-risk gamble. The Silver Lake loan will most likely force the startup to make regular interest and principal payments lest it risk default — creating a steady cash drain that most startups try hard to avoid. We've reached out to Foursquare for more information on that investment, and I'll update when and if I hear back.
The convertible debt, meanwhile, represents a hedge of sorts for the company's existing investors. They get to sidestep the question of Foursquare's actual valuation — which obviously suggests it's not doing that great — and, should things go south, may stand a better chance of recouping some of their investment than if they held nothing but equity.
A Foursquare In Flatland
This means Foursquare, which has increasingly found itself in trouble with the entry of Google+ and Facebook into local search, is under a lot more pressure to demonstrate that it can make money. Investors like Union Square's Albert Wenger claim they see opportunities for Foursquare to take off, with the explosion of smartphones and abatement of couponing services like Groupon.
Wenger highlights what Foursquare really wants you to do with its app: Don't just check in, but identify retailers and businesses more actively so that your data in turn can drive better local searches. It's a tough nut to crack, particularly since Android users are more easily tied to Google to do the same thing, and many smartphone users of any platform are apt to use Facebook.
This may be the key problem for Foursquare: it's too specialized. Users may be more likely to share information on Facebook, for example, because they're already using it to socialize. I don't use either service regularly, but if I did, I'd rather share a review with my more well-developed network of Facebook friends.
Foursquare is going to have to turn itself around and get more money coming in the door. If it can't do get positive cash flow through its services, it may have to resort to other methods, such as raise equity privately or publicly to pay off debt holders.
There's also the option my former colleague Jon Mitchell has put forth: Fourquare could sell itself to Apple. Or any bigger company, for that matter. Given Apple's need for better local data, Mitchell's argument makes a whole heck of a lot of sense.
However it does it, Foursquare now has to make money fast to work off this new debt in a very competitive market. If it doesn't get traction soon, Foursquare won't be mayor of anything.
Image courtesy of Juan Camilo Bernal/Shutterstock.