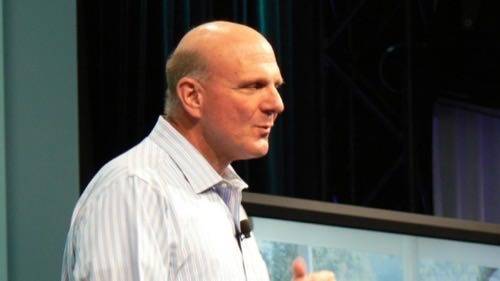 The PC market is tanking. Windows 8 is proving to be a disaster. Dell is hoping to go private. HP is flailing. But not every "personal computing" company is suffering. In the past few years, Apple has sold more than 500 million iOS devices – not licenses, devices – and is selling an additional 75 million iOS devices (iPhones and iPads, mostly), each quarter. At this rate it could be only a few years before the iOS installed base surpasses the global Windows installed base.
Yet Microsoft isn't expected to offer Office on iPhone or iPad until late 2014, at the earliest. What is going on at Microsoft headquarters? Corporate hubris? Insufficient resources? Or yet another strategic blunder by Steve Ballmer?
Numbers Don't Lie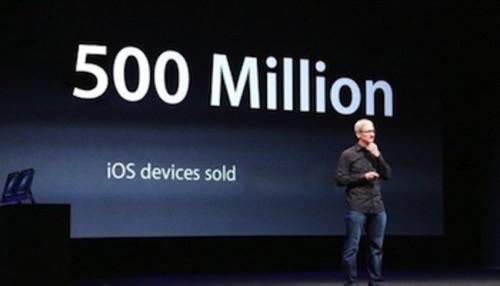 The global Windows installed base is approximately 1.25 billion computers – the biggest such ecosystem in the world. But Apple's iOS is catching up.
For the world's biggest software maker, it seems crazy to ignore the giant and fast-growing iOS market. Microsoft should be aggressively monetizing iOS devices. Instead, Microsoft appears determined to look the other way.
Steve Ballmer's obsession with Windows – growing Windows, enhancing Windows, extending Windows, promoting Windows, licensing Windows, selling Windows, profiting from Windows – may well cost Microsoft its place as the leader in consumer software.
And then there's Android, which is is technically even larger than Apple's iOS, with an estimated 750 million devices. But Microsoft won't have Office ready for Android, either, until 2014. In Microsoft's defense, the Android market is highly fragmented, making it much harder for Ballmer (or anyone else) to mass market Android software. But combine iOS and Android and they're already larger than Windows. So what the heck is Microsoft thinking?
Why The Delay?
Apple sells some 20 million new iPads every single quarter. Microsoft Office is not available on a single one. Nor is there a version of Office for iPhone. Well-connected Microsoft expert Mary Jo Foley says that Microsoft's two-year roadmap reveals Office for iOS is still nearly two years away.
According to Foley, Microsoft's roadmap for Office goes like this:
Incorporate the "Blue" Metro-style design to the core Office suite – Word, Excel, PowerPoint and OneNote. (Note: The referenced roadmap does not include Outlook.)
Make each Office app, e.g. Word and Excel, more touch-centric and optimize these for Windows 8 and Windows RT.
Update Office for Mac.
Update Office for Windows Phone.
Make a version of Office for "LSX" – large screen experience – displays.
Update Office for RT-based (ARM) desktops.
Which brings us to Fall 2014.
At which point, assuming everything goes to plan, Microsoft is scheduled to release a version of Office for iOS and Android. (Even then, Foley says the roadmap doesn't specifically reference the iPad is not specifically mentioned. Let's hope this is a mere oversight.)
Conspiracy Theories
It seems bizarre that Microsoft would cling to a contracting PC ecosystem and shun the massive and growing installed base of iOS and Android devices. Why would Ballmer and Microsoft wait until Fall 2014 to tap into a market that could add hundreds of millions of dollars to the company's bottom line? There are several theories:
1. Apple's 30% cut: To sell software for iPhone or iPad you must go through Apple's App Store. Apple takes a 30% commission on every sale. Microsoft is loathe to hand over this rather substantial cut. Indeed, Microsoft's quarterly corporate profit margin is about 30%. The company may be hoping to negotiate better terms.
2. Channel margins: This theory suggests that Microsoft is concerned that if it were to offer Office for iOS, its price would need to be far lower than Office sold through traditional channels. Apple's own iWork productivity suite costs less than $10 per app, while Microsoft's Office pricing is frustratingly hard to figure out – though much more than $10 per app. Lowered Office pricing for iOS and Android could foment a revolt from the makers of desktops and laptops, such as Dell or Lenovo, over the prices Microsoft charges them for pre-loaded versions of Office. Bottom line: Microsoft does not want to threaten its lucrative Office suite profits.
3. Touch is hard: Considering the lack of buyer excitement over Windows 8, which offered a radical redesign of Windows to promote touchscreen use, it may be that Microsoft is finding that building a pure-touch version of Office is more difficult than expected.
4. Surface needs time: A theory put forward this week by Microsoft watcher Paul Thurrott suggests that by delaying the launch of Office for iOS, Microsoft is buying time to grow sales of Windows 8 and Surface tablets.
My theory is that given the obvious internal debate over the pros and cons of Office on iPad inside Microsoft, a deal was struck: Yes, the Office team could agnostically support non-Windows platforms with the Office 2013 wave of products. But it needed to wait until Windows 8/RT was firmly established in the market.
Good luck with that.
Ballmer's Bad Decision
Ultimately, there is a simple, unavoidable rebuttal to each of these theories, to every possible reason for delaying Office on iOS and Android. It does not matter.
Just as the computing market shifted from mainframes to minis, from minis to desktops and from desktops to laptops, it is now being dominated by smartphones and tablets. There was a time when Apple needed Office to be on the Mac. That time is past. Now, Microsoft needs Office to be Apple's iOS and Google's Android.
And sooner would be better than later.
Note: Microsoft's media relations has said the company has "no information to share" regarding the next series of Office updates.
Steve Ballmer image by Fredric Paul.