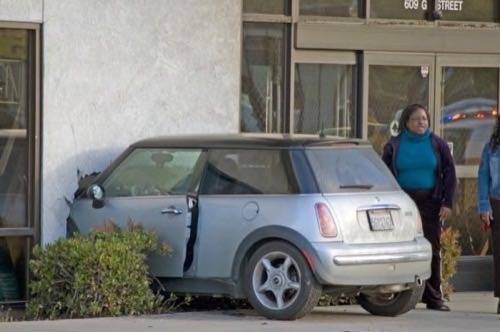 The PC market tanked in the first quarter, IDC reported. Shipments fell by a stunning 14% from a year earlier, almost twice what IDC had predicted and the worst performance since the firm began tracking the market in 1994. Can we all agree now that Windows 8 has wounded an already dying PC market?
Gartner chimed in, too: worldwide PC shipments totaled 79.2 million units in the first quarter of 2013, a 11.2 percent decline from the first quarter of 2012. Global PC shipments went below 80 million units for the first time since the second quarter of 2009, the firm said.
The question now is just how severe the damage is. And man, it looks bad.
Granted, first-quarter sales figures inevitably fall from the fourth quarter. But that's why quarter-over-quarter metrics are important, as they eliminate seasonal variation. Unfortunately, this is the fourth straight quarter of declining PC sales. U.S. sales fell 12.7 percent year-over-year, and 18.3 percent versus the fourth quarter.
Windows 8, In The Office, With A Touchscreen
When you put it that way, IDC's report reads like an obituary. And Windows 8 appears to be holding the knife.
"At this point, unfortunately, it seems clear that the Windows 8 launch not only failed to provide a positive boost to the PC market, but appears to have slowed the market," said Bob O'Donnell, IDC's vice president of clients and displays, in a statement. He continued:
While some consumers appreciate the new form factors and touch capabilities of Windows 8, the radical changes to the UI, removal of the familiar Start button, and the costs associated with touch have made PCs a less attractive alternative to dedicated tablets and other competitive devices. Microsoft will have to make some very tough decisions moving forward if it wants to help reinvigorate the PC market.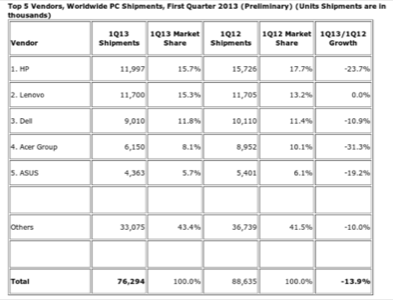 PC shipments fell to 76.2 million units, down from 88.6 million units in the same quarter last year. Sales fell across the board, in all regions, and every single one of the top PC manufacturers saw sales fall — although Lenovo eked out an almost flat trajectory with a shipment decline of only about 5,000 units. HP, Dell, Acer, and Asus all saw shipments decline in double digits. In the United States, lenovo was the only named vendor to enjoy positive growth.
Via email, O'Donnell told me that recent discounts for Windows 8 PCs and tablets in the Windows Store and elsewhere were likely spurred by the low shipment numbers, as I suspected. Microsoft had claimed that the discounts were "seasonal."
Where Do We Go From Here?
"Although the reduction in shipments was not a surprise, the magnitude of the contraction is both surprising and worrisome," David Daoud, IDC research director for its Personal Computing analysis, said in a statement. And the bad news doesn't stop there, he said:
The industry is going through a critical crossroads, and strategic choices will have to be made as to how to compete with the proliferation of alternative devices and remain relevant to the consumer. Vendors will have to revisit their organizational structures and go to market strategies, as well as their supply chain, distribution, and product portfolios in the face of shrinking demand and looming consolidation.
Translation: PC makers are in for a world of hurt. Consolidation is inevitable, and lots of people are going to lose their jobs.
We've known for some time that tablets, phones, and ultraportables like the Google Chromebox are taking an increasing share of user time, attention, dollars, and computing power. But this is a disaster. As Daoud notes, we may see a note of panic begin to creep in to traditional PC vendors. It certainly explains why companies like Hewlett-Packard — still the top PC vendor, by the way — are making Chromebooks.
Just how did HP fare, anyway? In a word: Awful. Sales fell by 23.7 percent, and Lenovo is within striking distance of becoming the world's largest PC vendor. Lenovo's sales were essentially flat, and HP's market share is 15.7 percent worldwide, with Lenovo at 15.3 percent. Dell's sales plunged 10 percent, Acer's fell a whopping 31.9 percent, and Asus was down 19.2 percent. Acer faces increasing competition in mini notebooks.
Even Apple's U.S. sales were off by 7.5 percent by IDC's reckoning — yet another indication of how bad things are. As if we needed one.
PC makers will be reporting first quarter financial results soon, and traditionally weak second quarter results are only a few months down the road. It's going to be an ugly time for PC hardware makers. Buckle up.
Updated at 3:45pm PT with Gartner results, and again on April 11 at 10:50am PT to clarify Apple's U.S. sales, which declined 7.5% year-over-year in IDC's data.
Image Source: flickr/OpenSkyMedia