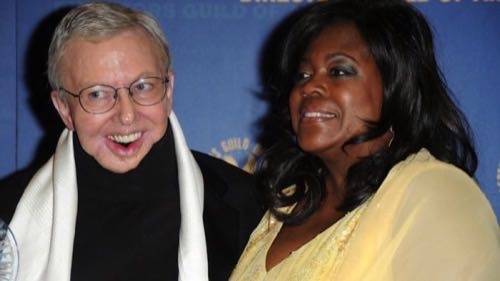 I know Roger Ebert like most of you. I know him from his many film review shows, from his numerous and well-written movie reviews syndicated in hundreds of newspapers, and his many appearances on late-night talk shows. It was through Twitter, however, where I felt most close to him.
Now that Ebert has died, should I unfollow him? Should you? Is there a protocol for this?
Roger Ebert wrote over 30,000 tweets and had over 800,000 followers. I was one of them. I'm not sure what to do now. I'm also not sure if Twitter knows what to do in this situation.
True, one of its press representatives did respond to my queries with a link that explains how relatives or estate representatives can request deactivation — i.e., deletion — of an account following its owner's death. Twitter will not, however, grant anyone access to the account of someone who's passed away.
Still, what becomes of Ebert's tweets now that he's dead? What of the fact that at least one person, Jim Emerson, editor of Ebert's blog site, has access to the account — and has tweeted on it twice since Ebert's death? (Albeit apparently at Ebert's request.) Should Ebert's wife, or Emerson, or anyone else keep tweeting on Ebert's "verified" account? Wouldn't that be weird?
A Powerful Voice On Twitter
Ebert's tweets touched on movies, obviously, but also politics, the environment, music, gun control, climate change and much more. He came to Twitter reluctantly before happily embracing the new medium. In a 2010 column for the Chicago Sun-Times, Ebert wrote:
I vowed I would never become a Twit. Now I have Tweeted nearly 10,000 Tweets. I said Twitter represented the end of civilization. It now represents a part of the civilization I live in. I said it was impossible to think of great writing in terms of 140 characters. I have been humbled by a mother of three in New Delhi. I said I feared I would become addicted. I was correct.
He quickly became one of the more popular, respected voices on Twitter. In the same essay, Ebert also provided his thoughts on how to tweet effectively:
My rules for Twittering are few: I tweet in basic English. I avoid abbreviations and ChatSpell. I go for complete sentences. I try to make my links worth a click. I am not above snark, no matter what I may have written in the past. I tweet my interests, including science and politics, as well as the movies. I try to keep links to stuff on my own site down to around 5 or 10%. I try to think twice before posting.
He also shared his views on what Twitter meant to him:
When you think about it, Twitter is something like a casual conversation among friends over dinner: Jokes, gossip, idle chatter, despair, philosophy, snark, outrage, news bulletins, mourning the dead, passing the time, remembering favorite lines, revealing yourself.
Ebert revealed himself in life, on Twitter. Will those tweets soon go away? Given Ebert's popularity on Twitter and his general celebrity, will Twitter see fit to honor him somehow?
I have long been a fan of Ebert's work. I loved Siskel & Ebert, even when he and Gene Siskel were reviewing awful movies. I know Ebert wrote the screenplay for Beyond the Valley of the Dolls, which I've watched. I know he wrote many books, launched a popular movie festival and had a highly trafficked blogsite. I know he worked with Microsoft on Cinemania, an interactive movie guide on CD-ROMs.
Nonetheless, I believe I know him best, know him most fully — as a person — from Twitter. Now that he's dead, it seems not merely unseemly to unfollow him. More… unnecessarily sad.
Bury Me With My Tweet On
In 2009, Facebook announced a "memorialize" feature, in large part so that users would not be auto-reminded to "reconnect" with a person on Facebook that had since died.
We understand how difficult it can be for people to be reminded of those who are no longer with them, which is why it's important when someone passes away that their friends or family contact Facebook to request that a profile be memorialized.
(See also: Why Are Dead People Liking Stuff On Facebook?)
To verify the person's death, Facebook requires friends or family to complete a form that contains a link to the person's obituary or other information confirming the death. Twitter doesn't offer anything similar, although as noted above, the service does allow relatives or estate representatives to request that accounts of the deceased be deleted.
Perhaps it shouldn't. Perhaps the account should remain available, though in a state of suspended digital animation. If Twitter is a conversation, as Ebert himself suggested, even the person's death can't make past conversations disappear.
Though this still does not answer the question, which may be unanswerable, of whether or not I should unfollow someone that is now dead. Particularly when that someone mattered to me, even if solely via digital channels.
Ebert never hid the fact that late in life, salivary cancer stripped him of his vocal chords, his jaw and his voice, and that he had to rely on a computer to speak and write. Here is his TED talk, "Remaking My Voice," from April 2011.
Roger Ebert never replied to any of my tweets to him, nor ever favorited a tweet of mine. Now he never will. There could come a time when I decide to cull through my Twitter followers and delete Ebert's account. I am glad, however, that Twitter was there to bring Ebert closer to me.
I hope Twitter honors him in some appropriate manner. I also hope that Ebert's many 140-character tweets continue to live forever.
Image of Roger Ebert and wife courtesy of Shutterstock