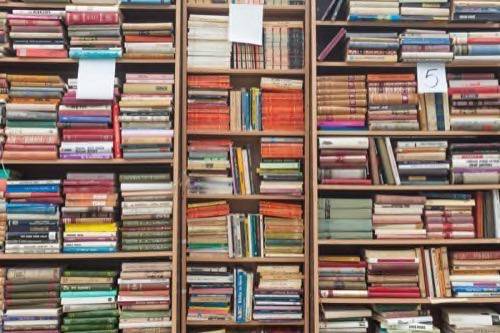 Last week, Amazon bought the social book-discussion site Goodreads for an undisclosed sum. My immediate Twitter reaction was, well, cynical:
My second tweet was still snarky, but more on the money:
Basically, those two tweets — about which more in a moment — are the two best reasons to think the Goodreads acquisition will be bad for the company and bad for readers… but very, very good for Amazon.
Your Diversity Will Be Assimilated Into Our Own
First and foremost, one has to question whether Goodreads' commitment "to be an open place for all readers to discover and buy books from all retailers, both online and offline" remains in place.
I contacted Goodreads, and Suzanne Skyvara, its global consumer communications executive, offered encouraging words: "Re: the links to other retailers, we have no immediate plans to change the Goodreads experience."
Let's be real, though. No one in Goodreads' position has ever responded to buyout concerns with "we totally expect [buyer] to subvert our pre-buyout goals" and it's simply not in Amazon's best interests (or DNA) to promote the content of other booksellers.
Jeff Bezos has been very open in saying that Amazon will make its money on content. Goodreads provides Big Book nothing if not a resource to promote and sell content.
To be clear, I'm not being critical of or calling anyone at Goodreads a sellout. When I was running Lendle, a Kindle lending startup I co-founded, it was always our goal to run a fair lending site on our own terms. If Amazon had offered us enough money we'd have sold in a heartbeat, even with the expectation that our terms would no longer be a priority for Amazon. In a lot of ways, Lendle as an Amazon property would have been a much better service.
With that said, we were an Amazon-only company by design and our goals never involved or promised support for multiple ecosystems. Unlike Goodreads, which links to many online retailers.
Once You Got 'Em By The Books, Their Hearts And Minds Will Follow
And that brings us to that second tweet. That was a Goodreads "company" quote from early 2012 explaining its decision to move away from Amazon's API — the software interface that lets sites like Goodread access Amazon's enormous book database — in favor of one over which it would have more control. Or, more to the point, one that couldn't be yanked away from it at a moment's notice, effectively on a whim.
At the time, I was still a co-owner of Lendle, which was also built on Amazon's API. We understood all too well the perils of relying on the dataset of a large corporation because, at one point, Amazon abruptly turned off the tap and with it, our entire lending service.
Eventually we addressed the issue, our API access was restored, and lending resumed. Still, the damage was done. Every decision we made (or did not make) from that point forward was based around our lingering fear that Amazon could shut us down at any time, for basically any reason.
In the end, we sold Lendle to a 3rd party because we couldn't comfortably do anything we really wanted to do with it. Amazon's restrictions sucked the fun out of running our startup.
To say that we admired Goodreads' decision to go it alone would be an understatement. They were making a decision we weren't able to make, because they had the numbers to make it work and that meant they'd be able to take risks we simply couldn't take.
More from paidContent in 2012 about Goodreads and the Amazon API:
Goodreads' situation illustrates the risks of building a site around any retailer's API, since that retailer can change its terms at any time. Amazon's Product Advertising API license agreement has not changed since April 2011 but "the terms now required by Amazon have become so restrictive that it makes better business sense to work with other data sources," the company told me.
Specifically, Goodreads found two requirements of Amazon's API licensing agreement too restrictive. Amazon requires sites that use its API to link back to the Amazon site exclusively. So a book page on Goodreads would have to link only to its product page on Amazon, and not to any other source or retailer. Amazon also does not allow any content from its API to be used on mobile sites and apps.
Going it alone was risky. Amazon's API gives sites access to a vast library of book covers, titles, authors, and even reviews. It's easy to see why sites put up with a restrictive environment to take advantage of that access. Walk away and you're suddenly facing broken links where book covers once existed, and that's just the start.
Goodreads, though, had built up a vast network of book lovers and was capable of weathering a temporarily weakened core to build something far more valuable: An in-house dataset subject to none of Amazon's restrictions. The numbers, according to Amazon's press release announcing the acquisition:
Founded in 2007, Goodreads now has more than 16 million members and there are more than 30,000 books clubs on the Goodreads site. Over just the past 90 days, Goodreads members have added more than four books per second to the "want to read" shelves on Goodreads.
Now consider Goodreads' existing developer API. As of last week, all of the data Goodreads had amassed since moving away from Amazon was available to developers via a public API. This meant you or I or anyone else could use that information in interesting ways, subject to Goodreads' terms which, presumably, were far more open than Amazon's:
The Goodreads API allows developers access to Goodreads data in order to help websites or applications that deal with books be more personalized, social, and engaging. The API can be used in many ways, including…
In short, an API attached to a relevant dataset is power. Prior to the switch, the power belonged to Amazon. After the switch, it belonged to Goodreads.
If You Can't Control 'Em, Buy 'Em
From that perspective, moving away from Amazon may have been the best way to ensure a buyout by Amazon. (What's that old saying? "If you love someone, set their API free?")
When I contacted Goodreads, I also inquired about the future of its API, and Skyvara offered no specifics: "We don't have more information to share at this stage."
I've been reading the tea leaves, and the days of Goodreads offering a powerful API that allows developers to "personalize an ecommerce store, power recommendations, show a widget of a member's favorite books, build a mobile or desktop client app, and more" are probably numbered.
In short: All that data was readily available and if Amazon does what Amazon tends to do, it won't be long before it simply doesn't exist.
Cogs In The Amazon Machine
Changes aside, millions of Goodreads members are about to become advertising fodder for Amazon. It's one thing to promote books on a site that doesn't sell them or even care where you buy them — it may be another to do so for the largest bookseller in the world.
The most depressing aspect of all this is that Amazon probably doesn't care one way or the other. With Goodreads and its data swallowed up, where would you go, anyway?
There aren't many popular social sites for books that aren't in some way or to some extent under Amazon's thumb: Shelfari, Goodreads, AbeBooks, and LibraryThing are all owned or partially owned by Amazon. Amazon's brilliance is in allowing these purchased sites to run quasi-independently: The illusion of competition is there, but it's just that and, ultimately, all roads lead back to Amazon.
In the coming weeks, expect Goodreads to say all the right things, but pay close attention. Read between the lines, and lets revisit their post-buyout honeymoon optimism in a year or so.
Lead image via paul prescott / Shutterstock.com