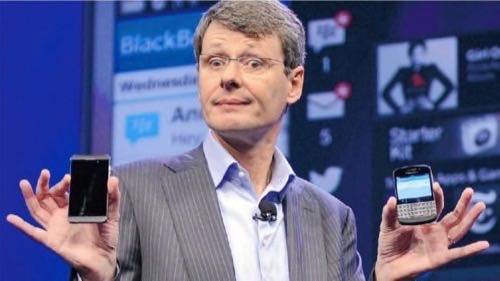 Thorsten Heins was supposed to be the steward that oversaw the final collapse of one of the great technology companies of the last 30 years. When Heins took over Research In Motion in early 2012, not many people gave him a lot of hope. "Thorsten Heins Is A Patsy Set Up To Fail" was my take here on ReadWrite.
At the time, Research In Motion (now BlackBerry) was grasping for straws. It had just reported half a billion dollars in quarterly, losses and co-founders and co-CEOs Jim Balsillie and Mike Lazaridis were getting ousted by the RIM board — a panel they ostensibly controlled for more than a decade. At the time, Heins was seen as a front guy while Balsillie and Lazaridis pulled his strings from behind the curtain. Heins was supposed to be Norville Barnes. 
Heins Comes Into His Own
Fast forward to today. BlackBerry has a new name, a new series of good smartphones in its BlackBerry Z10 and coming Q10 devices and a streamlined and more efficient business that has renewed focus on services and applications. In its latest quarterly earnings report, BlackBerry announced $94 million in profit and said it sold a million BlackBerry Z10 devices in a little over a month, with strong channel sales likely to come. 
"Our financial transformation over the past 12 months has been outstanding," Heins said on the company's earnings call. "To say that it was a very challenging environment to deliver improved financial results could well be the understatement of the year. In the face of numerous challenges this past year, BlackBerry has gone from a significant operating loss in the first quarter of the year to an operating profit in the fourth quarter."
Heins, who is prone to over enthusiasm and exaggeration, wasn't lying. The company swung to profit from a GAAP loss of $518 million and an operating loss of $118 million. In that time, BlackBerry's liquid cash hoard rose from $2.1 billion to $2.9 billion despite losing market share to the like of Android and Apple.
Balsillie is gone. Lazaridis is retiring at the beginning of May. It appears that Heins has taken hold of BlackBerry and made it his without the puppeteers manipulating from the background.
Remaking BlackBerry In His Own Image
"Thorsten has been doing a good job at the helm, in my opinion. He got the devices to market (although a bit later than expected)," mobile analyst Jack Gold, principal at J. Gold Associates, wrote me in an email. "He's effectively managing the bottom line (still not done but he's on his way), and he's made a number of management changes. The restructuring isn't totally done yet, but he does seem to be remaking BB in his image of what it needs to be."
BlackBerry and Heins had a baptism by fire in 2012. The new BlackBerry 10 mobile operating system was delayed. Then it was delayed again. BlackBerry completely missed the holiday shopping season, eventually launching its new devices on Jan. 30. at an event in New York City. Between the time that Heins took over and the launch of BlackBerry 10, the company was forced to lay off thousands of workers. It got so bad that BlackBerry hired powerful Wall Street groups J.P Morgan and RBC Capital to perform a strategic review, something that pointed to a potential sale of the company.
Instead of a sale, it seems that the strategic review has led to a leaner, meaner BlackBerry. The company saw a billion dollars in savings from operating income a year before it expected to. That has led to profitability, even though BlackBerry technically lost 3 million subscribers (from 79 million to 76 million) in the most recent quarter. 
Just The Beginning
BlackBerry is not done though. Heins called the profitable quarter and launch of BlackBerry 10 just the beginning. It has yet to launch the BlackBerry Q10, which like BlackBerrys of old features a physical keyboard, though it has been testing the device on 40 carriers in 20 countries. In 2013, more BlackBerry 10 devices will be released at lower price points to take advantage of emerging markets where BlackBerry plays particularly well, like the Middle East and Africa. 
"Everyone at BlackBerry understands that there is more work to do. Delivering BlackBerry 10 and a profitable quarter is just the starting line, not the finish line," Heins said.
Through it all, Heins comes out looking like a hero. Instead of a patsy, he has superseded both Balsillie and Lazaridis and given the BlackBerry tangible hope for a profitable future. It may only be the beginning, but Heins's first year of hardship is over. 
"Of course, the next two-to-four quarters will give us a better understanding of how successful he's been, but so far I give him a pretty good grade," Gold said.
Lazaridis photo courtesy of Wikipedia