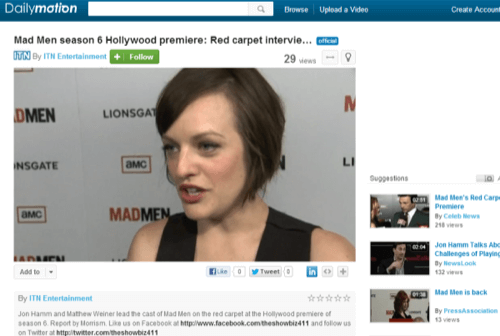 Yahoo's first major acquisition since Marissa Mayer took over as CEO could be the French video site Dailymotion, of all things. If the talks pan out, Yahoo will be joining a long list of companies hyped up by the booming digital video industry. And if anyone can upset Google's hold on online video, it's Mayer.
The Wall Street Journal is reporting Yahoo wants to buy as much as 75% of the French site, valued at roughly $300 million, in an apparent bid to diversify Yahoo's revenue stream.
"One of the challenges in Yahoo's business is that we are primarily domestic and we don't have enough of our business running it from an international basis," Mayer said at an analyst conference in February. More than 70% of Yahoo's $5 billion in revenue is from the U.S.
Dailymotion, the twelfth-most trafficked video site in the world, was already looking for an U.S. partner, so it could potentially be a match made in heaven.
But Yahoo and online video? Really?
"It's interesting, or should I say 'telling' that as Yahoo! seeks to reinvent itself, it's first real, bold step (other than a somewhat yawn-inducing homepage redesign) is to try and capitalize on video" Jay Miletsky, the CEO of MyPod Studios, the StumbleUpon of curated online video, wrote in an email.
"I think after Google + failed to make any real splash, Yahoo! wisely decided to skip trying to launch the next pretender to the Facebook throne, and looked to video as the best opportunity for improving their brand among Web users," added Miletsky.
AOL was able to rebrand itself as a media company, so it is certainly a transition that can be made. AOL, which used to provide Internet to households, now owns the Huffington Post and operates a slew of hyperlocal news sites through its Patch initiative.
Yahoo could feasibly rebrand itself with a strong online video portfolio, too. Its Yahoo! Screen program is already a step in that direction.
Original series like the critically acclaimed Burning Love and Anthony E Zuiker's Cybergeddon are a higher quality than any of YouTube's offerings. This year's Streamy Awards noticed, giving both series trophies.
Yahoo's original programming targets a much older audience than YouTube's teen and tween demographic, which gives the company another edge in the online video sector. There's even a technical advantage to be gained: The only thing that prevented me from watching Yahoo! Screen content over the last couple of months (namely to watch Tom Hank's animated original Yahoo series, Electric City) was their bad video player. If Yahoo acquires DailyMotion, that obstacle dissolves.
It will take time for these talks to firm up, and have the two companies' operations integrated. But if this is indeed a match made in heaven, there will be a major new content player on the scene, diversifying the growing video realm even more.