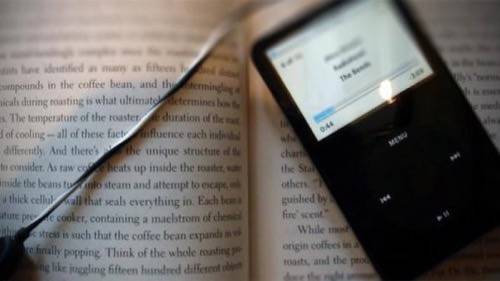 Yesterday, Apple made up for one of its biggest mobile missteps yet. No, I'm not talking about Maps (it's still working on that). The company pushed out an update to its native Podcasts app for iOS, overhauling the interface and tacking on impressive new features. It's still not the best way to manage podcasts on iOS, but it's a big step up.
When Apple broke Podcasts out from its native Music (formerly "iPod") app last year, the end product landed in the App Store with a resounding thud. The app, which BuzzFeed called "the worst app it's ever made," garnered Apple some incredibly negative user reviews. Topping off a lackluster user experience and buggy performance was a dose of the unnecessarily skeuomorphic design even Apple devotees love to deride and that Jony Ive is expected to axe.
With version 1.2, Podcasts loses the cheesy reel-to-reel tape graphic, gets a fresh design and borrows features from of the best audio consumption apps out there. For example, the new "Stations" feature feels reminiscent of Stitcher Radio's smart stations, although with less algorithmic intelligence behind it.
The Alternatives Are Still Better
It's a very solid and badly needed update. Personally, I don't find it compelling enough to change my existing mobile audio consumption regimen, which includes Stitcher, Instacast and NPR's excellent mobile apps. Instacast in particular is a great app for for managing and listening to podcasts. PodCruncher, PocketCasts and Downcast are all very popular as well.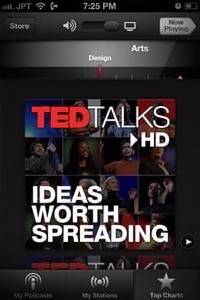 Stitcher Radio has much the same content as the apps mentioned above, but it's way better at content discovery. Its "smart radio" approach offers more of a "lean back" experience, which is ideal for this of us who want to listen to podcasts in the car without careening off the road to our untimely and tragic demise.
Apple would be wise to mimic the best of these apps even more than it already has. I've long said that whoever figures out a way to implement an Instapaper "listen later" button would pretty much win the Internet audio game in my book.
Remember when podcasts were supposed to be the future of media consumption? Things didn't quite pan out the way they felt poised to in 2005, but it's an important part of audio content and the future of what we once called radio. How popular are they? Both This American Life and WTF With Marc Maron, two of the most popular podcasts, each see hundreds of thousands of downloads per episode. That's a pretty good showing, but it doesn't begin to compare to terrestrial radio or Internet services with radio-like qualities such as Pandora and SoundCloud.
Podcasts might not be a radio-killer, but they certainly complement their analog predecessor in a very significant way. Apple didn't invent podcasting, but its technology helped fuel the medium's early innovations and it plays an important role in the history of podcasting. It makes sense for Apple to own this space. They don't. But with Podcasts 1.2, they're certainly getting there.