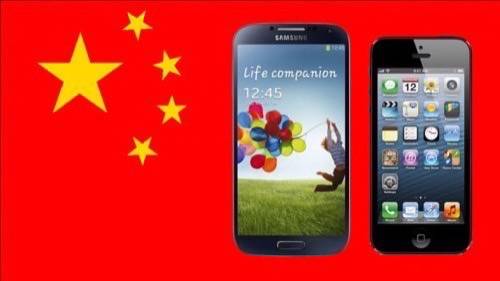 American technology is winning the smartphone wars. Apple's iPhone captures the lion's share of the industry's profits and Google's Android operating system easily dominates smartphone market share. Is this a cause for concern in China – which has grown accustomed to dominating tech manufacturing?
Clearly, something is bothering the Chinese establishment.
Two weeks ago, China's Ministry of Industry and Information Technology (MIIT) sounded an alarm about Android's dominance:
While the Android system is open source, the core technology and technology roadmap is strictly controlled by Google.
According to the Ministry's statement, China's "mobile operating system research and development is too dependent on Android." While Android is the world's dominant smartphone platform, with an estimated 70% market share, Android commands an estimated 90% of the Chinese smartphone market.
This is a big deal. There are more than one billion smartphones in use around the world – and billions more are expected to be activated over the next several years. China is the world's largest smartphone market, but nearly every new smartphone made is based on technology developed and controlled by North American companies.
The top smartphone operating systems in the world are American, with Google's Android and Apple's iPhone leading by a wide margin. Android commands 48% of the market and iPhone has 19%. Blackberry owns 8% of the market and Microsoft's Windows Phone has 2%. (Legacy devices running on the outmoded Symbian OS still control 15% of the current market.) Just as important, services, applications, businesses and innovation gravitate to the winning platforms.
(See also America's Mobile Comeback.)
Android And iPhone Rising
Earlier this month, I suggested that a de factothreat to Android could certainly benefit China's 'homegrown' platforms, such as Alibaba's Aliyun operating system, for example. I also said that such a move might benefit Apple's iPhone and other competing platforms. But that may no longer be a valid assumption.
Late last week, China's official media, China Central Television (CCTV), went after Apple. According to The Wall Street Journal:
China Central Television accused Apple of skirting warranty periods and adopting customer-service policies for Chinese customers that differ from its practices in other countries.
During the two-hour broadcast, watched by millions, the network accused Apple of not fully meeting product warranty requirements and of engaging in customer-service practices that differ from Apple's standard practices in other countries. For example, Chinese customers, the broadcast said, are more likely to receive a refurbished product instead of a new device when their original fails.
"This is too unfair to Chinese consumers," one customer said in the report.
While the iPhone has only a small share of the Chinese smartphone market, Apple has been moving aggressively into the country. In the last fiscal quarter alone, Apple generated $6.83 billion in revenues from the Chinese market (including Hong Kong and Taiwan). China is currently Apple's second largest market by revenue, though CEO Tim Cook has predicted that China will become Apple's number one market soon.
Cook was in China earlier this year, where he met with several government officials and the chairman of China Mobile, the country's largest mobile carrier.
Any actions undertaken by the Chinese government that limit or otherwise diminish the prospects of Apple's iPhone and Google's Android platform would likely be felt immediately. As The Wall Street Journal stated in its CCTV report:
China's consumers flooded social-media sites after the CCTV report. Zheng Yuanjie, a famous Beijing-based children's author, wrote on the Sina Weibo microblogging service, "By paying the same or even a higher price for Apple products, Chinese consumers have received even lower standards of after-sales service than those in developed countries. I hope the part Apple is missing [in its products] is not its conscience." The comment received nearly 8,000 comments and was forwarded nearly 10,000 times by late Friday night.
Smoke But No Fire
Not everyone is convinced. Steven Millward, who covers the mobile market in Asia out of Shanghai, said the moves by China's state-run broadcaster and Ministry may not be coordinated:
Coming just two weeks after China's MIIT warned of the country being too dependent on Google-controlled Android, the CCTV attack on Apple might seem to be a co-ordinated attack on the two leading smartphone platforms in the country, iOS and Android, but i'm not convinced.
There could be other factors for CCTV's attack on Apple: it was, after all, World Consumer Rights Day, and major foreign companies are often (though not exclusively) the ones at whom the brickbats are thrown.
Apple, Millward notes, is also a "prestigious target" for a television broadcaster to go after. Indeed, as The Wall Street Journal reported, the CCTV report was "hyperbolic" if not necessarily effective.
Similarly, while there may be some legitimate cause for concern over Android's near-monopoly in the China smartphone market, Millward notes that "Chinese authorities must realize that their leading Web companies – from Baidu to Tencent, Sina to startups – badly need iOS and Android as the basis of their entire mobile strategy."
China's Sputnik Moment?
Even if the broadsides launched against Apple and Google are indeed coincidental, they could still be signs of China's own 'Sputnik moment' over American domination of smartphone technology,
For non-history-buffs, back in 1957 the Soviet Union launched Sputnik, the world's first successful artificial satellite. Reaction in the United States was dramatic, with warnings that American technological leadership was being squandered and hysterical fears of a deadly "missile gap." The Sputnik issue became a central to the 1960 U.S. presidential election. Soon after his election, John F. Kennedy Jr. committed the United States to sending a man to the moon.
It's probably hyperbole to claim that the rise of Android and iPhone will inspire new efforts by the Chinese in the smartphone sphere. But it's equally clear that China has noticed that there's a key technology category where it doesn't lead the way. And no one should be surprised if they decide to do something about it in a big way.
Nobody's Talking
Apple did not respond to requests for comment, nor did the U.S. Chamber of Commerce. Google responded with the following statement:
Android is an open source mobile platform freely available to everyone. It is available in its entirety at http://source.android.com, allowing device manufacturers to customize and offer new user experiences, driving innovation and consumer choice.
Image of Chinese flag courtesy of Wikipedia. Graphic image by Nick Statt.