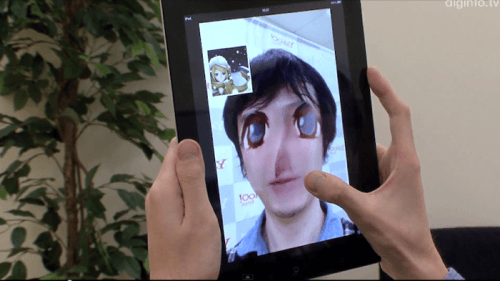 A new app from Yahoo Japan, called Face Stealer, is dastardly in how it has not only morphed my face – but sucked away an afternoon. The free
, which works on iPhone and iPad, describes its mission with blunt honesty:
Do you ever want to look like celebrities?
Who hasn't wanted to look like a celebrity? Only that's not what the app does. Not at all. Nor does it "steal" your face, oddly enough. Rather, it just adds rather disturbing effects to your photos. As the description explains it:
"Face Stealer" will turn your face into someone else in REALTIME. You can transform your face into anyone from celebrities, your friends, lover, Mona Lisa to anime characters. The app engages with your facial expressions and replaces your face with another person's face in real-time, which let you feel like being someone else.
But wait, there's more!
You can take photos of your transformations and send them via Email or share on Facebook, Twitter and Youtube.
I may be the only one who thinks this app is fun. As of this writing, the App Store rather sadly notes:
We have not received enough ratings to display an average for the current version of this application.
You can change that.