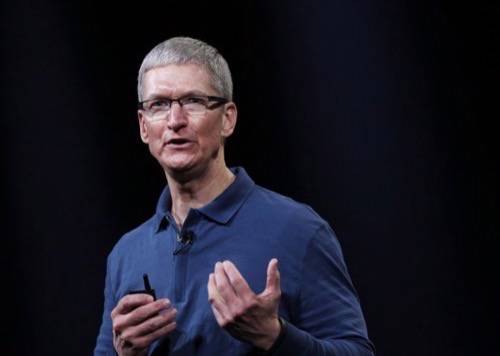 Seems like only yesterday Apple was a simple company for Wall Street to understand. The products were great, demand was insane, and there was nowhere for the stock to go but up, up, up. Which is exactly what happened.
Those days are over. Apple's stock has dropped 40% since last fall, from $705 to $426. This has happened even as the overall stock market has soared to new highs.
Wall Street has no idea what to make of this. Is Apple the greatest deal ever, or is Apple doomed? It depends who you ask. The opinions are all over the map. It's actually kind of entertaining seeing Wall Street know-it-alls suddenly look so baffled.
Goldman Sachs says Apple is one of the most undervalued companies in the world. By that reasoning, the stock is a steal.
Citigroup says demand for iPhones and iPads is lagging, and that Apple won't even hit its own revenue targets for this quarter.
(See also Apple May Never Regain Its Status As The World's Most Valuable Company.)
It's Not About Numbers
Wall Street guys will fret about how much cash Apple has, how cheap the stock is relative to earnings, what's happening with gross margins, and so on.
But Apple's stock price never had much to do with fundamentals. Apple is about emotion. It's about narrative. It's about mystery. It's about secrecy and leaks, rumors and hype. It's about people standing in line outside stores as if they're going to a rock concert.
Apple does best when it lives in the realm that Arthur C. Clarke described when he wrote that "Any sufficiently advanced technology is indistinguishable from magic."
Magic is what Apple was selling when it introduced the iPhone and iPad. As long as Steve Jobs kept pulling rabbits out of his hat, customers (and investors) were dazzled.
The problem is now we've come to expect magic from Apple. And lately Apple hasn't delivered.
Sure, Apple is a terrific, well-run company with a business that every company in the world must envy. The iPhone and iPad are terrific products, and Apple keeps making them better.
But: there's no magic.
Wall Street keeps trying to tell this story in numbers. Gross margins. Net margins. Growth rates. Market share.
But numbers are almost beside the point.
Apple is a hits business, like a movie studio. Right now it needs a new blockbuster franchise. Whether that's an iWatch or an iTV almost doesn't matter. Apple just needs something. Something new, something exciting, something that gets people standing in lines outside stores again.
Apple needs magic. Whether Tim Cook and his team are capable of creating it remains to be seen. That uncertainty, I suspect, is what has shaved $260 billion from Apple's market value.