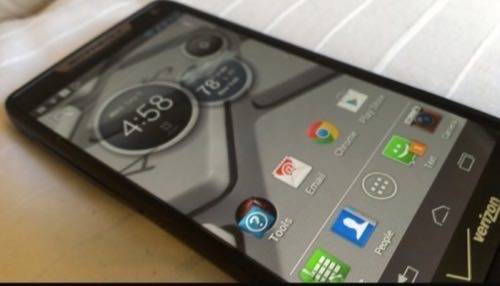 Google's short-term goals for its Motorola smartphone division are two-fold: clear the rubble on the runway and build for the future.
When it comes to runway, Google is still dealing with the product pipeline that it inherited from Motorola when the acquisition received final approval by regulatory bodies way back in February 2012. Speaking at the Morgan Stanley Technology Conference this week, Google chief financial officer Patrick Pichette said Google still has to deal with 18 months of product pipeline that it has to "drain right now."
That product pipeline was on full display in September when the latest Droid Razr devices were released. The reaction to the Droid Razr HD, Razr Maxx HD and the Razr M was a universal yawn, with all three devices seen as no more than iterative updates to the aging Razr series as Google continues to liquidate Motorola's existing design and assets.
(See also The New Motoroloa: Google's Hardware Division Steps Into The Future.)
Even the next new smartphones that will soon come out of Motorola are not anything to write home about. Pichette seems well aware of that fact, calling them, "not really to the standards that what Google would say is 'wow' — innovative, transformative," according to a report from The Verge.
Essentially, Google has to clear away years of Motorola mediocrity, past and future, before it can really build a device that will stand out as the quintessential Android smartphone.
That is where Guy Kawasaki comes in.
Kawasaki Joins Google To Advise Motorola
Guy Kawasaki – venture capitalist, publisher and early Apple evangelist – loves Android. We learned this in December, and heard more details when he sat down with ReadWrite editor-in-chief Dan Lyons for a ReadWrite Mix event in San Francisco last December. The revelation that Kawasaki, such a staunch Apple advocate for so long, was an Android fanboy was shocking to many people in the pro-iPhone camp.
(See also Shock And Awe: Apple Legend Guy Kawasaki has Become A Hardcore Android Fan.)
Apparently, his devotion to Android runs deeper than he originally let on.
Kawasaki tweeted on Wednesday that he will be joining Google as an advisor to Motorola. Kawasaki will focus on "product design, user interface, marketing, and social media," according to a post on his Facebook page.
"Motorola reminds me of the Apple of 1998: a pioneer in its market segment, engineering-driven, and ripe for innovation. I believe that great products can change everything. For example, the creation of the iMac G3 (the Macs that came in colors such as Bondi, Strawberry, Blueberry, Lime, and Grape) was a pivotal event for Apple," Kawasaki wrote.
What's Next For Motorola?
Between Pichette and Kawasaki, we're getting a pretty good idea of the direction of Motorola under Google's stewardship:
The first thing that needs to be done is to clear the pipeline.
The next is to employ smart designers and idea people like Kawasaki to create transformative products under the Motorola name. Will that be the mysterious "Motorola X" that Google has supposedly been working on?
If we date Motorola's 18 months of product pipeline from the time when the acquisition was approved by the U.S. Department Of Justice, Google still has nearly six months or so worth of Motorola supply chain to suffer through. It would not come as a surprise to see at least one more iteration of the Razr series from MotoGoo before we we find out what Motorola-under-Google really has up its sleeve.

After all this time, it had better be something that will make us all say "Wow!"
Top image: Motorola Droid Razr M by Dan Rowinski