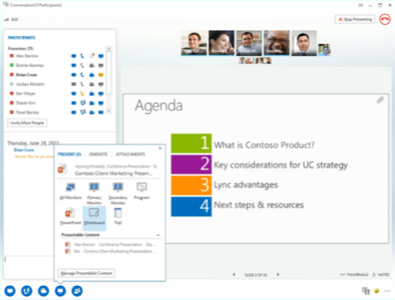 On Tuesday, Microsoft is expected to announce that it has combined the teams behind its two VOIP communications solutions, Lync and Skype, into a single team, paving the way for what the company is calling a universal "living room to the boardroom solution." But will presence of two distinct communication apps confuse the marketplaces Skype and Lync are meant to serve?
Microsoft will also show off an intriguing "Lync Room System," including cameras and remotely-configured lights, that the company is developing with partners. Finally, Microsoft plans to announce Lync 2013 apps for both Windows Phone 8 and iOS that will arrive in early March, with Android apps arriving about a month later.
Essentially, Microsoft will provide one framework – Skype – for consumer interaction, and another – Lync – for Outlook integration and communication with work teams. Technically, Microsoft now has three VOIP conferencing solutions: customers are now being encouraged to transition off of Microsoft Office Live Meeting, a conferencing package Microsoft acquired from Placeware in 2003.
It remains to be seen how users will react to the dual solutions – will they view them as two sides of the same coin, or redundant apps that call for the elimination of one version?
According to Giovanni Mezgec, General Manager, Enterprise Product Marketing for Skype division at Microsoft, merging the two teams within Microsoft demonstrates a common purpose. This will be highlighted by Tony Bates, the president of the Skype division at Microsoft, in his address to Microsoft's Lync conference attendees this week.
One Employee, Two Contexts
"We have the belief at Microsoft that people are people, whether they are employees, fathers or consumers," Mezgec said. "You are the same time a consumer, the same time a mother, the same time an employee, the same time a person that travels on the bus, you get the idea. What we wanted to do was to offer a set of tools from the living room to the boardroom, a communication platform that is rationalized, but different – you have Skype on the consumer front, but Lync on the enterprise front. They are different, but the person is the same."
Microsoft said that Lync has five million seats of enterprise voice service deployed, up from three million just 14 months ago; 90 out of the Fortune 100 companies use Lync. Microsoft also touted 1,000 partners which now "bet their business" on deploying solutions for Lync, of which 600 have been added in the last three years.
Lync essentially adds a new dimension to Office tools like Outlook. Users quickly can determine if a fellow worker is online and available, and the software can either initiate a voice call, a chat, or even a videoconference to the other worker. Visually, Lync doesn't look like Skype, and Lync clearly is designed to complement the numerous interactions that characterize the typical business relationship. And yet – both do largely the same thing.
There are exceptions; in a demonstration of Lync 2013, Mezgec showed how users could access a shared PowerPoint presentation and skip ahead. Skype users cannot share documents, although they can share screens. Mezgec also showed how Lync users can "pin" a video of a user, even if they're not speaking, so they can keep an eye on them for non-verbal cues.
"What we're trying to do is replicate a real-life meeting," Mezgec said.
By March, owners of Windows Phones and Apple devices will be able to (or will be forced to) choose between two apps on their mobile devices, with both apps connecting via VOIP and video over IP to each other. iPad owners will also be able to view shared desktop and application content within a Lync meeting, Microsoft said.
Over the next 18 months, Microsoft said it would also commit to adding rich video to the interoperability between Skype and Lync; add enterprise voice support to Lync Online, its Lync Web app; enable LiveMeeting users to transition to Lync via the addition of structured meeting support to Lync Online and the next version of Lync Server; and deliver quarterly updates to Lync Online. Microsoft will deliver the next Lync Server revision in the second quarter of 2014, it said.
A New Toy: Lync Room System
Within the Lync 2013 environment, hardware geeks will find a new toy to play with: the Lync Room System, which will provide remote-management services for an entire conference room. "We don't think the experience is as nice as it could be," Mezgec said of the conference experience.
Microsoft has struck partnerships with Polycom, Smart, Crestron and LifeSized (Logitech) to produce the small tablet control devices, about the size of a car's GPS. Before the meeting even begins, a user can reserve it, program the Lync system to contact the parties at the available time, and even being the lights up. The presenter merely has to plug in his laptop via an HDMI cable, and a second screen can be used to display the video feeds from the participants. The partners will announce pricing, Mezgec said.
Representatives from Hewlett-Packard will be on stage at the Lync conference, Mezgec said, indicating that Microsoft does not view them as a competitor. However, the Lync system is aimed directly at unified communications solutions from Avaya and Cisco. (Cisco chief executive John Chambers recently identified the company's largest challenge as telepresence, indicating that the company is vulnerable.)
Two Apps Enter, One App Wins?
Manufacturers have sold two similar products into distinct markets before: a common laptop platform designed for consumer and business markets; budget- and premium-priced bottled water; even a common chassis elements sold as a Toyota and a Lexus. And while Microsoft has integrated Skype tightly into Windows 8, Lync is clearly an enterprise product, with collaboration being the key feature that distinguishes the two.
The problem is one of positioning. Products like Microsoft's Surface tablet acknowledge and encourage the Bring Your Own Device trend, which unifies the consumer/enterprise split into a single device. With Lync and Skype, Microsoft must maintain the divide. Unifying the teams probably anticipates a future where engineering resources are entirely shared, and Skype merely becomes a de-featured version of Lync with a more consumer-friendly UI.
Still, there is the problem of choice. "If you are a consumer, when you're at home you might be in front of the TV, and you would use a set-top box to call Skype," Mezgec said. But what if you want to access your business calendar?
Eventually, Microsoft will work it out. But for now, the Skype/Lync split still seems confusing.