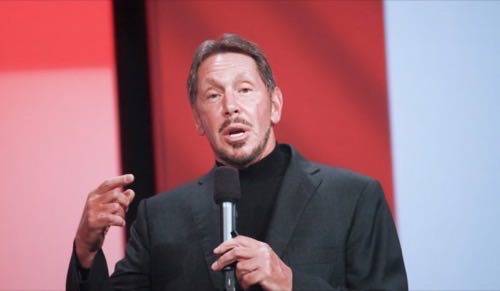 Oracle Chief Executive Larry Ellison seldom shies away from a fight, so it's no surprise his company came out swinging over an unfavorable Forrester Research report.
Forrester certainly struck a nerve when it released a survey on Wednesday that found a majority of customers using Oracle's e-Business Suite, PeopleSoft and Siebel business applications had no interest in switching to the company's next-generation Fusion Applications. Those laggards are complicating Oracle's efforts to reverse a slowdown in application revenue, Forrester said.
Oracle's Response
In a three-page counterattack, Oracle tore into the market-research firm. "This is a speculative note based on misconceptions and wrong hypotheses," the company thundered.
(See also "Why Oracle Fusion Doesn't Excite Customers")
Despite Oracle's ostensible outrage, its counterattack is unconvincing. The company claims Forrester did not talk to enough of its customers to back its claims, as if the firm was doing a random survey of all of Oracle's customers.
Forrester never said it was doing that kind of survey. Instead, the respondents came from 180 of the firm's contacts that were responsible for choosing IT products and had knowledge of Oracle applications. "While nonrandom, the survey is still a valuable tool for understanding where users are today and where the industry is headed," the report says.
Commonsense would tell you that there are more reasons for Oracle customers to stay with the applications they have than to move to Fusion, which has a different code base. Such an undertaking is expensive, takes a long time and draws IT staff away from other pressing projects. With the older applications still being upgraded and working just fine, why would anyone want to make a major change?
(See the full text of its rebuttal below.)
The most damaging part of the survey was Forrester's finding that 65% of customers using the older business applications had no plans to switch to Fusion. Another 24% were on the fence.
Oracle complained that the survey only covered U.S. and European customers. Likewise, it noted that more than 40% of the respondents were in manufacturing, government, education and healthcare – industries it claims aren't representative of Oracle's overall customer base. For instance, Oracle cited an IDC report noting that Fusion doesn't yet fully support manufacturing operations, implying that manufacturers might reasonably be less than interested in making the switch to immature applications.
Ellison and company also moaned that many questions were phrased in a "negative way," as if that somehow disqualified the responses. Such questions included "What do you dislike most about your firm's most important Oracle applications?" and "Why doesn't your firm plan to use Oracle Fusion Applications?"
Who Do You Believe?
The report also claimed that Oracle has no clear strategy for migrating customers to Fusion. The company disagreed, saying it has always told customers they could adopt pieces of the product portfolio at their own pace and that everything – old and new – would work together.
Forrester also said that customers staying with the older applications were missing out on innovation. Again Oracle cried foul, saying that at Oracle OpenWorld last year, the company discussed future releases for E-Business Suite and PeopleSoft, as well as roadmaps for all its applications. Examples of innovation include iPad certification in PeopleSoft and new mobile capabilities in Siebel, Oracle said.
Despite Oracle's protestations, Forrester is not budging. "We stand by the report," spokesman Phil LeClare said. So, readers will have to decide whom they believe. Personally, given Oracle's recent lack of truth in advertising and its tendency to pretend to have cloud technology when it doesn't, I'll lean toward Forrester.
Here's the full Oracle rebuttal:
Image courtesy of drserg/Shutterstock.