The reviews for Microsoft's Surface Pro tablet are in, and people seem to like the full Windows 8 version of Microsoft's tablet a lot more than they liked the Surface RT.
Last year, the Web gave middling scores to the Surface RT, based on what reviewers considered flaws in the basic hardware design as well as the lack of apps written for Windows RT, Microsoft's incompatible, ARM-powered version of Windows 8. For the Surface Windows 8 Pro, however, scores tended to improve, as reviewers valued the enhanced performance.
Here's the short summary: Reviewers loved the app compatibility, and being able to run the regular Windows apps they knew and loved makes a significant difference. Games that were touch-enabled, like Civilization V, offer an "ungodly amount of potential," according to Gizmodo.
But the Surface Pro also uses 150% scaling by default, a problem in some applications that don't handle fractional scaling well. That's going to make some applications look odd and blurry. Furthermore, the battery life was disappointing: Anandtech clocked it at 6 hours just lightly Web browsing, and Engadget measured just 3 hours 46 minutes when pushed to the limits using an intensive rundown test.
Reviewers like PC World also noted that while the Surface RT existed largely in a vacuum, since its release competitors have released their own tablets, such as the Lenovo Yoga 13 or Acer W700. Those new machines may offer compelling alternatives to the Surface Pro.
Even more troubling, perhaps, many reviewers questioned the Surface Pro's place in the computing world – saying that despite better performance and compatibility, the relatively expensive device still doesn't properly fill the gap between laptops and tablets. As much as the device itself, the very concept of the Surface has yet to convince many people of its value and utility.
The Web Weighs In On The Surface Pro
The Verge: "The Surface RT was riddled with compromises, from the odd omissions — five-finger multitouch rather than ten — to the dealbreaking performance problems. The Surface Pro has none of those. It's as fast, consistent, and capable as any ultrabook I've tested in the last several months, and from a touch and responsiveness standpoint may be the best I've used. It has no confusing app incompatibilies, no weird performance issues. Sure, it's heavier and thicker than the Surface RT and has frustratingly poor battery life, but it's worth both the tradeoff and the extra expense. If you're going to buy a Surface, buy the Surface Pro. Period."
But: "Even a well-executed Surface still doesn't work for me, and I'd bet it doesn't work for most other people either. It's really tough to use on anything but a desk, and the wide, 16:9 aspect ratio pretty severely limits its usefulness as a tablet anyway. It's too big, too fat, and too reliant on its power cable to be a competitive tablet, and it's too immutable to do everything a laptop needs to do. In its quest to be both, the Surface is really neither. It's supposed to be freeing, but it just feels limiting."
Engadget:
"That it offers compatibility with the massive back-catalog of Windows apps gives this a strong leg up over the earlier Surface RT, but the thickness, heft and battery life are big marks against. We're confident Microsoft will keep refining Windows 8 to make the OS as a whole more seamlessly tablet-friendly, and we look forward to testing the dozens of touch-friendly hybrid and convertible devices due this year, but sadly Microsoft's second tablet doesn't have us reaching for our credit cards. Not quite yet."
PCMag.com: "Is it worth it? If you need a very portable tablet that has full Windows 8 compatibility, powerful components, and a 1080p touch screen, the Microsoft Surface Windows 8 Pro is your tablet."
And: "The Surface Pro is the Windows 8 slate tablet to beat when you need the performance and convenience of a real PC in a compact tablet form factor. It's the one to get if you need corporate or academic campus portability."
AnandTech: "Surface Pro is about as well executed as Microsoft could have made it given the currently available hardware. Its performance is outstanding for a tablet – it's truly in a class of its own. If I sit down and use Surface Pro as I would an iPad or Android tablet, it delivers an appreciably quicker user experience. Apple does get fairly close in some cases on far slower hardware, which should concern Microsoft quite a bit should Apple ever choose to go ahead and build a tablet/notebook convergence device of its own. But overall, there's just not a faster tablet on the market. It's really the combination of a very fast CPU and very fast storage that enable such great performance out of Surface Pro."
Neowin: "It's not all doom and gloom for the Surface Pro, far from it. It has incredible build quality, the screen is gorgeous, stylus input is fantastic, and it runs Windows 8 with ease – and for the right market, it will be the perfect device.
"While it may not be the perfect machine for all consumers, for those who are willing to work with the Pro and understand its limitations, it will be a great machine that will serve its purpose well. But, unfortunately, the target market is not well defined for the Pro and even though the device is big on ambition, it comes up short on practicality."
Gizmodo: "We talk a lot about the future whenever anyone does something new. While the Surface Pro might not be the future, exactly as it is, it's absolutely full of ideas and functions that are just off the horizon, or just in from it. A pro-level stylus, touch-based everything, extreme portability, creative new ways to type. This is how you'd build a machine from the ground up if you wanted to make sure there was no chance of it falling behind the curve."
But: "You'll need to tinker. Tinker tinker tinker. The process of getting and keeping the Surface Pro into a state that's comfortable and efficient is involved, largely because of Desktop scaling/sizing issues."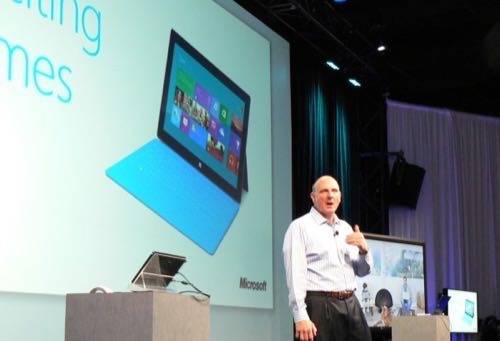 Laptop Magazine: "Are tablets the future of mobile computing? Yes, but as the Microsoft Surface Pro demonstrates, there's a long way to go before the right balance is struck between speed and endurance. While we like its design and Core i5 performance, there's no getting around the fact that an $899, two-pound device with 4.5 hours of battery life is impractical for those who need or want to carry a tablet for extended periods of time. And, as a laptop replacement, the Surface Pro falls short, as both keyboard covers — neither of which are included — simply aren't as good as a genuine notebook keyboard."
PC World: "Surface Pro is superior to Surface RT on multiple levels. It's also the world's best pure Windows tablet (its keyboard accessories notwithstanding), and the Surface model I recommend. But the Windows 8 hardware universe has changed significantly since the Surface brand launched last October. We have many more options to choose from, and hybrid devices that offer more PC than tablet are looking like the machines that make the smarter compromises.
Give me more screen real estate, Microsoft. Give me a keyboard that I can type on all day. You're getting so, so close to that sublime, perfect marriage of tablet and PC. Surface Pro isn't the answer—but it comes close."
The Wall Street Journal: "When used on a desk, table, or airplane seat tray, with the kickstand holding the screen upright and the keyboard cover with movable keys, the Pro is a serviceable laptop, especially since, unlike on an iPad or Android tablet, you can use full-fledged PC programs.
"But just as the Pro is compromised as a tablet, it's compromised as a laptop. You get fewer ports and less storage than on many laptops and a keyboard that can't compare with those on many laptops. Some users may not mind the price or bulk of the Surface Pro if it frees them from carrying a tablet for some uses and a laptop for others. But like many products that try to be two things at once, the new Surface Windows 8 Pro does neither as well as those designed for one function."
The New York Times: "So in the end, the Surface Pro isn't for everyone, it isn't all it seemed at first, and it isn't all it could be.
"Even so, there's a lot to admire in Microsoft's accomplishment. The Surface Pro is an important idea, almost a new category, and it will be the right machine for a lot of people. It strikes a spot on the size/weight/speed/software spectrum that no machine has ever struck. You can use this thing on a restaurant table without looking obnoxious (much). You can hold it in one hand to read a Kindle book while you're standing in line.
"And wow, is it happy on an airplane tray table. Lean back all you want, pal. I'm getting work done."