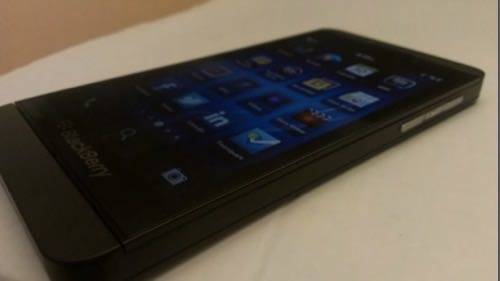 The exuberance of the young man sitting next to me was hard not to note. We were sitting in the front row of the press section at the BlackBerry 10 keynote launch in New York City on Wednesday awaiting the start of the show – and he was practically bouncing in his seat. He was a mobile developer that had somehow acquired a press pass for a small blog and was at his first-ever smartphone launch event.
It had been so long since Research In Motion (now BlackBerry) had done anything significant that it was difficult to remember that the company once boasted perhaps the most loyal customer base of any mobile platform on the planet. As the show started (with a weird E! News style introduction of Blackberry VP of developer relations Alec Saunders), the young man started to clap with the rest of the crowd. I had to remind him that reporters do not clap, root or otherwise show emotion. At least at these types of events. There is no cheering in the press box.
He started peppering me with questions and predictions. "Is BlackBerry going to succeed? How could it not with the great new devices being launched? I think they just set themselves up for years to come."
I shook my head and shrugged. I noted to him the last lines of my article from the day before on BlackBerry's keys to success.
"RIM could do everything right with this launch and still be dead at the end of the year, sold off for pieces and patents, taken over by Microsoft or somebody like that. There is no guarantee of success," I said.
That shut him up. At least for a little while.
Now that we know more about the BlackBerry 10 platform, let's revisit BlackBerry's keys for success and see whether or not that eager young man was on to something.
The Complications Of Distribution
Several people asked me during the BlackBerry launch event how long it would take before we know if BlackBerry 10 is a success.
"End of Q3 this year," I replied.
That gives BlackBerry two full quarters to get its distribution down and a little more than six months to get the marketing message out to smartphone buyers whose contracts will be up and are shopping for new devices. If RIM posts two good quarters (or two bad) come September, we will have a pretty good idea of its near term future.
On the distribution front, BlackBerry 10 started both good and bad. Consumers in Canada, the United Kingdom and the United Arab Emirates (an apparent stronghold for BlackBerry) will see almost immediate availability. The rest of the world should see availability in regional carriers by the end of February.
Then there is the ever-important market in the United States. While all four major U.S. carriers have said they will carry the new BlackBerry 10 devices (Verizon said the Z10 will cost $199 on a two-year contract), there is no firm launch date for either of the new BlackBerry smartphones in the U.S. BlackBerry president and CEO Thorsten Heins told reporters that the full-touch Z10 will be available sometime in March, while the physical keyboard Q10 will come sometime in April.
Many of the U.S. reporters in the room let out a collective "WTF?!"
But those familiar with how the U.S. carriers work were not surprised. Smartphone manufacturers and the carriers tend to have a complicated relationship. The carriers try to force manufacturers into making concessions on software, price, availability and exclusivity all the while running extensive network tests on new devices so as to protect their precious (and often fragile) cellular networks. Any smartphone manufacturer that wants to make a unified launch of a device across all four carriers at the same time is going to run into a logistical nightmare.
ReadWrite asked AT&T about the delay of bringing the BlackBerry Z10 in the U.S., noting Heins's comments on the complicated relationship. AT&T declined to comment.
This is very big deal. As recent history has shown, launch delays in the U.S. can sound the death knell for a fledgling smartphone. Look at the delays plaguing phones that have ended up performing poorly in the U.S. – the HTC One X (Apple injunction), Nokia Lumia 900 (AT&T exclusivity and months between announcement and delivery) and Nexus 4 (supply issues between Google and LG) – and you start to get the idea.
Assessing The App Ecosystem
We learned on Wednesday that the BlackBerry World app store has 70,000 apps for the launch of BlackBerry 10, with 1,000 "premium" publisher partners. We also learned that 40% of those apps (about 28,000) are "ports" from Android. BlackBerry World also has TV, music and movie content in its app store, similar to Google Play, the Apple App Store and Windows Phone Marketplace.
The port strategy is a good one… to start. It gives BlackBerry and developers the ability to easily get apps into BlackBerry World that would not have been there otherwise. But it also comes with complications.
A developer noted in Reddit earlier this month that pirated Android apps are making their way to BlackBerry World through the port utility. Piracy, that eternal bane of the hardworking developer, could end up thriving in BlackBerry World. And that could discourage legitimate developers from writing BB 10 apps.
There is also the matter of quality. As pretty much everyone knows, many apps in both the Apple App Store and Google Play are basically garbage. A quick tour through BlackBerry World shows that much of that garbage has been ported from Android. Clones of popular apps have also come along for the ride. For instance, BlackBerry lists Fruit Ninja from Halfbrick Studios as a premium partner, but a search of BlackBerry World does not turn up the game. Instead you will find a variety of clones ("Killer Fruit," Kiwi Slice" etc.).
BlackBerry has done well to make sure many top apps are available at launch, including staples like Skype, Kindle, Angry Birds Star Wars, Twitter, Facebook and so on. But many go-to apps – including Netflix, Spotify, Hulu Plus, Pandora and others – are not.
Furthermore, it looks like apps from Twitter and Facebook were actually developed by BlackBerry as opposed to directly by their source companies. This is similar to what Microsoft did by creating its own Facebook and Twitter apps (Facebook by Microsoft) for Windows Phone 8. While the social apps are optimized to the operating system, not having Facebook and Twitter build directly for BlackBerry can make for a sub-optimal user experience.
Confusing The Message
BlackBerry desperately wants you to believe it has done a stupendous job with BlackBerry 10 and the first Z10 and Q10 smartphones. And for the most part it looks like a success in development. Nobody really expected BlackBerry to ever release anything worth a damn again, much less anything this good.
Heins told the crowd on Wednesday that BlackBerry 10 is "true mobile computing." It is difficult to ascertain exactly what he means by that.
Is it the work/life balance of the BlackBerry system he refers? The hub of communication, entertainment and professional life? Yes, BlackBerry 10 boasts some great and unique features that differentiate itself from the iPhone, Android and Windows Phone but that does not necessarily make it revolutionary.
BlackBerry 10 wants to be everything to everybody. That makes it hard to read what its real strengths are. Add to that the name change from RIM to BlackBerry, the weird announcement of Alicia Keys as the company's "global creative director," the litany of partnerships and the dual consumer/enterprise focus and it's hard to tell exactly what the message is supposed to be. BlackBerry does not have a clear positioning in the way that Steve Jobs outlined when he placed Apple at the "intersection of technology and liberal arts."
"Simplification is all about getting closer to customers. BlackBerry needs to create a simpler customer experience for current and potential customers," said Russ Meyer, global strategy director at Siegel+Gale. "But their messaging is muddled."
Is BlackBerry's Future Bright?
BlackBerry 10 will help keep or even bring back many of the company's loyal customers, like the young developer sitting next to me at the launch event. Top developers will eventually come around and built (or port) for BlackBerry 10 and the app ecosystem will round out. BlackBerry can expect a modest degree of short-term success from its loyal user base and an uptick in enterprise clients.
But, like BlackBerry's message, the truth of the company's prospects are difficult to ascertain. Certainly, the Z10 and Q10 were good starts to the year for BlackBerry, the most important year in the history of the company. Can it ride that momentum all the way back to respectability and relevance?
In six months, we will have the answer.