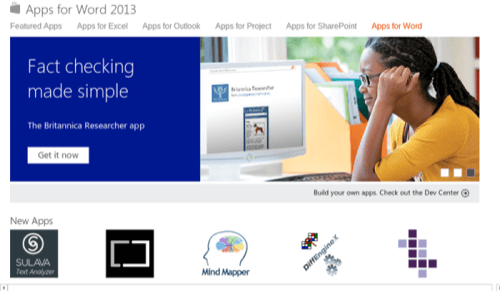 How does a small app developer manage to distinguish itself on the new Microsoft Office app store? Work fast, track competitors and design a great icon.
One of the features of the new Microsoft Office revision is the Office Store, where users can download plugins and other tools to supplement the core Office experience. Microsoft is rolling out its subscription service, Office 365, to consumers on Tuesday, January 29; business users should receive it a bit later.
To a small app developer like Gliffy, that means waves of curious customers will soon be searching the Office App Store for new tools. And Gliffy has worked to put itself at the top of the heap – even as Microsoft has removed one of the key tools for gauging its success. When Gliffy first published its diagram and flowcahrt app on the platform, Microsoft displayed the number of times users had downloaded its app, as well as its competitors. Now, Microsoft has removed that visibility; Gliffy knows how many times its app has been downloaded, but not its competitors, meaning that it's flying blind.
That doesn't mean Gliffy isn't pleased with its success. Users have downloaded the Gliffy plug-in more than 1,000 times. "We got where we wanted to be," said Ron Levi, director of marketing at Gliffy. "We wanted to be the number-one app downloaded in our space, and I think we are."
Come On In, Competition
What makes Gliffy's story especially interesting is that Microsoft invited the company to participate – even though Gliffy competes with Microsoft's own Visio software.
Chris Kohlhardt co-founded Gliffy in 2005 to provide an easy way to embed diagrams within wikis, and today users can create org charts, Venn diagrams, flowcharts, floorplans and other diagrams via its Web service, and embed them within Word 2013, Google Docs or Atlassian Confluence. Gliffy's free service allows up to 5 diagrams, with a $4.95 monthly/$49.50 annual tier allowing users to create up to 200 diagrams; a $9.95 monthly/$99.50 pro tier is also available.
Kohlhardt said he originally approached services like Jotspot and Socialtext about providing an add-on, but the most receptive partner was collaboration software maker Atlassian, where Gliffy has resided for several years and that provides the bulk of its revenue.
Although the company was always looking out for other platforms, Microsoft's offer came as a welcome surprise. "We didn't even know that there was an opportunity," Levi added.
Microsoft invited a wide range of apps makers, from online dictionary developers like Merriam-Webster, to Hertz: developers with broad appeal, as well as those involved with highly specific functions. "They wanted to have a strong showing, so they reached out to a number of folks," Kohlhardt explained.
"Unquestionably, the Microsoft Office opportunity is potentially an enormous one," Levi said. 'We were thinking, is there any other software package that is larger, worldwide? No way. The fact that they've opened it up to other software developers – this interview started with Chris saying that we're looking to take on Vizio – is a really interesting expression of Microsoft's openness."
Microsoft "launched" the app store in mid-November. "All app stores are interesting to me at all times, but especially in their infancy," Levi said. "Hardly anyone was there yet, and we were just working out the kinks… We all read about app stores measured in the millions of downloads, with sophisticated marketing applications, and here we are – this is the largest software company in the world, and we're literally measuring [downloads] in the dozens."
In early December, Microsoft began showing off the new Office software – and offering contracts – to subscribers of Microsoft's early licensing programs, such as TechNet. So the Gliffy team faced an odd problem: should a small developer team spend money to promote itself within an app store for a product that was barely public? "Everyone was in something of the same boat, which is that they're trying to build momentum, because they know that it's easier to get momentum now than it would be in six months, or when it hits," Levi said.
From a product perspective, Gliffy wanted to get out there early and get some feedback, so the company did a quick prototype internally and then worked with Microsoft to develop a Minimum Vable Product (MVP) that the company felt added enough value for people to see what Gliffy was all about and how well it would work, said Han Lee, Gliffy's principal software engineer. Users could create a Gliffy diagram, insert it into their Word document, and then, if they updated the diagram, the Word document would be updated as well.
An Icon Is Worth A Thousand Downloads
From there, Gliffy turned to marketing. Microsoft handed each developer a blank page to describe its app; Levi said its strategy was to look at competitors who had more downloads, and try to figure out what they were doing right.
"On the enticing people to download front – and I think this is true with all apps stores – everything starts with the name and the tiny little graphic," Levi said. "Ten years ago it was all about how much you could jam into a search result. Now, it's all about how much you can jam into a little 50 x 50 graphic."
When Gliffy launched, it added its standard Gliffy logo from the Atlassian system. "But we kind of realized, maybe we shouldn't go for the brand thing – we're not Merriam-Webster; we're not Hertz," Levi said.
Originally, the Gliffy logo said "Gliffy," but the revised logo used a tiny model of a flow chart. "And you know what? We got a lot more downloads," Levi said.
Gliffy reached out via blog, newsletter and its existing client list. To date, the number of ratings that Gliffy has accumulated has been small, but that hasn't been all bad. "I think Microsoft is really focused on more than downloads, and other app stores have been really focused on downloads," Han said, noting that Microsoft's algorithm that promotes apps takes a variety of factors into account. "And it makes the game really more interesting for an app developer. I think it's good because it allows incumbents more visibility than you would just on pure downloads."
The fact that Microsoft turned off the ability to view the number of downloads for each app disappointed Levi, as it now prevents Gliffy from measuring its progress against the competition. "But it's business," he said. "I understand."
In total, the Office Store currently has more than 200 apps, Microsoft said. "As it's just getting under way, with the Office 365 consumer service launching [Tuesday], we don't have numbers of downloads yet," a Microsoft spokesman said in an email.
But Gliffy is hoping for a surge of new customers and downloads as Microsoft opens the Office Store. "I'm really excited to see what will happen when the marketing machine turns on," Levi said. "I want to know the power of riding the wave."