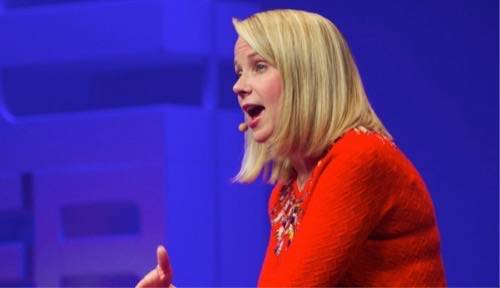 Disclosure: I used to work with Yahoo in my two years as an editor for the website Tecca. While I was never on Yahoo's payroll, our companies had a close content partnership and some leadership overlap. (It's complicated.)
Yahoo is a strange, many-headed beast. Not often commended for its corporate vision, cohesive net of products… or anything else, really, maybe it's time to give the Web's most excited (!) megalith a break.
When the company ousted compromised CEO Scott Thompson and poached Google's Marissa Mayer last year, the Web was heartened – maybe Yahoo gets it, after all these years!
By 2012, it seems, the Web's wary denizens were busy mistrusting Google and Facebook. Yahoo, still a giant by any other gauge, was starting to look like an underdog.
As the legend goes, Yahoo was founded in the 1994, a relative dark age of the Web. The company was originally a hierarchical Web directory, not even a search engine, though it quickly added that and other functions to become a full-featured Web portal
But over time, scrappier, savvier upstarts like Google and Facebook became the new online titans. By that time, Yahoo, having already enjoyed its era at the top, could only lumber on toward a social/mobile future it didn't seem to quite understand.
Add a remarkable run of executive-level churn and an ensuing identity crisis to the mix, and you've got a snapshot of the challenge Marissa Mayer signed up to tackle. But less than a year after her sparkling indoctrination into the folds of the world's biggest corporation with a punctuation mark, Yahoo looks more alive than it has since… well, let's just say it's been a while.
Here are 6 reasons we think that Yahoo could finally be poised for a comeback.
1. Mayer Understands What's Broken
Mayer gets Yahoo's history – and, as she tells Bloomberg Television, she understands the long game.
"You know the first wave really was Yahoo itself, you know the directory, there are these pages out there, how do you organize them? And then the Web got so large that the directory model broke down and gave to search. And then the next wave that came was social, and now I think we're on the mobile wave. And so if you think about that, that's all happened in about 15 years. We've gone through four major technology shifts in terms of who the main players really are. And so I think there is always opportunity for new disruption."
2. Yahoo's Product Draft Is Well Underway
Yahoo just bought Snip.it, a Pinterest-esque Web clipper. Last year it launched Axis, an experimental mobile browser that most people actually liked. And it revamped Yahoo Mail, with apps to boot.
Just like Mayer planned, Yahoo is on the prowl to bolster its product roster with companies that fit into Yahoo's (newly) mobile vision. Look for Yahoo to make more small, interesting acquisitions this year as it continues to quietly build itself back up.
3. Mobile And Social: The Missing Puzzle Pieces
Mobile and social are music to the ears of anyone waiting for Yahoo's second coming. Mayer put it this way:
"I definitely think with the Web becoming so vast – there is a much content and social context and now with mobile, there is so much location and activity context. How do you pull all that together? …It brings Yahoo back to its roots. It used to be that that's what Yahoo was. It took the Internet and ordered it up.
Now it's so vast that you can't just categorize it anymore. But could we provide a feed information that is ordered, a Web ordered for you, and is also available on your mobile phone."
4. The Flickr Case Study
When the great Instagram Terms of Service freak out went down late in 2012, Yahoo got lucky. Flickr, still one of its best-loved products, had just released an app update to rave reviews. Defectors wary of Facebook's hand in the future of their filtered photos were poised to leap into Yahoo's arms. Suddenly Yahoo had a golden opportunity to prove that it could be agile, mobile and social at once.
Call it good timing, but Yahoo didn't altogether fumble the aftermath, even running a promo for Flickr Pro accounts. Building back a beloved, long-neglected product is a welcome sign that the big Y! is getting back int he game.
5. Yahoo Throws Its Doors Wide Open
Facebook and Twitter are throwing punches. Samsung and Apple's holy war over patents will go down in history. Everyone wants to take down Google, with good reason. But Yahoo? Yahoo just wants to make friends.
"Our focus, in addition to technology, but also on media, it means there is an opportunity for strong partnerships. That is what we will be focused on. We work with Apple and Google in terms of the operating system. In terms of social network, we have a strong partnership with Facebook. We're able to work with some of these players that have a lot of strength in order to bolster our user experience that we offer on the Yahoo site."
6. In Yahoo We Trust (For Some Reason)
The most underrated thing that bodes well for Yahoo is that we're rooting for it. Tired of Apple, Google and Facebook duking it out, many people want to see Yahoo make a comeback. It's an era of deep distrust of big companies commanding big data for big money, but Yahoo has been down for so long there's an undercurrent of Web users who inexplicably want to see it get back up.
There are plenty of other things to consider. Yahoo pulled in more than $7 billion from selling off a chunk of its stake in Chinese online marketplace Alibaba, and its stock enjoyed a nice run up toward the end of 2012.
But Yahoo still faces many challenges – it's long term success is far from assured. We'll have more information when Yahoo announces its fourth quarter earnings on January 28. You can find Bloomberg's full interview with Mayer embedded below.
Image via Flickr user Adam Tinworth, interview via Bloomberg Television