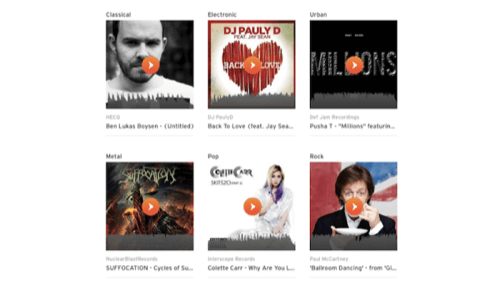 2012 was a very good year for SoundCloud. The social music and audio-hosting platform saw a massive uptick in user activity, according to data released by music analytics firm Next Big Sound.
The State of Online Music report contains some big, but not altogether unexpected numbers: More people are listening to music online and artists saw more activity on Twitter and Facebook than they did in 2011. Across a variety of online sources, the Play button was clicked more than 93 billion times, a 45% increase over 2011. Pretty impressive, to be sure, but not a total shocker.
Triple Play
Perhaps the most striking chart contained in Next Big Sound's interactive report is the one showing how SoundCloud's user activity tripling over the course of 2012. The service was already enjoying healthy year-over-year growth throughout 2012. Then in September, it saw a massive jump in monthly plays per artist, and the trend line kept shooting north until the end of December. Of the music services tracked by Next Big Sound, it was far and away the fastest growing.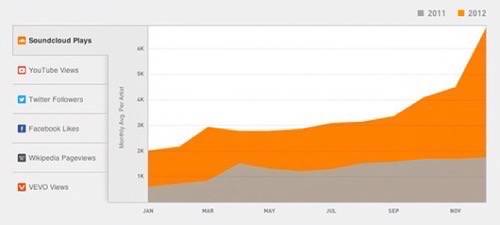 What gives?
The service's growth was probably aided by a major website overhaul, which put more focus on user engagement with continuous track-by-track playback and added more social functionality, such as a retweet-style sharing button designed to help audio content spread across the service.
SoundCloud's redesign may have been the company's biggest project of 2012, but it didn't eat up all of the team's time. They also managed to push out major updates to most of their mobile apps, forge a ton of new content partnerships and convert the service's default player to HTML5.
Fueled by a few hefty rounds of funding, these initiatives no doubt helped SoundCloud better position itself as a sort of "YouTube for audio." The goal, in the company's own marketing speak, is to "unmute the Web."
YouTube Still Rules
YouTube itself was another enormous source of online music last year. It didn't see spikes as dramatic as SoundCloud's, but for most of the year, the video behemoth delivered more than 20,000 average monthly views per artist, in some months quadrupling what artists saw the previous year.
Indeed, YouTube remains a much bigger source of music than SoundCloud, but the growth of the Berlin-based startup is remarkable enough to make it serious contender in the online music space.
Don't call it a Spotify killer either. For whatever reason, Next Big Sound's report doesn't include data from the dominant subscription service, but regardless of what the numbers say, the two companies' models are very different.
The Independent Alternative
For one, SoundCloud doesn't have to contend with the gargantuan music licensing costs that subscription services like Rdio and Spotify do. Whereas those services boast content deals with all the major labels and big indies, SoundCloud has a much larger selection of unsigned, under-the-radar musicians, remix artists and DJs. Indeed, about two-thirds of SoundCloud's fan activity in 2012 was centered around independent and unsigned artists.
What will ultimately become of SoundCloud? It's tempting to envision it getting gobbled up some Web giant like Google, but for now it's focused on building out a massive trove of content, weaving it all into the Web and making it easier to share. The "YouTube for audio" analogy looks increasingly apt, especially if its metrics continue to shoot skyward.