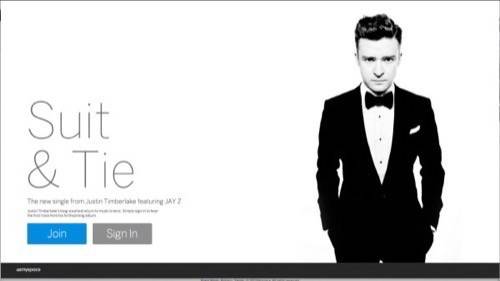 Myspace may have picked a bad day to open up its redesigned site to the public. While the dethroned social networking giant quietly opened its gates Tuesday morning, everybody in the tech world was busy preparing, and then dissecting, Facebook's announcement of Graph Search.
But let's not bury Myspace just yet. Called the New Myspace, the redesign, which entered beta last July, is not aimed at yanking anyone away from Facebook or Google+. Its goal, under the wing of pop singer/actor/Sean Parker-playing co-owner Justin Timberlake, is to do what Myspace did best in the waning days of the site's mid-2000s popularity: give musicians, both professional and aspiring, a better way to interact with fans and help fans discover new music.
In some ways, though that means Myspace is now competing with music streaming services like Pandora and Spotify, and that's not going to be easy, even with Timberlake's music industry clout.
Fresh Look, But No Groundbreaking Advances
Anyone who was interested last September got a look at the new Myspace when Timberlake tweeted a vimeo link to a preview of the redesign. Not much has changed since then.
To recap, the site jettisoned the vertical flow used by most other social networks, opting instead for a horizontal stream that naturally lays out status updates, shared songs and photos. All interactions also hinge on Myspace's version of Facebook's "Like" and Google's "+1," called Connect. Symbolized by a Venn diagram that unites when you decide to subscribe to a musician or find a friend, the Connect option is logical and looks nice, but it's nothing you haven't seen before.
The true innovation – in the minds of Timberlake and Specific Media, who co-purchased the site from News Corp. in 2011 for $35 million – is the black bar running across the bottom of the site.
While it resembles the 'Now Playing' bar at the top of iTunes and other streaming sites, Myspace's implementation is meant to make playing and sharing music a central aspect of the experience. It puts the Home button, your Profile link and your Notification Center right alongside it, with Discover and Search options as well. Discover is the key to exploring Myspace, letting you see what's trending and listen to custom radio stations and mixes.
Myspace's music discovery service comes together in the interactions between the artist profiles and your own. Essentially, users connect to an artist, get updates from that artist, and can stream shared tracks – or even whole albums – while interacting with other fans, amateur musicians, DJs, producers, etc. To help facilitate this music-based interaction, new Myspace subscribers are asked to put themselves into one of a handful of categories, ranging from musician or venue to fan or promoter.
Early experimentation yields some interesting results. For instance, pulling up the Search tab next to the Discover button lets you type in the name of a band, and yields a list of streamable and sharable tracks, band info. Presumably as time goes on, the service will add actual updates from bands that agree to hop back on the Myspace bandwagon.
That's the key, of course. The New Myspace looks and works fine. But the revived social network's biggest, and most likely insurmountable, obstacle is that it's a ghost town right now, and it will probably stay that way.
What Good Is Myspace In A Facebook/Spotify World?
The problem is that it's simply too late for Myspace to capture any ground from its competitors.
Spotify, with its ever-increasing library of available music, Facebook-anchored sharing and playlist making, and tiered accounts for mobile and offline use is not going to lose users to Myspace, despite Justin Timberlake's enthusiasm.
And that brings up another issue. Timberlake's face plastered on Myspace's homepage has been getting a lot of flak, and for good reason. Debuting his new single, "Suit & Tie," on the homepage of the social network he co-owns may be good marketing, but could also be seen as a cheap, self-promotional move.
Myspace may have once been the king of social networking, but those days are gone forever. If Timberlake is able to convince fellow musicians to partner with the site, it's likely to hang around for at least a while, but that's about it.