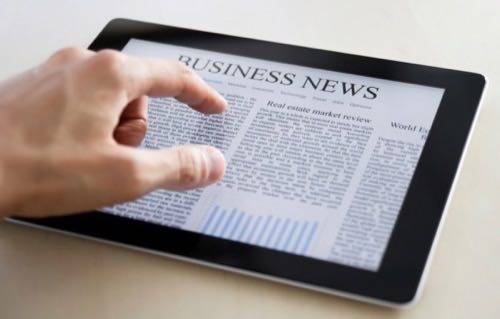 Who owns the links we click and embed? Should the original creator of that content be paid when that material is shared online, even with just links? Across the pond in Ireland, newspapers are wresting with this issue as they attempt to charge third parties for linking and displaying the paper's content for commercial purposes.
The National Newspapers of Ireland (NNI) and Newspaper Licensing Ireland Ltd. (NLI), an Irish non-profit that licenses the copying and distribution of copyrighted materials from print sources, are the two groups behind this move. The NLI isn't charging for personal use of material, but it is trying to put its hand into the pockets of news organizations who are linking to newspaper content.
At center stage here is linking. While a regular links takes you right to a site's homepage, a hyperlink, or deep link, takes you to a specific page. This is the inherent structure of the Web – and in this atmosphere, most news organizations (even those with paywalls) are resigned to the fact that many readers will go to great lengths to access that content – for free.
"A license is required when there is other reproduction of the newspaper content, such as display of PDFs or text extracts," the NLI wrote in an email to ReadWrite. "NLI does not require a license from any organization which only displays or transmits links to newspaper content."
This statement seems to suggest that embedding links themselves into commercial sites isn't going to cost media outlets, while reproducing and displaying that material in the form of pulled quotes, text or PDFs will, but this may not be the case. According to documents from the NLI and NNI and a recent article by The Guardian, licensing goes beyond just reproduction of text. Much farther. This came to light when clients of the McGarr solicitors firm were asked to pay a fee to Irish newspapers for every link sent to them. And the fees weren't cheap. One to five links run €300, 6 to 10 €500, right up to 26 to 50 links for a €1350 fee. The price for more than 50 links is negotiable. A pretty penny, especially when you convert from U.S. Dollars to Euros, which comes out to a range from $400 to $1800, by today's exchange rates.
Right Or Wrong?
As this story has circulated, the Web has been up in arms over the link charging attempt.
The funny thing is, this is something we all do – linking to content has basically become an industry standard. Now Ireland's newspapers wants to cash in on the practice. Are they wrong?
The justification that a link to copyrighted material basically equates to copyright infringement is one shared by the European press, currently embroiled in a dispute with Google over the same type of content linking. But that doesn't mean that the Irish print press will be successful, because enforcing this mandate outside the Republic of Ireland will be tough.
Still, a recent case in the UK serves to bolster the Irish publishers' resolve, when media company Meltwater Group was forced to pay the UK's Newspaper Licensing Agency's copyright fees for hyperlinks. And, unlike the United States, there is no fair use copyright clause in Irish law, precluding an oft-used defense for linking to content.
Yet there's no way for Ireland's newspapers to enforce payment on their links, making this a non-viable means to improve revenue flow.
Plus, not everyone in Ireland agrees with the newspapers' ruling. Johnny Ryan, chief innovation officer at The Irish Times, calls this action a blunder on the part of the industry.
"The controversy arose because the NNI, the group that represents the newspaper industry in this country, made a submission to government several months ago in which it conflated the use of mere URLs with the reproduction of content," Ryan explained. "The licensing arm of the NNI started to issue all sorts of people with payment requests for, it seems, just using URLs."
Ryan characterized a traffic-light situation among publishers, with "people assuming that the inclusion of URLs was so obvious a mistake that it would be removed by somebody else." But it wasn't. Ryan says his paper is the only one in the nation standing by free URLs.
Meanwhile, Across The Pond
Here in the U.S., the link war has raised more than a few eyebrows. And water cooler talk hasn't been supportive.
The idea that linking hurts newspapers' business is very antiquated, said PBS MediaShift's executive editor Mark Glaser. "It seems like an obsolete idea, to be honest."
This isn't the first time publishers have tried to monetize links. And Glaser predicts that this attempt, like its predecessors, isn't likely to find success, either. "Most people who try to bring these kind of cases have failed," he said, citing a 2002 case in Denmark with Newsbooster.
"I think most people by now realize that the Web is really built on links that go directly to content," Glaser added. "The idea that you would charge people even before you go to their site, it sounds very hard to defend."
He says the Irish press' new mandate doesn't hold up legally in the United States. Journalism and academia have long quoted excerpts, and been in the clear legally, as long as they source that material to its original author. And that's thanks to the principal of fair use.
"Even excerpts, as far as the U.S. court would go, excerpts are usually found under fair use," he explained. "You can excerpt from something as long as you credit. And online people want to have a link to the original material."
Best Laid Plans
The best way to monetize content is by using paywalls, not charging for links.
A recent post by the Poynter Institute stated that more than 360 U.S. papers would charge for digital content by the beginning of this year. Among them: The New York Times and The Wall Street Journal, as well as papers owned by Gannett, Tribune, MediaNews and Media General papers owned by Berkshire Hathaway. This year E.W. Scripps, McClatchy and others will also join the pay-to-read game.
Paywalls are the model for reaping online revenue, and the direction that the industry is going. Newspapers in Ireland and the world over should take note. As Gawker's Hamilton Nolan wrote in December, the trick to turn on the revenue stream with paywalls is giving readers unique content, material not found anywhere else. If you can do that, you can get readers to shell out dollars. And a viable business.
Photo courtesy Of Shutterstock