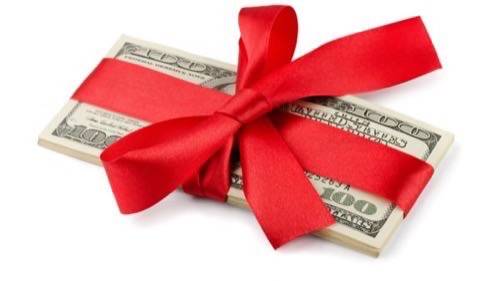 We all know PR reps work charm and tsotchkes to build "relationships" with journalists and analysts, but they're way less shady than, say, Black Hat scammers in the SEO biz, right?
Apparently not. A few weeks ago, I saw the following job post on Elance. The description was a remarkably up-front pay-for-play bid:
We need people who can publish news articles at news sites PR2+.
You choose the topic and weave in the subject we assign. After a review, you publish to a specified news site.
Several journalists needed.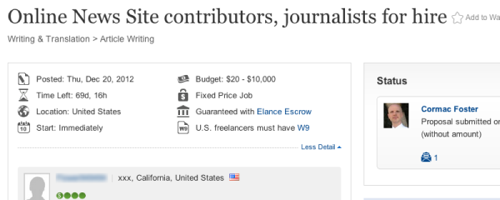 In 2013? Seriously? Wasn't Payola over in the 60s (or at least after the J-Lo scandal of 2005?). I had to see if this had legs, so I submitted a bidless proposal.
Into The Heart of Darkness
The next day, I got a response, asking me to promote a small virtualization vendor:
Their price for selling my soul? 25 bucks. That hurt.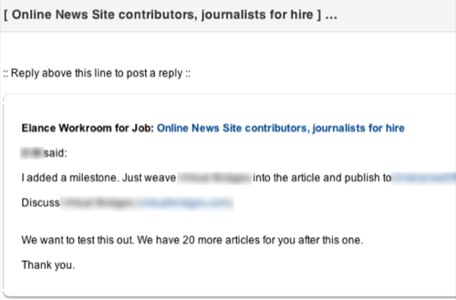 I contacted the vendor's PR department, ready to tear them a a new one, but instead of excuses, I got shock and horror. They claimed to be completely in the dark – and I believed them. I emailed the poster, asking if the company was a knowing client. They said yes. I replied, telling them I'd contacted the company and heard just the opposite.
Crickets.
It's been four days, and all communications have ceased.
The vendor was pissed. In fact, the Senior Product Manager with whom I spoke was angry enough to threaten legal action against the job poster, and I believe that's already begun. That action is the reason I'm not naming names, though you can probably find the job by digging on your own, if you're curious. UPDATE: After the publication of the piece, I was contacted by the vendor's actual PR firm, a boutique outfit that's worked with some very large technology brands. We've worked with them in the past. At this point, I became even more convinced that the scammers were flying solo.
I reported the job to Elance, describing its varying levels of sketchiness, but it's still up, and will probably stay there. As far as I can tell (and please correct me if I'm wrong, folks), there's no law against paying for references in a blog. Still, when I mentioned "paid placement" to the poster, they shot back a clarification right away. They were "pitching an idea." They just happened to pay money if they were allowed to review the post before publication and that "idea" made its way to a site.
Pay-For-Play Alive And Well
The point here is that payola is apparently alive and well in the blogosphere. If the going rate is truly only $25 for a mention in a respectable publication, it's easy to see the appeal – a dozen mentions would cost less than the airfare to send one rep on a briefing. But why would one of these shady agencies spend money to promote a non-client?
The biggest advantage is protection. When you're feeling out an ethically-icky situation, you don't want to dangle any top-shelf clients that can expose you. Once the journalist is on the take, both parties have a vested interest in keeping things quiet, so the agency can relax a bit. The other benefit is promotion. The by-product of all this fishing will be a catalog of company references in relevant publications, which could be an excellent door-opener for sales. In any case, freelancing sites provide a fantastic layer of anonymity for shady promoters. It's something Elance, Guru.com and the rest of the freelance marketplaces will have to address in the future.
Maybe all my instincts are wrong, and the vendor was actually involved. It's always possible, but it doesn't change the conclusion. There's apparently still money in buying off journalists, and from the looks of it, they aren't very expensive.