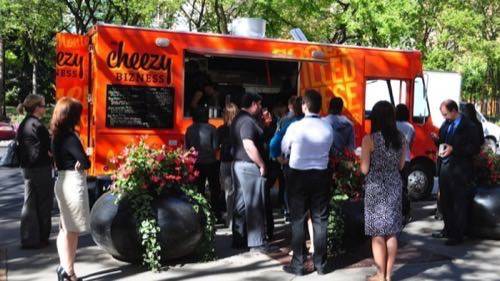 With thousands of gastropreneurs launching local food businesses around the U.S. – cupcake trucks and boutique farms, gourmet this and sous vide that – "food accelerators" are setting up to put them through tech-style incubator programs and turn their early-stage ideas into fully baked businesses.
It's one part Y Combinator, one part "Hell's Kitchen."
Learning From Tech Startup Best Practices
"Food companies can really learn from the tech world," says Krysia Zajonc, CEO of Local Food Lab in Palo Alto, where the inaugural fall class of 12 startups included Brunched in the Face (an all-day brunch truck) and LifeBites, which makes energy snacks made from a traditional South African recipe. "In the food world there's this idea that if you have your grandma's recipe, you can put it out there and just because you love it the whole world will love it. But imagine saying, 'I created an app that my grandma loves, so everyone else will love it too.'"
You may or may not love those South African snacks (peanut-corn butter?) but LifeBites must be onto something, because Local Food Lab accepts only startups that have strong business potential (and that fork over the $2,500 enrollment fee). It then puts them through a six-week program to instill the basic best practices of tech startups, like product iteration and testing, data collection, capital efficiency and community engagement.
Local Food Lab CEO Zajonc went to Stanford and Columbia Business School. She's worked with farmers, producers and buyers of organic food – plus she's worked at Facebook. She thinks the food business is begging for innovation, so she put together Local Food Lab at Columbia's Eugene Lang Entrepreneurship Center and launched last fall with cofounders Mateo Aguilar and Laura O'Donohue.
Is Food A Better Startup Market Than Tech?
"The market doesn't work for all but a very few very large companies," she says. "And the market size for food is a trillion dollars. So it's a huge opportunity for lots of cool ideas to make the system more efficient by applying the playbook developed by tech startups."
Thanks to a new "cottage food" law in the state, it's now possible for California food entrepreneurs to start up in their garages, just like Steve Jobs (who, incidentally, would go for weeks eating only one thing, like carrots – after which, according to biographer Walter Isaacson, he would assume "a sunset-like orange hue"). The new California law makes it legal to sell up to $50,000 worth of food you made in your home kitchen.
"So you can literally have a food garage startup and test $50,000 worth of product before you have to rent an expensive shared-use kitchen or find a factory," Zajonc says. "It makes food startups radically affordable for the first time."
Cook Up Lunch? Or An iPhone App?
And a lot easier than, say, enterprise software. Zajonc reminds Local Food Lab startups that they can get from concept to product in very lean fashion. Say you've got an idea for a great new energy snack. You can cook up a recipe (beta development), hand it out to people at the Sunday farmers market (user testing) and watch their facial expression as they chew (data collection).
"Tech startups have disrupted so many different industries," Zajonc says. "The food industry is ripe for disruption too."
And there's another key benefit. "It's true you can't recreate the Silicon Valley ecosystem in other places but you can absolutely create a local food economy any place."
Image courtesy of Jeff Whyte / Shutterstock.