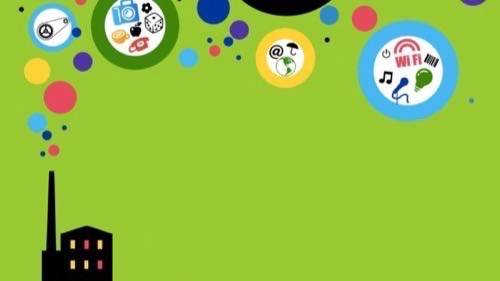 In the not-so-distant future, everything in our lives is going to be connected to the Internet of Things. Fire hydrants, medical equipment, toasters. Really, everything. Yesterday a "smart" fork was introduced to bring "metrics to your mouthfuls." If you can slap a sensor to a device and add wireless connectivity, eventually it will be connected to the Internet.
Qualcomm and AT&T want to make the process of creating Internet of Things devices and applications easier. Today the companies announced a joint project called the Internet of Everything development platform. Based on Qualcomm's QSC6270-Turbo chipset and Gobi modem for 3G connections, the Internet of Everything platform aims to decrease time to market for IoT projects. The development platform will use AT&T's cellular data bandwidth to connect things to the Web. The chipset supports Oracle's Java ME Embedded 3.2 to write the programs necessary to create IoT devices and applications. The Internet of Everything platform should be available to developers in the second quarter of 2013.
The Real Benefit
The idea is to lower the barrier to entry for connecting devices to the Internet. As such, it is a good sign that two of the leading American technology companies are starting to take IoT seriously. When we wrote our Futurist Cheat Sheet on the Internet of Things, we noted that much of the technology to create a robust Internet of Things possible is already in place – it just needed more infrastructure refinement to speed adoption.
"This IoE development platform with Java support is a tool to extend the power of our integrated chipsets to application developers," said Kanwalinder Singh, /SVP of business development at Qualcomm Technologies in a press release. "We are excited that AT&T shares our vision of a cellular-connected IoE, and by the opportunities that will be created by the AT&T developer community."
Qualcomm and AT&T join a growing community of machine-to-machine (M2M) companies working to make the Internet of Things possible. The leaders in M2M development over the last several years have been companies like Cosm, Numerex and KORETelematics, while other consumer- or enterprise-focused companies like Google (with Android) and Research In Motion (with its QNX-based BlackBerry 10 system) also have software platforms that could provide the capability to integrate items like home utilities and aspects of automobiles on the Web. Apple has not specifically built any products for the Internet of Things, but its iOS mobile operating system could easily be outfitted to run a variety of items beyond the iPhones and iPads that currently run iOS.
Unlike other aspiring technology sets (Near Field Communications, for instance), IoT development lends itself to a variety of business applications. Name an industry, and entrepreneurs and innovators will be able to find a way to connect it to the Internet. Qualcomm and AT&T specifically mention healthcare, energy and automotive as sectors that will be able to use the Internet of Things to provide tracking, remote control and analytics.The Internet Of Things will give businesspeople capabilities that they could previously only track through inference, not directly.
Image courtesy of Shutterstock.