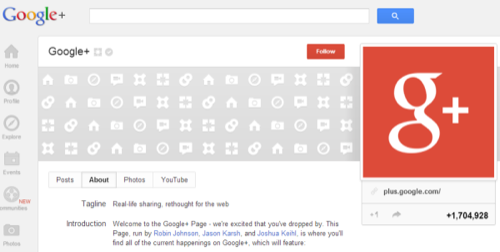 Oh, the horror! Google is so evil it's making everyone use its stupid social network.
As the Wall Street Journal pointed out earlier this week, Google+, the social network all about the circles, is now inescapable. Besides Google employees being forced to use it (and now bitching about using it to the Journal), YouTubers, companies, restaurant reviewers – anyone, really, that wants to maintain a presence on the Internet – has to use Google+ in some capacity. Heck, anyone who signs up for Gmail gets connected to Google+.
And because it is so inescapable – we're not going to stop using Google products any time soon – it's about time digital citizens bucked up and learned to accept Google+ and all of its weird Circle-y, ad-free ways.
After all, there are some benefits to using Google+. Besides being ad-free, Google promises to never sell your individual Google+ information to advertisers, and by using Google+ you make the ads we all see across other Google properties better. (At least that's what Google claims.) So, yes, we have to put up with email integration and having to sign into the service to write restaurant reviews, but that doesn't mean using Google+ has to be all doom and gloom.
YouTube Leads The Way
Perhaps we should take our cues from YouTube, the video-sharing mega-site and community that was the first Google property to begin Google+ integration in late 2011. Sure, users kicked and screamed via online protestations just like all the other Google service users are doing today, but it seems that after all the fuss, many YouTube users actually kind of like Google+.
Jamie Spicer-Lewis, a young up-and-coming cartoonist on YouTube with more than 24 million views of his works, doesn't like that he has to enter his Gmail address instead of his username to get into his YouTube account, but "other than that it seems functional and useful."
Spicer-Lewis doesn't actually use Google+, though, except for Google Hangouts "with my mother because she has a ChromeBook and can't get Skype."
Artist, teacher and YouTuber Merrill Kazanjian thinks Google+, particularly Google Hangouts, is "historic." Kazanjian says he has held several Google Hangouts on his YouTube channel and some of them have received "more than 2,000 comments from artists from all around the world."
"The impressionists had cafes in Paris," writes Kazanjian, and "YouTube artists have Google+ Hangouts."
Cameron Magruder, a sports vlogger (video blogger) and winner of YouTube's Next Vlogger competition in 2012, thinks Google Hangouts will be "a major player in the next 3-5 years especially within colleges and universities."
Magruder actually likes using Google+, and writes that it reminds him of "Twitter when it first started" because "none of your friends are on it so you have to seek out conversations." With fewer people involved, Magruder writes, he is more attentive to the people he is following so he can respond to everyone. "I expect it to change in the coming years… especially as Facebook ramps up on more ads," adds Magruder. (And as more people give up fighting Google+ integration, no doubt.)
Gaining More Visibility
The most obvious reason YouTubers are using Google+ is, of course, the fact that their profiles now show up on the top right hand side of the screen. "Google shows no signs of changing course and from a user perspective there are a lot of upsides to integration," writes Michael X, the founder of YouTube analytics site VidStatsX, such "as better discovery and promotional opportunities."
Better "discoverability" and promotional opportunities equates to what shows up first in Google search: a YouTube user's Google+ profile. Companies and anyone living online would be wise to do this, too. Why waste first-class advertising space, after all?
Michael X admitted in an interview that he strongly dislikes Google+, but adds that given how forcefully Google is making everyone use the service, "it's best just to give it time and make the best of the integration."
So take a hint from the YouTube community and stop with all the complaining. Embrace Google's wacky social network already. There is nothing you can do about it, anyway.
Oh, and if you need more inspriation, check out this Queen parody about Google+: