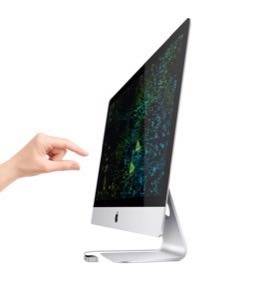 Things keep getting better for Leap Motion, the little startup whose 3D motion controller gizmo could be one of the hottest products of 2013.
The San Francisco-based company has struck a deal with Asus, which will bundle the Leap Motion controller with laptops and all-in-one PCs. Also, Leap Motion has raised a third round of venture capital, this one worth $30 million, from existing investors, including Founders Fund and Highland Capital.
"Our investors really love the progress we've made over the last six to seven months," says Andy Miller, president and chief operating officer at Leap Motion. "And the bundling of our controller with mainstream laptops and computers is really good validation that this is the year of the changing user interface, and Leap is right in the middle of that trend."
The Leap Motion controller lets you control a computer using hand gestures in the air. It's a bit like the Microsoft Kinect controller but far more accurate. You'll be able to check it out in person next week at CES, where Asus will be demonstrating the device.
Or you can check it out in this video:
More Deals Are Coming Soon
Miller, a former top executive at Apple, joined Leap Motion last year. He says more deals like the one with Asus will be announced later this year. Better yet, some PC makers are going a step further and will embed the Leap Motion controller right into their machines, so you won't need an external controller. (For now you need to hook up the little 1-inch-by-3-inch controller via USB cable.)
Leap Motion will start shipping the controller sometime early this year, priced at $69.99. The company has already received pre-orders worth tens of millions of dollars, Miller says.
Leap Motion is encouraging developers to create special apps that take advantage of 3D motion gestures, and will sell those in a special app store. So far more than 40,000 developers have applied to get a software development kit for the Leap Motion controller.
Possible uses go way beyond computers. Miller says Leap Motion has been contacted by thousands of businesses with all sorts of ideas for how to use this technology. "We're going to have announcements about deals in medical and automotive pretty soon," he says.