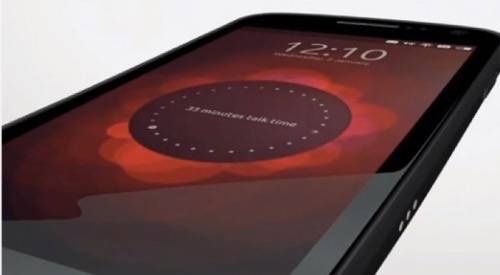 Canonical, the makers of the Ubuntu open source operating system, first hinted that it would be making firmware for smartphones in late 2011. The technorati were dubious at the time, knowing full well that smartphone OSes are difficult to produce and that Ubuntu may be ill-suited to small form factors. Really, isn't Ubuntu supposed to be for geeks on specialized workstations?
Canonical shrugged off the criticism. Today it showed off some early previews of Ubuntu for smartphones in a video keynote by founder Mark Shuttleworth. The timeline for an Ubuntu smartphone is still dated for 2014 and no manufacturers or cellular carriers have signed up to build or distribute it yet. But hey, we can dream.
The Ubuntu for smartphones OS relies on swipes from the edges of the screen for navigation. Swipe left to find recent apps, swipe right to toggle between the last app you used, swipe up from the bottom to show app buttons and down from the top to access settings. Ubuntu for smartphones will also have in-app voice navigation.
See the keynote below for more of a look. Shuttleworth notes some of Ubuntu's growth in the first couple of minutes before diving into the operating system for smartphones.
The real beauty of this (still) theoretical Ubuntu smartphone, though, is the cross-platform potential that Canonical could bring to the smartphone industry. Ubuntu will be able to work on PCs and laptops, television sets and be able to easily intregrate with its own backend clients and servers. One OS to rule them all? It is an interesting proposition.
Canonical's stated goals with Ubuntu for smartphones is to target both the low-end international market with cheap devices as well as high-end market designed to penetrate the enterprise. In the mobile hardware industry, those are the areas of greatest vulnerability right now and Canonical is smart to target them. Google's Android has become a worldwide powerhouse by creating an ecosystem where mobile manufacturers can easily and quickly roll out new devices and ship them to cellular carriers across the world.
The Bottom Of The Market
The problem that Canonical will run into with the bottom-of-the-market approach is that other would-be smartphone OS creators have figured out that is where the growth is as well. And those other players are ahead of Canonical's development cycle. Mozilla will target foreign markets with its Firefox OS, which is expected to launch its first devices in the second half of 2013. Tizen, stewarded by The Linux Foundation with the backing of Samsung and Intel, will also appear in international markets first, with Samsung having already announced that the first Tizen smartphone will make an appearance on Japan's NTT Docomo in the first half of this year. If Canonical is looking for growth strategies in mobile, it may be running out of seats at the table.
Pacing Behind In The Enterprise
From an enterprise standpoint, Canonical will be behind the mobile eight-ball if and when it launches a smartphone. This is as much a matter of timing as utility. While the idea of a smartphone OS that can be vertically integrated to backend systems and horizontally to PCs seems like an enterprise dream, Canonical will be entering a crowded market come 2014. Enterprise IT departments tend to work in 18-36 month timelines. Smart enterprises jumped on the mobile bandwagon years ago and, once those systems are put in place, companies are loathe to change them without a very good reason. Even slower enterprises are now making their decisions on enterprise mobility, working with vendors like Apple and Research In Motion to put systems in place that will work in years to come. Canonical will probably be able to tap its existing enterprise clients to secure a small install base, but Shuttleworth better hope he has a really good sales team if he hopes to steal enterprise clients away from the other industry options.
From first blush, Ubuntu for smartphones looks intriguing. It is a little different from iOS and Android but not so off that consumers will not know what they are doing with it (a problem that has plagued Windows Phone to a certain extent). Canonical will have to make sure that it creates a robust app ecosystem to accompany the operating system, but the focus on apps in Shuttleworth's keynote shows that the company realizes that apps are integral to succeeding in the mobile ecosystem.
Canonical's strategy seems sound. But the timing, strength of the competition and temperament of consumers and enterprises may ultimately work against it. Do you think Ubuntu will succeed in mobile? Let us know in the comments.