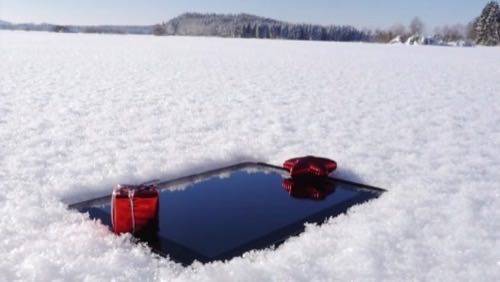 Now that Christmas 2012 has passed, the analyst elves are waking from their egg-nog induced torpor to give us the details on how this year's buying spree went. Of note was this figure from the Experian Marketing folks: Christmas Day's online spending this year jumped 27% over the 2011 numbers. Is procrastination being raised to a new level, or is there something else going on?
When measuring the top 500 retail sites, Experian noted an average of a 10% increase over the entire seven-week shopping period, which makes the 27% bump in actual Christmas Day shopping stand out even more.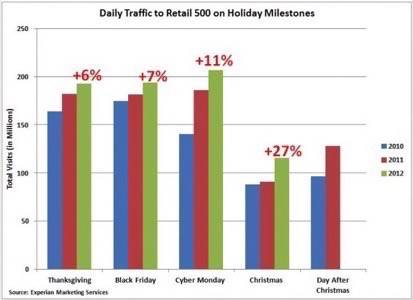 It's tempting to pull out the traditional "Ha ha, look at all the procrastinating shoppers who can't get their lives together," angle (a first cousin to the April 15 public mocking of losers in line at the post office). But it seems that the most likely explanation has less to do with lateness than with digital updates to a couple of time-honored holiday traditions.
Digitally Enabling Holiday Gift-Giving Traditions
The first tradition is, of course, the gift exchange. What, you don't like that lime green cable knit sweater? Let's get online and pick out something more approproate.
The Internet's ability to let unhappy recipients re-order gifts, with the intent to return the balked presents later, smooths over many a holiday faux pas.
The second, and probably more likely, reason for all of this holiday shopping on Christmas Day is the increasingly ubiquitous use of gift cards as presents. According to CEB TowerGroup Research, U.S. sales of gift cards topped $110 billion in 2012, equal to China's entire defense budget. You can bet that some of those gift cards are being cashed in right away online.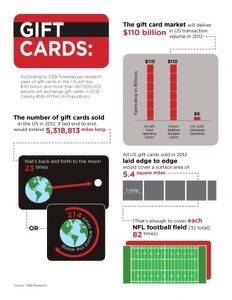 Besides U.S. shoppers being able to outspend the People's Liberation Army at the mall, this figure points to a big reason why shoppers are getting their online shopping done the same day the tree is awash in a sea of torn wrapping paper: Because they can.
Armchair Shopping, Complete With Egg Nog
There's another element to this as well, one that ReadWrite's Dan Rowinski alluded to recently while discussing the explosion of downloaded apps at Christmas: with 17.4 million new personal devices activated on Dec. 25 alone, and hundreds of millions more existing devices out there, not only are people getting more gift cards, they can actually spend them right then and there.
In the past, when you got a gift card, you might have to fire up the computer or laptop to get your online spending done. Or the gift card might be for a brick-and-mortar store with little or no online presence. But with the proliferation of tablets and smartphones, and many more online outlets for retailers, you don't even have to leave the couch to spend out that gift card.
The ease of friction in online shopping may also explain another trend CEB TowerGroup noticed: gift card "spillage" (the term for unspent gift card amounts that represents pure profit for retailers) dropped 20% this year to "just" $1.7 billion. Industry observers are pointing to the Credit Card Accountability, Responsibility, and Disclosure Act of 2009, which restricts expiration dates and fees retailers can slap on gift cards, as a reason for this reduction in spillage, but ease-of-use is also likely a factor.
If this trend continues, look for aggressive retailers to make up for pre-holiday discounts by tweaking their product prices upwards on Christmas Day to catch these shoppers coming in with their funds already tied up in pre-paid branded gift cards.
Smart shoppers may want to hold off on the instant gratification of gift card spending and wait for the next run of sales.
Image courtesy of Shutterstock.