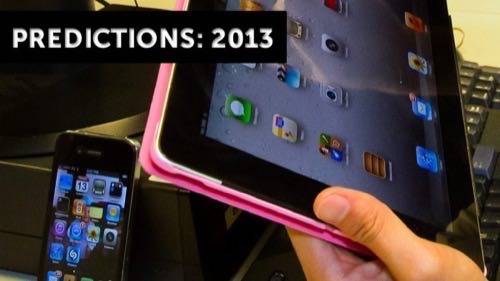 In 2012, IT growth and innovation centered around mobile devices, cloud services, social networking and Big Data. 2013 is likely to see accelerated adoption in all those areas, as many companies move from experimenting and testing to deployment.
What follows are 2013 predictions for some of the fastest growing next-generation technologies in enterprise IT. If 2012 seemed like a tumultuous year, then hold on to your hats. Next year is going to be another bumpy ride.
1. Big Data
First up is Big Data. 2013 will see companies continue to spend much more on databases and business intelligence tools to drive innovation and boost operational efficiency. Big Data technologies will have the most impact in the financial industry as well as medical and scientific research. Corporations wanting to deploy business analytics will look to those industries for guidance.
International Data Corp. defines Big Data as new generation "technologies and architectures, designed to economically extract value from very large volumes of a wide variety of data by enabling high-velocity capture, discovery and/or analysis." In 2010, companies spent $3.2 billion worldwide in Big Data technology.
In 2015, Big Data spending will reach $16.9 billion, representing a compound annual growth rate of 40% or about 7 times the growth rate of the overall information and communications technology market, IDC says. Because growth will outpace the supply of talent, companies are expected to look to vendors for cloud-based services that can offload much of the work from inside IT staff.
While software and services are expected to make up the majority of Big Data spending, companies will be spending on infrastructure at a faster rate. Spending on storage will grow the fastest through 2015 with a CAGR of more than 61%, IDC says.
2. Software-Defined Networking
On the networking side, software-defined networking (SND) will enter the refinement process needed before products are ready for production use, according to Forrester. The maturation process will take roughly five years, as SDN components are tied together and technology added for integration with management systems, orchestration software, hypervisor management products and networking protocols. Forrester recommends that companies prepare for industry adoption of SDN by starting training for IT staff in 2013.
3. In-Memory Computing
While watching carefully developments in SDN, many companies are expected to take in-memory computing to the mainstream, with the help of vendors such as SAP and Oracle, Gartner says. "Numerous vendors will deliver in-memory-based solutions over the next two years driving this approach into mainstream use." As the name implies, in-memory computing brings data sets closer to computational engines, replacing the much slower architecture that involves pulling information from a database in a separate server. This opens up the possibility of real-time or near real-time results from transactional and analytical applications running against the same in-memory dataset. A mouthful to be sure, but the process could mean big advancements in how fast companies can analyze and act up on the data they gather.
4. Social Technologies Drives Enteprise Collaboration
In the front office, employees' use of social networks, such as Facebook and Twitter, is driving companies to build their own enterprise social networks to give workers secure areas for collaboration and sharing data. In 2013, IDC predicts these networks will move beyond the pilot stage and into production.
Gartner sees a similar trend with enterprise app stores for smartphones and tablets. Faced with vendors limiting stores to specific devices, companies will deliver private application stores to workers by 2014. This will avoid the multiple payment processes and licensing terms that would come from using public stores from vendors.
5. Windows 8 Doesn't Get Traction
On the desktop, Microsoft is not expected to win big in the enterprise with Windows 8 until well after 2013 – if ever. Gartner says 90% of corporations will skip large-scale deployment of the latest version of the operating system through 2015. Most enterprises and their PC management vendors are not ready to deal with the touch interface Microsoft has added to its flagship product. As a result, companies will wait until support for the dramatic OS change becomes widespread in the business technology market.
6. Gamification Wins
Finally, techniques used in building addiction to playing online games will get adopted to boost worker productivity. Measurement of performance, feedback and incentives will be used to engage employees and tie their actions more closely to business outcomes, Gartner says. The worldwide market for gamification technology and services will rise from $242 million this year to $2.8 billion in 2016. Within three years, 40% of the Global 1000 companies will use gaming techniques, a process called gamification, to improve performance and efficiency of their business operations.