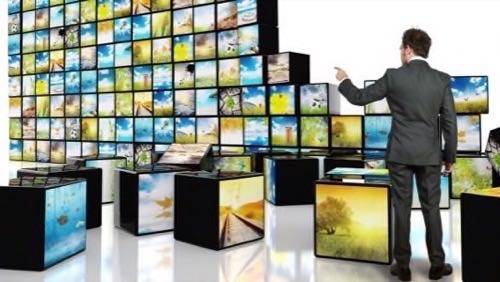 Nintendo is moving beyond Mario. To better compete with the likes of Microsoft's XBox and Sony Playstation, the Japanese gaming giant is looking to expand its role in the living room beyond video games. After some delay, it's launching an integrated entertainment hub this week called TVii, which will bring live TV, Internet-based video and digital video recorder (DVR) functionality to a single interface on the new Wii U console.
Nintendo's TVii will smartly piggyback on the "second screen" craze by turning the Wii U's tablet-style controller into a device that lets viewers interact with social media and supplemental content while they're watching TV.
It's about time. The original Wii had little more than Netflix and Hulu when it came to video content, even after the XBox had begun firmly implanting itself at the center of people's living rooms with a variety of entertainment content sources. Meanwhile, Nintendo has seen its profits slip as cheap, ubiquitous mobile gaming eats away at consumers' desire pay big bucks for dedicated gaming hardware and software.
That revolution in mobile gaming was originally set off by the rise of the iPhone and iOS and accelerated with the launch of the iPad and competing devices from Google, Amazon and Microsoft.
This is a smart and necessary move for Nintendo, but is Apple about to eat its lunch again?
Apple's HDTV Will Change The – Ahem – Game
Rumors, of course, continue to swirl about an Apple TV. The interface, they say, is the thing that Steve Jobs famously said he had finally "cracked" not long before he passed away. It's precisely that TV interface problem that Nintendo is attempting to chip away at here. From the looks of the demo videos, its effort is a noble one. But not only is Nintendo playing catch up with Microsoft, it will be right in the crosshairs if the fabled Apple HDTV actually does launch.
It's been months since I turned on my Wii, a device I used to use almost nightly. Instead, my couch time is spent with an iPad in my lap, which is AirPlaying video apps to my Apple TV (a device I once thought I'd never want or use).
The idea of being able to tune into Amazon Instant Video and live TV from my Wii sounds cool, but if it really wants to compete for my attention, Nintendo needs to offer innovative social video aggregator apps like Frequency, Showyou and Vodio. There's much more to online video these days than Netflix and Hulu. Apple is already sitting on a robust and extremely popular developer platform, upon which it will presumably build its TV-based operating system. Right out of the gate, the Apple HDTV will likely blow away Nintendo's content offerings and user interface.
Admittedly, I'm not necessarily Nintendo's target customer. For one thing, I'm a pretty casual gamer. That's a big part of my shift away from the Wii – I'm not glued to Super Mario Galaxy 2 the way I used to be, and I don't rush out to buy all the latest titles. But I do remain loyal to many Nintendo-specific games.
Perhaps if my online TV experience came from the same device as the games, I'd play more. In fact, if Nintendo sold old school Nintendo Entertainment System (NES) and Super Nintendo Entertainment System (SNES) games for the iPad I'd be happily playing them on my couch and AirPlaying Mario to my TV all the time. Nintendo refuses to do anything like that. It seems to be hoping that the reverse approach will work: bringing the entertainment console to the gaming platform rather than bringing the games to the mobile entertainment platform.
To nail this, Nintendo has to do a very, very good job on the non-gaming entertainment side. Because it won't be long before the competition gets intense.
Image courtesy of Shutterstock.