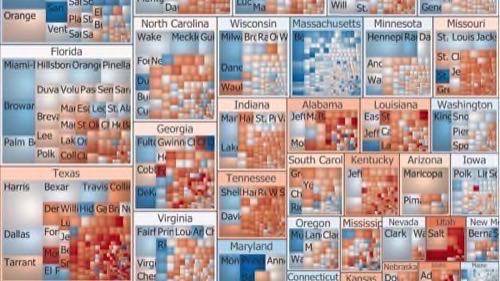 Imagine you were a political analyst who time traveled from 1990s to November 5, 2012. A quick look at the national polls for the presidential election, you would probably have thought that Republican nominee Mitt Romney had a pretty good shot at claiming the presidency.
Obviously, you – like many of the Republican faithful – would have been dead wrong.
President Barack Obama and his team, though, likely knew that he would win, and by precisely how much, days before the actual voting even started.
In the first of a three-part series on how Obama used technology to win the election, MIT Technology Review breaks down how the President's team used Big Data and sophisticated analytics at an almost unprecedented scale to track voters, and nudge them in the direction that the Obama team wanted them to go.
What the Obama team did was little short of amazing. It essentially created a cohort-analysis system of data to judge every single voter it wanted to get to the polls. Obama's team took the usual system of analytics and reduced it to the most granular level: the individual voter.
The analytics campaign, led by chief analytics officer Dan Wagner, was able to assign voters individual scores based on if and how they would vote. In doing this, Wagner's team could accurately predict human behavior.
"But underneath all that were scores describing particular voters: a new political currency that predicted the behavior of individual humans. The campaign didn't just know who you were; it knew exactly how it could turn you into the type of person it wanted you to be," wrote Technology Review's guest contributor Sasha Issenberg.
In contrast, the Romney campaign was still in an earlier mode of data analytics, focused around larger cohorts such as campaign topics (the fall of Obama-backed solar energy provider Solyndra, for instance) and how individual ads affected the voter mindset.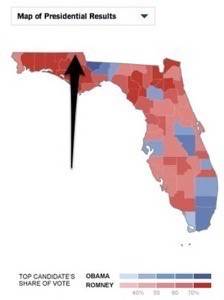 In part two of Issenberg's series, he notes that the Romney team understood it did not have the depth of ground-level analytics that the Obama team had and was forced to be reactionary to how the Obama campaign deployed its resources. For instance, why did Obama run 68 ads in a small Alabama town that traditionally voted Republican?
Obama was likely targeting voters in Florida with his Alabama media buy, trying to sway voters in key counties like Holmes, Jackson, Walton and Gadsen. The Obama team likely knew that the state of Florida would come down to several thousand votes (which it did) and that eroding Romney's base there would be important to win the state. Of those counties, Obama won only Gadsen. But winning those counties was not as important to the Obama team as was making sure that people that supported him in 2008 also did so in 2012.
For instance, in Jackson county, Obama received 7,342 (35.1%) votes in 2012 against 7,632 (35%) in 2008. Obama's goal in 2012 was to make sure that everybody that voted for him in 2008 also did so in 2012 while adding new voters as well. Even though he lost those counties, by matching his numbers in those two counties in an election where the Republican base was emotionally invested against him, Obama can count those Florida counties as a win. Considering that Obama beat Romney by only about 73,000 votes in Florida, those votes counted for a lot.
Predicting Human Behavior Through Data Analysis
By taking an approach to individual voter targeting and setting up the algorithms and databases to do it, Obama's team put itself on the forefront of a growing field of innovation: predictive analysis of individual human behavior and reaction.
The largest technology companies and a growing number of advertisers are seen as leaders in this field. People like to joke that, "Google knows everything about me." Well, it probably does.
In a mobile application, for example, what buttons are the users most likely to push? Are they more or less likely to tap on an advertisement? What can the app publisher do to get users to open the app more often (increasing the likelihood of clicking an ad or buying in-app goods)? The next step is to apply those questions to specific cohorts. Is a woman aged 18-21 years more likely to re-engage with the app than a man of the same age? How many times does a 25-year-old man need to open an app before he makes his first in-app purchase?
Companies like Apsalar, Flurry, Localytics, Sonamine and others are working on this type of cohort data – not just to understand how people use mobile apps, but how they can be influenced to perform particular actions. By analyzing millions of data sets created by touching items within an app, companies can guess with a very high degree of accuracy what you are going to do next. Once a company knows what you are going to do, it can then influence you to perform the actions it desires.
This is almost exactly what the Obama team did, except instead of mobile apps, it was millions upon millions of voters. The Obama team figured out what type of person a voter was and how that person would respond to certain types of stimuli – such as direct mail, person-to-person interviews, social media, advertising, and so on. Obama was then able to deploy his massive volunteer network (some 500,000 people) and other campaign resources as needed.
Ultimately, this approach is what set apart Obama's campaign. It was not just having a smartphone app as a "walk list" (the list that volunteers use to see who has come to the polls) or keeping track of media sentiment through in-depth analytics. It was about having the most granular data possible and then knowing how to act on it.
Some of the biggest tech companies in the world that specialize in behavioral data could not have done quite what the Obama team did by mixing social science (how users react to different stimuli) to structured big data.
Top image: tree graph of 2012 election results county by county, courtesy of Wikipedia.