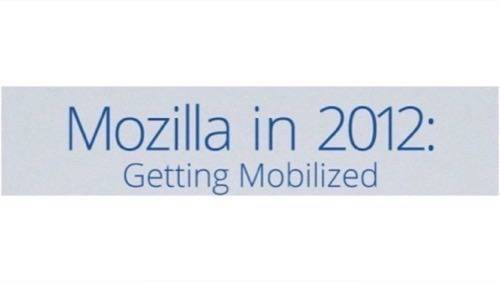 For Mozilla, 2012 was a year to start transitions. The browser maker started its biggest transition since releasing Firefox in 2004 when it started building Firefox OS, a HTML5 Web-based mobile operating system for smartphones.
Mozilla also focused a lot of attention on its Firefox for Android browser as a bit of a proving ground for its fledgling operating system. It has almost everything in place to make a big push in the mobile sector come 2013.
Mozilla calls Firefox OS the operating system "to power the world's first Open Web Device." That is an interesting statement. Mozilla is putting together four elements that are not usually thought of in the same breath: open, Web, mobile and operating system.
You can put any two or three of those elements together and make a world of sense. Open + Web is the most obvious, as open standards rule the Internet and are the basis of Firefox itself. Open + mobile could point to (in some ways) Google's Android operating system or technology stacks like HTML5. Mobile + operating system points to iOS, Android, BlackBerry, Windows Phone, BREW, Tizen, Bada, Palm, Symbian and so on. Even Web + operating System makes a certain amount of sense, if you look at Google's Chrome OS.
An open mobile Web-based operating system? That does not exist.
Chrome OS may be the closest to what Mozilla is trying to build, but as yet it can only be found on laptop and notebook-like PC devices. Tizen, the bastard offspring of MeeGo and supported by the Linux Foundation, may come close. Palm OS, ostensibly supported by Hewlett-Packard, is Web-based and open source, but the poor remnants of Palm are an ill-formed zombie.
Mozilla's biggest challenge has been to bridge the capabilities of a mobile browser with the features and functions of a smartphone. Part of that challenge is tying the browser to the hardware features of a smartphone, like the camera or internal storage. To tackle this issue, Mozilla has created what it calls Web APIs (application programming interfaces) to tie the browser to the hardware. To this point, Mozilla has 30 Web APIs that command features like the proximity sensor, phone vibration, push notifications and power management.
See the infographic below from Mozilla to view progress the company made in both its mobile and desktop browser spaces in 2012.
A Firefox couple highlights:
Do Not Track was adopted by 19% of Firefox mobile users and 8.6% of desktop users
New Firefox is 50% faster with four times less memory used than the previous version
Firefox added new social APIs including Facebook integration
50 billion items were synced through Firefox in 2012