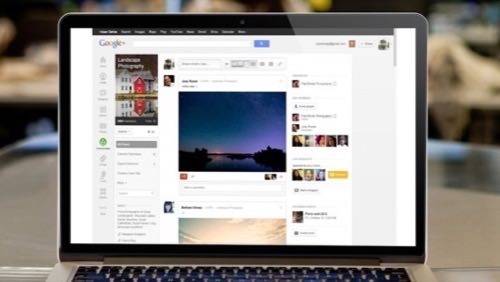 Say this for the people running Google+ — they know how to take a punch and keep going. In the 18 months since Google launched its social service the engineers and marketers behind Google+ have suffered the slings and arrows of some pretty negative punditry.
Farhad Manjoo of Slate waited five whole months to declare that "Google+ Is Dead."Bloomberg Businessweek called Google+ a "ghost town." The Wall Street Journal accused Google of exaggerating its usage statistics.
Privately the Googlers were steamed, but in public they stayed quiet and just kept chugging along, adding new features and functionality.
And today Google announced a pretty huge milestone – its service now has half a billion members.
Communities
The membership news was included in an announcement of a new feature called Communities, which lets people create spaces where they can connect with others who share their interest in any subject – cooking, skiing, travel, whatever.
Google+ users have already been using the service to create communities around particular interests like music or photography, but now "we're now making it dramatically easier" for people to do that, says Google Vice President Bradley Horowitz. "This is a significant leap forward for our users," he says.
Anyone can start a community. There are four different kinds. Two are public, two are private. A moderator can create multiple "topics" within a community. A community devoted to food might have a topic devoted to vegetarian cooking, another where people recommend restaurants and another where people can share recipes.
Here's how it works:
Not A Ghost Town Anymore
The bigger news, however, is that Google+ now has 500 million members, 135 million of whom are active users of Google+ itself, while 235 million are considered "active" by virtue of interacting with Google+ from other Google sites. That total number of 500 million is up from 400 million only three months ago.
Sure, Google+ is still smaller than Facebook, which has more than 1 billion active members. But it is certainly not a "ghost town," and it certainly is not dead. In the early days Google+ was mostly popular with Silicon Valley techies, but little by little, "normals" seem to be migrating onto Google+.
Google+ has some advantages. For one thing, you have more control over your experience. And your feed isn't cluttered with ads. In general, Google+ feels like a cleaner, nicer place than Facebook, which has never been very attractive and is starting to look old and tired.
How Facebook Is Helping Google
But Facebook has a bigger problem, which is that even its most avid users tend to hate the company itself and to view Facebook as an outfit that is less interested in helping users than in wringing money out of them by finding new ways to trick and exploit them.
Over the past few years there have been a string of scandals over Facebook's ever-changing privacy policies. More recently, Facebook made a change in its algorithm that cut back on "reach" and left brands feeling betrayed and led to Mark Cuban saying he would start focusing his attention on other social networks.
Then came the announcement (on the night before Thanksgiving) that Facebook wants to do away with a policy that allows users to vote about changes in Facebook's service, and now users have been asked to vote on whether they should be able to vote.
None of these things is, in isolation, a big deal. But over time an unflattering image of Facebook has begun to emerge.
Google Plays A Patient Game
The official line from Google has always been that Google+ doesn't really compete with Facebook.
And for the most part the Googlers have refused to criticize Facebook, even when Facebook was busted trying to run a nasty smear campaign against Google.
Instead, Google has stuck to building out its service. The new Communities feature isn't an earth-shattering event, but it's another important step forward.
The people running Google+ have been mocked, laughed at, criticized and accused of exaggerating usage numbers. They've been told, repeatedly, that they have no hope of success and should just give up. But Google+ just keeps on growing. And getting better. Now it has 500 million members, up 25% from just three months ago. At some point the pundits may have to declare this a success.