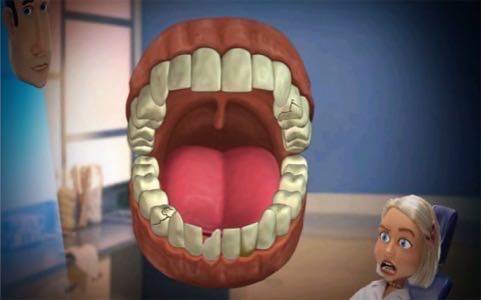 Things started to go downhill while I was trying to administer novocaine to a dog. I'm still not entirely sure what happened. I was trying to inject his gums with anesthesia when a message popped up, telling me I had failed. Game over.
I had been doing pretty well, I think. Fixed a few cracked teeth. Filled up the novocaine syringes. The truth is, even on my fifth round of Dental Surgery, a medical simulation game for the iPad, I still wasn't sure what I was doing. I just tapped at the screen, guessing my way through surgery to what sounded like the soundtrack of a '90s pay-per-view porn movie.
This Is Really Weird
This game is completely bizarre. Upon launching it, that music is the first thing you notice: a single synthesized measure that blares and loops forever. A splash screen gives you a pretty clear idea of what the game is all about. "DENTAL SURGERY" rests above a graphical caricature of of a wide-jawed, blue-eyed man (presumably the dentist) flanked by trays of surgical implements.
"Would you like to have a look at some other Excellent Games?" asks a pop-up notification. It's unusual timing for such an inquiry — before I've even had a chance to play the first one.
In Dental Surgery, you operate on a randomly selected member of the Martins, a family plagued by horrendous dental problems. Even Canine, the dog has an awful maw.
The entire time, there's a Google-served banner ad in the upper left corner, where it can awkwardly cover key elements of the interface and make it hard to see what you're doing. Like the porn music, the banner ad never goes away.
Once the game begins, it's not obvious exactly what you're supposed to do. Tapping the surgical tools on the right causes each one to light up and a related icon to appear nearby, I guess to clarify — using iconography that isn't any clearer than the low-res graphics themselves — what each tool does. That's it. You can't pick up the utensils or use them.
When I moved my finger over the patient's teeth — surely, that's how you make things happen in this game about dentistry! — nothing happened. A disproportionately small dental mirror, which appears to have no purpose, floats around on the screen as I moved my finger around the patient's mouth.
After I'd tapped just about everything else on the screen and wondered how this app ever got approved I realized that my first move is to prepare the anesthesia by filling gas tanks or novocaine syringes, a sort of mini-game in and of itself.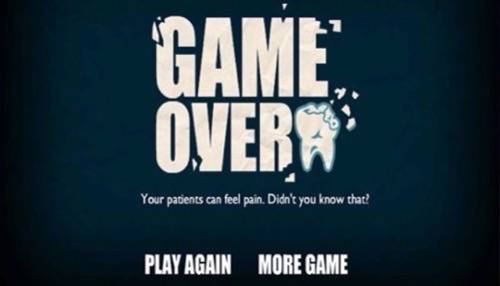 That's when the game started to make sense, but it's still a pretty odd experience. After poking around some more, I was able to can get down to fixing and cleaning teeth, filling cavities, repairing chipped teeth and so forth. Presumably, once you complete each procedure, you win the game. I don't know, because I'm apparently an atrocious dentist who might have killed a few patients.
How Did This Get So Highly Ranked?
Dental Surgery is weird for the feeling it engenders that you may have stumbled upon a Russian spam app that is opening a backdoor to all of your private information. It's weird for the generally strange and unintuitive interface.
But what's most mind-blowingly bizarre about this thing is that a few days ago, it was the third-most-popular free iPad app on iTunes. Today, it's still in the top five, sitting above Etsy and sharing the top 10 with Skype and a YouTube substitute.
When I first opened Dental Surgery — which I discovered only thanks to its high rank in the App Store — I thought, okay, clearly Gawker or some tech blog wrote about how this app is incredibly, comically weird. That wasn't the case. A Google search revealed virtually no media coverage of any kind. Somehow, this app had climbed the charts on its own, despite being poorly designed, hard to use and completely outlandish. Out of nearly 6,000 reviews, the majority gave the app one star, complaining about its poor quality and confusing interface.
How this app rocketed to the top of the App Store charts is a mystery, and the name of its developer doesn't yield any meaningful Google results. It makes you wonder about Apple's quality control and, specifically, if the updates to the App Store in iOS 6, which were supposed to make it harder to game the system and easier to discover quality apps, are working.
These are interesting things to ponder. But alas, Conor Martin needs some cavities filled.
UDPATE: A few hours after this story went live, Dental Surgery disappeared from the App Store. As one commenter pointed out, the game appears to have been a rip-off of this Shockwave game, which is based off of a Nick at Nite program called Glenn Martin, DDS. That's an obvious trademark violation, which is probably why the app got pulled. The questions remain: How did this app get approved in the first place? Precisely how did its developer manage to game the App Store rankings so effectively? We'll update as we learn more.