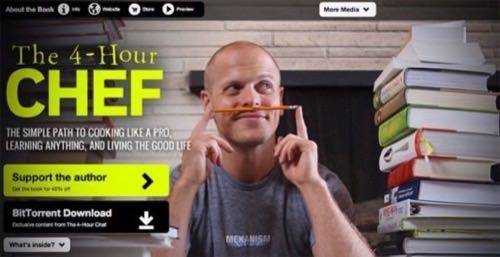 If you walk into your local Barnes & Noble looking for a copy of Timothy Ferriss's new book, good luck. Even though he's a New York Times best selling author, the giant book retailer refuses to sell The 4-Hour Chef, the latest in his series of self-help books.
Ferriss isn't worried. He's banking on the power of digital distribution to make up for any losses in print sales. Ironically, one of his most effective tools may end up being something most content creators have grown to fear, if not outright despise: BitTorrent.
After publishing two wildly successful books via traditional means, Ferriss decided to try something different. In August, he signed on with Amazon's new publishing arm to release the follow-up to his 2010 health and fitness guide, The 4-Hour Body. That ruffled the feathers of not just traditional publishers, but also brick-and-mortar retailers like Barnes and Noble, who object to the e-bookstore exclusivity Amazon requires of its authors. That's why you won't find Ferriss's latest opus down the street at Barnes & Noble.
As fast as e-books are growing, the lack of a presence in the nation's largest physical book retailer is a still serious handicap. To combat it, Ferriss struck a deal with BitTorrent earlier this month to distribute an exclusive bundle of content and, he hopes, sell a few extra books.
"We were both eager to do something to demonstrate that the same type of tools that disrupted music and film can be harnessed to benefit the content creators in publishing," says Ferriss.
How BitTorrent Is Moving Beyond Piracy
But wait. BitTorrent? Aren't they the bad guys?
To be sure, forging a partnership with the company behind the same-peer-to-peer filesharing technology that fuels rampant piracy would be unthinkable for most major publishers. In fact, they're sometimes known to sue BitTorrent users for downloading e-books. But the San Francisco-based company is working hard to rebrand itself as a legitimate partner for content creators, and there's no better way to do that than by partnering with established creators like Ferriss.
For Ferriss, BitTorrent is just an incredibly efficient way to distribute content to a large number of users. And BitTorrent has plenty of them. When asked why he wanted to enter into this partnership, the first words out of Ferriss's mouth were "one hundred and sixty million users." It's hard to argue with that.
Here's how it works: To coincide with the launch of his book, Ferriss put together a folder of additional, exclusive content: a 62-page PDF previewing the book, behind-the-scenes photos, videos and early, hand-marked notes. It's pretty meaty, but doesn't come anywhere close to spoiling the 672-page book he's trying to sell.

It's not just that this content bundle is available for free to Bit Torrent users. It's that Ferriss's face – along with a link to download the bundle torrent and buy the book – is on Bit Torrent's homepage, from which hundreds of thousands of users download the file-sharing client every day.
BitTorrent has been experimenting with this type of featured content for about two years. The list of artists it has partnered with includes increasingly higher profile names like The Counting Crows, DJ Shadow and Pretty Lights, an American DJ and producer. BitTorrent has also worked directly with the Internet Archive to make more than one petabyte of public-domain content available via the P2P network.
It's all part of the company's effort not to just to distance itself from piracy, but to figure out how it can be a bigger part of the legitimate future of digital distribution.
"If you look at what BitTorrent really is, it's quite simply the best way to move ones and zeros across the Internet," says Matt Mason, the company's Executive Director of Marketing. That makes it a valuable tool for creators, but also helps the company figure out its own strategy moving forward.
"The reason we're doing all of this is to try and figure out what to build next," says Mason. That is, if these experiments work, the company can develop tools to help publishers and artists launch their own promotional campagns and take even better advantage of the platform.
Is This Experiment Working?
So does partnering with BitTorrent work? The early numbers look promising, even if they're not all the kind of hard dollar figures media executives want to see. The payoff is less direct that that, but it can still be huge. Pretty Lights, for example, may or may not have sold more records as a result of publishing his BitTorrent bundle of free music and video of a live performance. But after his bundle soared to the top of Pirate Bay's download chart, the DJ saw a 700% increase in traffic to his website, collected 100,000 email addresses and, probably not entirely by coincidence, sold out two concerts at the Red Rocks amphitheater in Colorado.
For Ferriss, it's still too early to tell. But the initial numbers aren't bad. In the first week of the campaign, his bundle has been downloaded 211,000 times, BitTorrent told ReadWrite. More than 85,000 people have clicked through to the book's listing on Amazon (no word on how many ordered it), while 27,000 people viewed the book's trailer on YouTube.
Even if the book only sold 100 extra copies, Ferris says, the promotion would have been worth it to him, because the amount of setup time required was so minimal. He expects to sell far more copies than that, but the real value comes in experimenting with new distribution channels. He is "not overly concerned" about the prospect of his e-book itself being shared on BitTorrent, which he views as a valuable promotional tool.
"One of many reasons to embrace new technologies or new applications of existing technologies is the benefit that you get of being first," says Ferriss. If nothing else, such a paradoxical-seeming partnership has a way of garnering more media coverage than a typical book launch.
"It's a wide open field for people to play in," Ferriss says. "Very few people have taken advantage of this so I would absolutely recommend it."