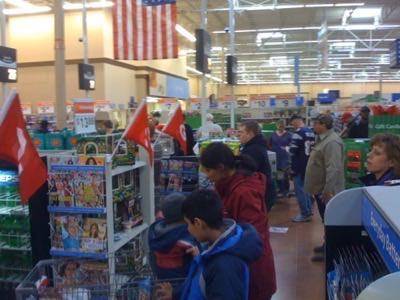 Shoppers flocked to the Web's e-commerce sites over the long Holiday weekend, and Web retailers welcomed them with open arms and fast response times while ringing up record sales. But customers hoping to shop via their smartphones met the equivalent of long lines.
According to Akamai Technologies, traffic to online retail sites topped 8.5 million page views per minute on what has become known as "Cyber Monday," just before 9pm Eastern Time. That peak was the largest retail traffic spike in history, Lelah Manz, the chief strategist of commerce at Akamai, wrote in a blog post.
All the traffic seems to have paid off in dollar sales, too: According to IBM's Digital Analytics Benchmark, online sales jumped 30.3% over 2011, which would break comScore's forecast of a 20% increase in online sales, or $1.5 billion on that one day alone.
Online, Amazon was the big winner on Cyber Monday, enjoying a 36% increase to almost 35 million visits, as measured by Experian; Walmart and Best Buy were close behind.

A Big Online Shopping Win
"I think the only way to describe the Thanksgiving openings was a huge win," the president and chief executive of the National Retail Federation (NRF), Matthew Shay told reporters in a Sunday briefing. "And in that regard lots of people won this weekend, and it wasn't just Notre Dame and Ohio State."
According to the NRF, which includes both brick-and-mortar as well as online retailers, shoppers are beginning to treat Thanksgiving through Cyber Monday as a five-day holiday, with both brick-and-mortar and online shoppers benefiting. "It's becoming more and more of a tradition," Shay said.
Thanksgiving was a "blow-out traffic day," wrote Akamai's Manz, with an early peak of 4,910,674 page views per minute at Noon Eastern Time, then an even bigger peak of 7,411,734 page views per minute at 10pm. Just as in 2011, Thanksgiving drove higher shopping spikes, but Black Friday produced consistently more page views overall – 25% more, according to Akamai. Unexpectedly, though, Cyber Monday topped them both, generating a 13% higher spike than Thanksgiving, and 16% more traffic volume than Black Friday. Cyber Monday online sales were up more than 36% compared to Black Friday, IBM reported.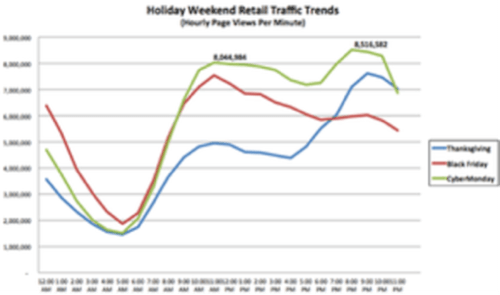 "Cyber Monday was not only the pinnacle of the Thanksgiving shopping weekend but when the cash register closed it officially became the biggest online shopping day ever," said Jay Henderson, strategy director of IBM Smarter Commerce, in a statement. "Retailers that adopted a smarter marketing approach to commerce were able to adjust to the shifting shopping habits of their customers, whether in-store, online or via their mobile device of choice, and fully benefit from this day and the entire holiday weekend."
Most Web Retailers Were Prepared
While most sites planned for a surge of traffic via PCs, some notable retailers apparently did not, with mobile sites being even worse. According to Panopta, Kmart, Sears and CDW fared the worst, with outages that topped a total of ten hours in Kmart and Sears' case. Although those outages were spread out going back to November 10, a total of 41 sites failed to meet the goal of 99.9% uptime, the lowester threshold for an acceptable online presence. The top five worst-performing sites also included TigerDirect and Victoria's Secret; other notables that failed to meet the 99.9% threshold included Gamefly, Gamestop, Office Depot, Blockbuster and Shutterfly.
Other e-tailers excelled. Compuware's Application Performance Management (APM) system named Apple, Costco, JCPenney, Dell and Overstock (O.co) the fastest Web sites. Panopta credited a number of major online retailers, including Amazon, Apple, Buy.com, Costco, eBay, Kohls, Lowes, REI, Staples and Target, among others, with suffering no downtime whatsoever. That's a significant change from past years, when even the largest retailers sometimes staggered under the load.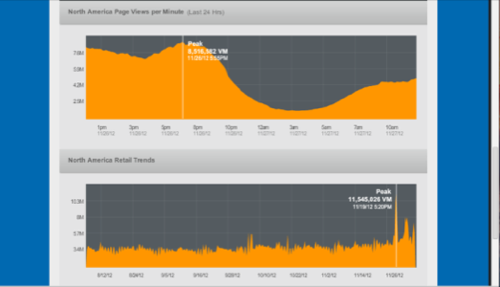 "Even with record numbers of visitors coming to online retailers, it is clear that most of them were prepared for the traffic this year," Compuware said in a statement. "Throughout the holiday weekend and into Cyber Monday, no major retailer suffered a significant online outage. And when issues were detected with sites, in most cases it resulted from third-party content having performance issues, not the host site. This is a problem retailers need to attend to."
What About Mobile?
The problem, if there was one, was that most e-tailers still prioritize shoppers coming from desktop and laptop PCs. They either forgot about or didn't have the resources to properly service mobile consumers trying buy something on the go or compare online prices to what they saw in brick-and-mortar stores.
This last practice, dubbed "showrooming," has been exploited by Amazon with apps that allowed mobile shoppers to take pictures of items and scan barcodes, then find the same product online. But retailers like Macy's have begun to fight back, with apps that offer "unpublished" deals to shoppers who are physically within their stores. Shopkick, another third-party app, published a "black book" of deals for retailers like Old Navy, offering in-store deals as well.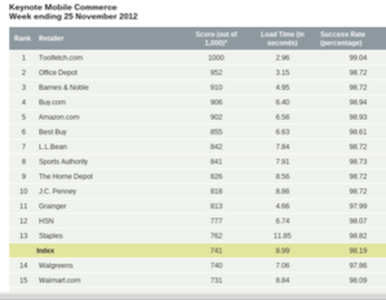 Mobile performance issues could also impact showrooming. Accessing mobile sites and apps can take a relatively long time even on the best of days, and during the extraordinarily busy holiday period few sites managed to offer anything close to a speedy mobile shopping experience.
Compuware said the five fastest mobile sites were Office Depot, Barnes and Noble, Williams-Sonoma, Buy.com and HSN, and that mobile traffic grew more than 250% for Thanksgiving and Black Friday. Cyber Monday saw mobile traffic volumes that were slightly lower than Black Friday, the company said, but the volume of mobile visitors was substantially higher than these same retailer sites saw during the previous week. That makes sense, as the whole point of Cyber Monday is that shoppers are back at their work computers. Overall, of the sites Compuware tracked, only 10% of site visits were accessed via a smartphone.
Keynote provided more granular numbers, but tracked just six sites that it claimed delivered the full mobile page in less than 7 seconds: Toolfetch (which loaded in a sparkling 2.96 seconds), Office Depot (3.15 seconds), Barnes & Noble (4.95 seconds), Buy.com (6.40 seconds), Amazon.com (6.56 seconds), Best Buy (6.63 seconds), Grainger (4.66 seconds), HSN (6.74 seconds) and Sears (6.95 seconds).
For its part, online payment service PayPal reported 196% more mobile payment volume on Cyber Monday 2012 than Cyber Monday 2011. That indicates that many shoppers were buying using their smartphones even while at work.
So what were all those people actually buying? Well, Microsoft claimed it sold more than 750,000 Xbox 360 consoles in the U.S. alone.
Image source: Flickr/Wesley Fryer