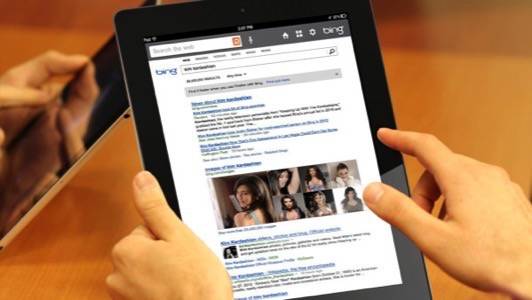 Somewhere in Hollywood, the publicists for Kim Kardashian and her sisters are raising a toast. According to Microsoft's Bing search engine, the Kardashian sisters were easily among the most searched-for terms of 2012.
Monday night, Microsoft released the most popular search terms of the year, grouped into various categories, including several devoted to celebrities. Kim Kardashian was the most-searched-for person of the year, with her baby, her role as a reality-television star… and what else? putting her name on Bing users' fingertips.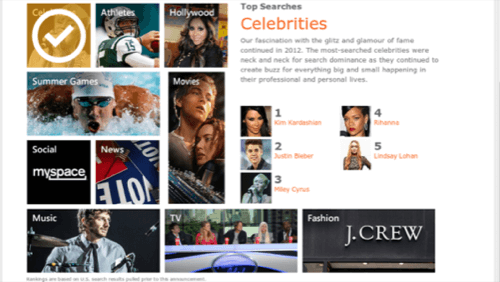 A Year-End Tradition
Lists of the most-searched-for terms have become a year-end staple, with Microsoft, Google, Amazon and others releasing their users' most-popular terms, celebrities, albums, books, and other categories. Although Microsoft holds a minority position in the U.S. search market (16%, in October, versus 66.9% for Google, according to comScore), it's likely that most if not all of Microsoft's most-common terms will appear in other lists.
Here's what we know about people using Bing this year.
Microsoft's top searched-for celebs of 2012:
Kim Kardashian
Justin Bieber
Miley Cyrus
Rihanna
Lindsay Lohan
Katy Perry
Selena Gomez
Jennifer Aniston
Nicki Minaj
Taylor Swift
The holidays will undoubtedly be a bit less cheery for Lady Gaga, Jennifer Lopez and Britney Speats, who plunged from the top 10. (The 2011 list included Bieber, Kim Kardashian, Jennifer Aniston, Lindsay Lohan, Lopez, Spears, Katy Perry, Megan Fox, Lady Gaga, and Miley Cyrus.)
Interestingly, even during a nasty, balloon-budgeted election year, celebs in 2012 were sought more often than the Presidential candidates. Mitt Romney won the Bing search "election," placing 43rd to Barack Obama's 46th place. Royals bowed to entertainers, too. Kate Middleton was No. 12, while sister Pippa dropped to the bottom of the list at number 75.
The Kardashian sisters also swept the reality-show category, with Kim, Khloe, and Kourtney topping the first three spots. And don't look now, but in the fifth spot, here comes little Honey Boo Boo, the redneck reality star who made most of America cringe.
Khloe and Kim, with partners Lamar Odom and Kanye West, ranked third and fourth, respectively, among the top celebrity couples.
Tech & Sports
Top tech terms included the Apple iPhone 5, the iPad, the Samsung Galaxy S III/S3, the Amazon Kindle and iPad 3. Bing also ranked social media, where the only surprise was that MySpace finished third after Facebook and Twitter.
Payton Manning topped the list of sports stars, as his comeback with the Denver Broncos captivated fans. Tiger Woods and devout quarterback Tim Tebow finished second and third, respectively, followed by sexy French Open winner Maria Sharapova and Kobe Bryant. Even international soccer star Ronaldo made the list, in ninth place. It seems the Kardashian connection propelled Lamar Odom (No. 7) above LeBron James (No. 8).
The top Olympians, meanwhile, included Serena Williams, Lolo Jones, LeBron James, Michael Phelps, and gymnast McKayla Maroney, whose "not impressed" meme surely helped her ranking.
Biebermania Subsides – A Bit
Justin Bieber fans were unable to propel their idol to the top of the Bing pops, but Bieber and the late Whitney Houston ranked first and second, respectively, among musicians, with Katy Perry, Selena Gomez, and Rihanna in the top five. (Bieber fans also launched an unsuccessful Twitter campaign to keep Bieber's song "Baby" the most-watched video ever on YouTube. Korean pop star Psy stole that crown, however, with his viral video hit "Gangnam Style".)
Bing also revealed the top 10 songs of 2012, based on searches. (Look for these tunes to be 2012's top sellers, too.):
Psy's "Gangnam Style"
Carly Rae Jepsen's "Call Me Maybe"
Justin Bieber's "Boyfriend"
Gotye's "Someone I Used to Know"
Fun.'s "We Are Young"
One Direction's "What Makes You Beautiful"
Drake's "The Motto"
Maroon 5 featuring Wiz Khalifa: "Payphone"
The Wanted's "Glad You Came"
Katy Perry's "Part of Me"
Surprisingly, Bing did not list the top 10 most-searched for videos, although Microsoft did say that music videos dominated search – with Fun.'s viral hit, "We Are Young," coming in first. (That's probably because most, if not all, of the top videos resided on YouTube, owned by rival Google.)
Bing also broke out other categories, such as Most Searched Fashion Designer or Label, Most Searched Destination and Most Searched Holiday Food. To see all the lists, check out Microsoft's blog post.
For some reason, though, Microsoft did not report the most popular search terms over all, but the company responsed to my request with these five:
Facebook
Insurance
Netflix
Twitter
Coupons
Kind of dull, actually…