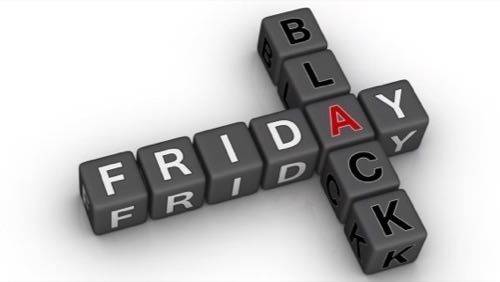 Black Friday crazy is upon us, that one day of the year where Americans take leave of their senses and go out and buy all their holiday gifts 32 days early, and yet still manage to panic-shop on Christmas Eve. If you insist on participating in this shoppingpalooza, these iPhone and Android apps can help you find the best price for the items you seek.
Get The Basics
If you use nothing else, get yourself a basic barcode scanner app. A lot of stores display QR codes for items and even if you plan to buy in-store and not online later, scanning these codes can get you more information about the item that might not be in the display. The app I like is ShopSavvy, which takes care of these basic features and also conducts local and online searches to see if it's available anywhere else cheaper. The other thing I like about this app is that it can store credit card and shipping information and if you're in a supported store, like WalMart or Barnes & Noble, you can buy the item with just one swipe. I love following my kids around in stores with this functionality, because I can surreptitiously buy the item right then and there without having to come back to the store or have them see me buying it. (Free. Available for iOS, Android.)
Dare To Compare
If I'm going to commit to a shopping app, I would like it to have not just price comparisons, but also product reviews. If I am checking out a really snazzy-looking item in the store, I really don't want to get home and find out that it's had some reported issues like, oh, catching fire. I use Google Shopper as a steady guide to search for product reviews and conduct pricing checks. It's accurate, delivers robust results and the integration with Google Maps makes it a great tool for finding nearby stores if you're in a new locale. This app just got an update in November and now features a Sales section listing local weekly discounts in your area, so you can point the car in the right direction in the first place. (Free. Available for iOS, Android.)
You can't talk holiday shopping these days without bringing up Amazon (a sentence I'm sure just thrilled its PR team, but it's true nonetheless). The fact is, as largest retailer on the Internet, low prices and low- to no-cost shipping on orders, it would be silly to ignore Amazon as a source for your holiday (or any other shopping needs), especially if money is tight. Amazon has two apps to use for your mobile device, and it's important to know the difference. The Amazon Mobile app is a mobile gateway to the company's commerce site. The even more useful Price Check for Amazon does pretty much what you would expect: like Google Shopper and other product/price comparison apps, it scans an item and let's you know what that item is going for elsewhere – except with the Price Check app, "elsewhere" means Amazon, period. (Free. Available for iOS, Android.)
It is certainly true that using apps like Google Shopper and Price Check for Amazon could result in you performing what retailers derisively refer to as "showrooming," where shoppers come into the store, scan an item, and promptly leave to purchase it elsewhere or online. This practice is kicking retailers' collective butts, since their business models rarely enable them to compete with the pricing models of online outlets, just as small businesses struggle to compete with the big-box stores. This is something about which you will have to make a personal choice as you shop with these apps, weighing potential savings against local service and supporting your community.
Something For Every Day
Finally, Key Ring Reward Cards is my new favorite shopping app. By scanning your loyalty cards for various stores that you have in your wallet or on your key ring, you can virtually store them on your phone and free up your wallet from these cards. To make sure they work, you can take photos of the front and back of your card, which is also useful for any loyalty programs that might be directly supported by the app. Most stores handle these well, though a grocery store's laser scanner might choke trying to read the screen-displayed barcode. If the loyalty program is supported, you can also get weekly circular sales information and notices of special discounts. Just be warned, if you have privacy issues with store loyalty programs, Key Ring Reward Cards isn't going to help (Free. Available for iOS, Android.)
Best Black Friday Apps
All of the apps listed above have the benefit of being usable year-round. But what about apps for this coming weekend? Lots of stores have their own dedicated Blak Friday apps, but those are mostly a waste of time. Instead, look for the apps that pull in the best deals from multiple places.
One of the most popular apps in this category is DealNews' Black Friday app, which aggregates news and ads of deals that may be happening in stores near you. You can even check out "leaked" ads that retailers let slip to the public with a wink. Since the app is geo-specific, you can target store near wherever you are. (Free. Available for iOS, Android.)
Another app for Black Friday is TGI Black Friday, which offers similar aggregation of ads for nearby stores. It's very similar to DealNews' app, but TGI Black Friday fans swear by it. (Free. Available for iOS, Android.)
No matter how you like to shop on Black Friday – or even if you wait till Christmas Eve – these apps should help ease the pinch on your pocketbook and ensure a smoother shopping process.
Image courtesy of Shutterstock.