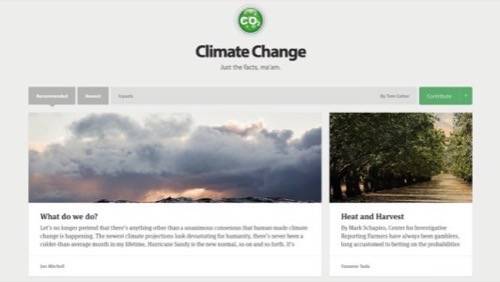 Keep an eye on Medium. I know it's one of those mysterious invite-only things, but the posts are open for everyone with a Twitter account to read, and you should really take a look. It's very easy to find great stuff on Medium on a wide variety of topics, and here's why: It's set up to get people interested in participating and collaborating with each other. It feels like a winning formula to me.
I think Medium has the right combination of social mechanics and great tech to pull off something other blog-like services have not yet done successfully. It's a new medium, if you will, for getting people to contribute posts and ideas that are explicitly about something. That makes it a more interesting place to read as well as to write.
Medium just hired publishing veteran Kate Lee for the sole purpose of getting great stuff onto the site. That's a strong indication that quality writing matters to this company.
Collective & Collaborative
Medium is all about the collections. The front page of Medium has two tabs, recommended posts from across the service, and recommended collections of posts. Collections are created by users on topics they want to post about. Some are prompts, like I Wish I Would Have or Dear (blank), some are interests, like design/UX or climate change. There's even a fiction writing contest.
The collections are critical because they already exist. When you get invited to post on Medium, which I was just a couple days ago, it might feel daunting at first. The site is beautiful and full of talented people, so it's intimidating. But the natural thing to do next is browse the collections, and it took me only a few minutes of looking to find one that inspired me to contribute. It was climate change, obviously. I'm heavy like that.
Writing my first post was a joyous experience. For one thing, the post editor is ridiculously nice. But more importantly, there wasn't much pressure. It's right there in the name: medium. It's not just accurate in the "media" sense. A post on this service is right in the middle, not too short, not too long, just medium.
And since I was contributing to a topic that already had some posts in it, I didn't feel pressured to carry all the weight myself. Medium doesn't have comments. Rather, if you want to respond, you can just write another post right inside the same collection (or you will be able to when Medium lets you in). It's a collaboration. Everyone writing in a collection is working on it together. Even in these very early days, this model is already producing some excellent stuff.

Why Medium Works
The critical stumbling block for any new app or service is the feeling of, "Okay, I'm here. What do I do now?" A new user might have a vague idea of what a service does when they join, but that's not the same of knowing what to do with it.
For example, Twitter has been notoriously mystifying to new users. Should I tweet? How much? About what? Twitter eventually figured out that the most important thing for users to know is that they need to follow people. By reading Twitter, people figure out what happens there, and then they learn to participate.
I missed the Tumblr train because I was doing too much following on Twitter. Like Twitter, Tumblr's driving force is a stream of other users you follow. Tumblr users learn what works and what doesn't on Tumblr by following people they like, and that gets them over the hump to start making stuff.
Tumblr also happens to be a fantastic blogging engine; I'm hosting one of my labors of love there. But the reason it works is that it has the right mechanics to turn millions of people into curators and makers by giving them ideas.
Medium solves the problem quite differently, and unlike Tumblr, there's no existing service I use for this purpose. It's like walking into rooms where people are talking about various and interesting things. You can just walk around and listen, or you can sit down and say "Hey. What are y'all talking about?" And, hopefully soon, you'll be able to join in.
Medium has to keep the quality high, so it makes sense that they're rolling out publishing privileges slowly. I've left a message with Medium trying to get the explanation in their own words, and I'll keep you posted on their timeline. But in the meantime, Medium is a great place to read, so I recommend stopping by.
If you want to know more about the thinking behind Medium, co-founder Evan Williams did a great podcast with Web godfather Jeffrey Zeldman that helped me figure out more about what Medium is all about.