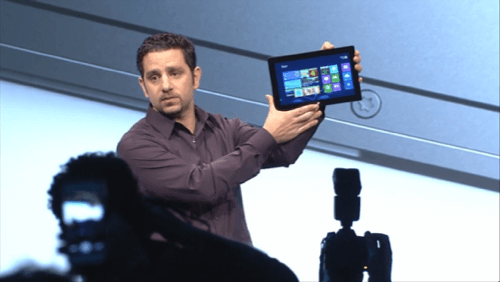 Although the data might be a little uncertain, figures released by AdDuplex indicate that Microsoft's Surface is winning the early race to be the most popular Windows 8/ Windows RT device. At least as calculated by which platforms are acccessing ads on the company's network.
An AdDuplex blog post shows the Surface clearly leading in the tablet and the notebook space, while the Nokia Lumia phones (specifically the older, Windows Phone 7-based Lumia 710) are showing an early lead within Windows Phone. That said, the data also shows Windows Phone 8 capturing 4% of the available Windows Phone views in just a week.
However, HP's PC chief, Todd Bradley, recently told CiteWorld that the Surface is receiving too much hype. "I'd hardly call Surface competition," Bradley sniffed. "One, very limited distribution. It tends to be slow and a little kludgey as you use it… It's expensive. Holistically, the press has made a bigger deal out of Surface than what the world has chosen to believe."
"We're not entering the consumer tablet fray any time soon," Bradley added, noting that HP does plan to offer a consumer tablet, but not before next year, and most likely a convertible, at that. For now, HP is focused on the enterprise, although it showed off the HP Envy X2 last month.
On The Surface, Surface Is Winning
But if the AdDuplex data is to be believed, Bradley's comments might be seen as spin control. That's because HP's own products are just behind the Surface in terms of market share, although a significant gap exists between the two. AdDuplex shows the Surface capturing 11% of all ad impressions, with the HP Pavilion g6 and dv6 notebooks grabbing 2% and 1% of the rest. Far exceeding all of these, however, is the "other" category, with 81% of the totals.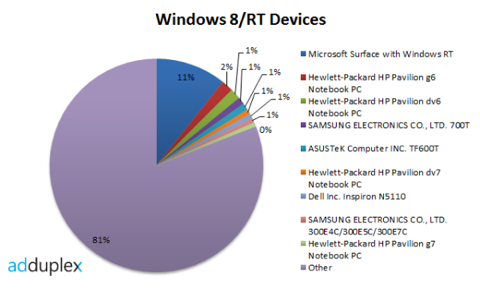 On the other hand, if you total up all of the products under a given manufactuer, HP is number one (with 24%), followed by Microsoft (17%).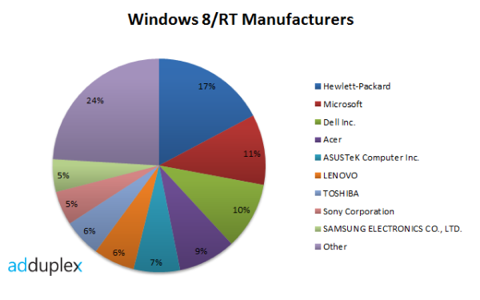 The enormous "other" category most likely comprises the numerous legacy devices that have been upgraded to Windows 8 as well as generic new PCs shipped with Windows 8. "Surface is already the most popular single device running Windows 8/RT with 11& of the overall "market"," AdDuplex said. "That said, we had hits from almost 3,000 different devices running Windows 8 (or Windows RT) in a single day."
With Windows 8 and Surface sales still measured in weeks, not months, it's difficult to ascribe any real adjectives to describe the success of the Surface launch. AdDuplex didn't break out the total numbers of impressions; "they are specific to AdDuplex and releasing them would only result in unnecessary speculation," said Alan Mendelevich, who runs AdDuplex. He also cautioned that ad impressions don't necessarily correspond to device sales. And, since the company's network caters exclusively to Windows Phone and Windows 8 apps, it's difficult to know how Windows 8 products are faring as a whole.
That's a lot of disclaimers, but within the ad sales on Windows 8 this initial data point makes it appears that the Surface is the early winner.
Steve Ballmer's comments to a French-language magazine, in which he reportedly described the Surface tablets as selling "modestly," was later spun by Microsoft as "in relation to the company's approach in ramping up supply and distribution of Surface with Windows RT, which has only been available via our online store and Microsoft retail stores in the U.S and Canada," according to CNET. Instead, Microsoft said, people should think about the Surface launch as what Ballmer has characterized as "fantastic."
More Microsoft Hardware Coming
On stage at the Churchill Club on Monday night, Ballmer used the term "spectacular" to characterize the launch of Windows 8, and talked about how the Surface represented the best of both worlds of tablets and notebook PCs. As for competing against its manufacturing partners, Ballmer acknowledged that Microsoft was "carefully" managing its relationships.
"Do I anticipate that partners of ours will build the lion's share of all Windows devices over the next five years? The answer is, absolutely," Ballmer said, as quoted by Reuters. "With that said, it is absolutely clear that there is an innovation opportunity on the scene between hardware and software and that is a scene that must not go unexploited at all by Microsoft." (A full replay of Ballmer's conversation with LinkedIn founder Reid Hoffman at the Churchill Club is available on fora.tv for $9.95.)
Some took that to mean that Microsoft is indeed building a Surface-like version of the Windows Phone. Other interpretations could be that additional Surface revisions could be on the way – whether or not that merely includes the Intel Core-based "Pro" version of the Surface due next year or other hardware is still unknown.
What seems to be happening with the Surface is this: Consumers, perhaps unsure of which Windows 8 tablet to buy, have chosen the product, Surface, from the manufacturer that designed the operating system. Is this a case of consumers buying the manufacturer-approved hardware, such as the Google-blessed "Nexus" line of phones or tablets? Microsoft's huge advertising push? Or some other reason?
A Good Start for Windows Phone 8?
Apart from Windows 8 and Windows RT, observers are also trying to puzzle out how well Windows Phone 8 is doing. But the AdDuplex data could be skewed because the existing installed base of Windows Phone 7-based hardware should be expected to dominate overall Windows Phone ad impressions. (Again, we have no real sales data for Windows Phone 8 devices at this point.) Four Nokia phones running older versions of Windows Phone – the Lumia 710, 800, 610, and 900 – dominate the impressions, capturing two-thirds of all Windows Phone-based AdDuplex impressions. AdDuplex also reported that it's difficult to tell what Windows Phone 8 phones have been detected, because of reporting problems with the various Nokia models. But overall, Windows Phone 8 captured 4% of the total Windows Phone impressions in a week, an auspicious start. (Want to know what ReadWrite thought of Windows Phone 8? Here's a hint: We liked it.)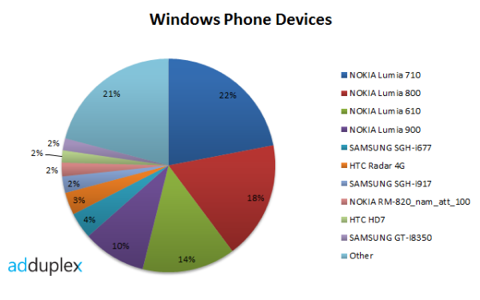 So what does this all mean? If the Surface really does succeed, it will be interesting to see what responses comes from Windows hardware makers. Will they try to outdo Microsoft's hardware, or back off and try to find a path that doesn't go head on against the company that supplies the operating they use?