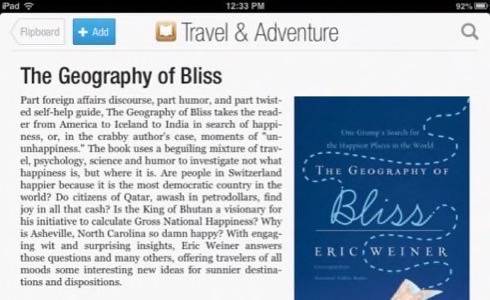 Well, so much for light reading. Social news stalwart Flipboard is expanding beyond feeds like RSS and Twitter, introducing a Books category today for its iOS app.
Flipboard's most literate new category will serve as a portal to Apple's iBookstore, which is stuffed with over 1.5 million titles. Each book in Flipboard offers a synopsis and an iBook link, so readers can readily purchase a must-read for their iBooks library.
The Books section is divided into categories including literature, biographies and memoirs and history — and less-erudite readers can flip through cookbooks and travel guides too. The new category launched with tailor-made bookshelves for the United States, Canada, the U.K., Brazil, Australia, Germany, France, the Netherlands, Italy and Spain. Naturally, it sounds like Android Flipboard users won't see the new category.
Flipboard is a social magazine by definition, but with the iBooks integration, the app will move into catalog territory. We can only imagine that swiping through Flipboard's intoxicatingly visual bookshelves might have some patrons lining up for their Apple-issued library cards.